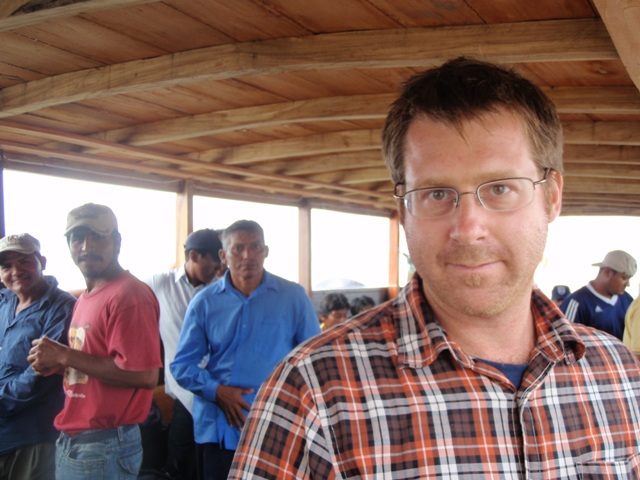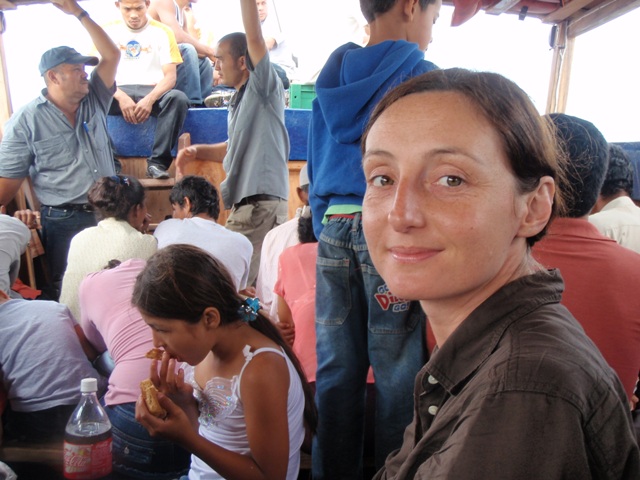 The ride was pretty long and we were already tired, but the gravity of the unknown variables on which our next few days depended, made it exciting. We were the only gringos on the boat, which underlined the potent feeling that we were embarking on a true adventure. The family that sat in front of me and next to Jen, kept a keen eye on us, from the youngest little boy who never stopped squirming to get free of his mother to the eldest little girl who the mother bossed around like a slave. None smiled, but they all stared. The mother was youngish for having six kids and was wickedness incarnate. She snapped and snarled and clawed at her kids -mostly the eldest daughter who might have been ten. She ordered that little girl to do everything...wash her little brother's face, take out the snacks, clean the gum off one brother's shoe. And when the mom took off the toddler boy's pants and held him up to pee and poop right onto the floor, she thrust at the eldest daughter a little shard of plastic label from a Coca-Cola bottle to clean it up with. And then everything went into the lake. Plastic bags, a dirty diaper, all the garbage that the family produced. And actually, I'm sad to report, this is not uncommon, this throwing of trash overboard or out a bus window. I've see it everywhere in Latin America (and Asia too). It is usually the poor and uneducated. The people who live closest to the very water and ground that they trash. The people who have little more than what that water and earth provide for them. They don't get it, it seems. It hasn't sunk in yet that where the coconut husks and fish bones and banana peels of yesterday have long since disappeared, the plastic chip wrappers and soda bottles of today remain and will continue to remain floating beside the turtles `and slowly piling up around their grandchildren's ears.
A couple hours into the trip the boat made a stop at the little island village of Chichicaste, where many got off for a bite of fish soup and small fried whole fish wrapped in banana leaves and served with half a lime which the locals had prepared in anticipation of our arrival.. We stayed on the boat with a handful of others, however, our cultural curiosities being outweighed at this point by mounting exhaustion.
After departing Chichicaste, it was another hour or so of puttering through the massive lake. To see much of anything one had to stand up in the boat, which we did from time to time to check out our progress. The view never seemed to change….lots of lake in all directions and in the distance the lush green shore line. Then, one time, we stood up to take a peek and things were changing, we were heading toward the shore and then into the mouth of a river. We were now entering the Papaturro.
I am happy to report that even though our fellow boat mates live in the jungle, they were as excited as we were to catch any glimpses of wildlife that they could. Everyone stood up, adults and children alike, and lined the sides rails of the boat, pointing out different birds and iguanas for everyone else to see. We did not see much because there wasn't a speck of room along the side rails and the driver in the back of the boat suddenly barked at anyone who tried to stand in the middle. The river was narrow in parts for such a boat and a man with a long wooden pole stood in the front and spotted obstructions, making hand gesture-instructions to the driver in the back. This very necessary view of one another, it turned out, was why the driver didn't want anyone standing in the middle and blocking his view.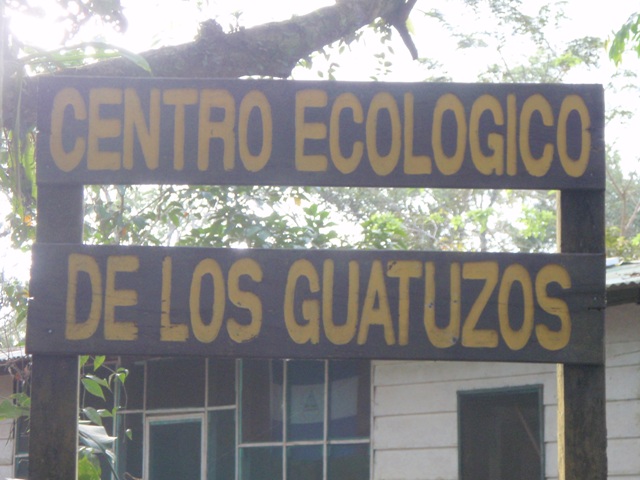 The river wound left and right without any signs of human inhabitance for a long time.
Then, suddenly there appeared a wooden sign -brown with yellow lettering -much like our park service signs- that read:
Bienvenidos
Reserva De Biosfera Del Sur Este De Nicaragua.
Refugio De Silvestre Los Guatuzos Refugio
Fifteen minutes further up the river, we saw another sign and then a round wooden and stilted open sided platform with a vaulted roof came into site. El Centro Ecologico De Guatuzos. We had arrived.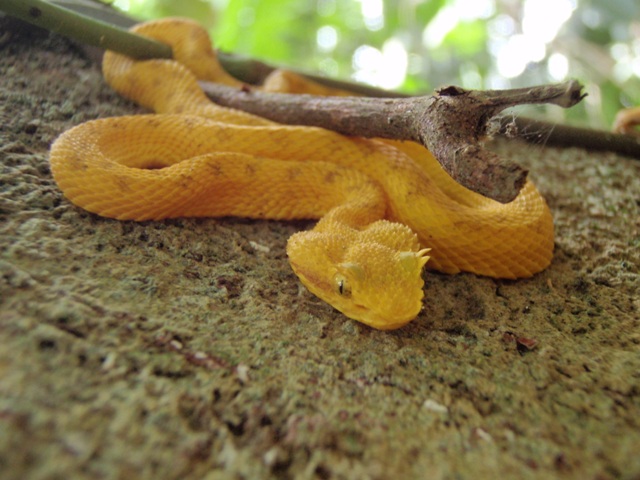 We sat back while the boat unloaded. For some reason there is no chivalry here in the getting on and getting off of boats. Everyone tries to get off first, no matter how huge or how many bulging sacks of beans or fabrics or palm fronds they might carry with them. So we sat back and let the boat load claw their way out and when all was clear we carefully emerged. It was a paradise. A shady river, birds and bird songs galore, vines and huge flowering plants and bees and fish jumping. Every exotic house plant that you have ever owned was here except without a pot to keep them small, they grew to proportions so huge the tops disappeared into the canopy above.
While most people headed up shore past a small camouflage-painted army barrack with a handful of young camouflage soldiers standing around smoking cigarettes, we headed back toward the Centro Ecologico and as we passed though the narrow gate, we were quickly met by a solid smiling man in a green t-shirt and tall rubber boats. 'Hola' I said, feeling a little foolish for just 'dropping in' like this. "Nosotros no hay reservaciones, pero quierimos a visitar esto centro ecologico." "Hay reservaciones?" he asked. "No hay," I said, feeling more and more ridiculous, "Pero, si tu hay dos camas o una tarp, nosotros quierimos a usar estos coasa…y pagamos por cual quieres." He looked at us, still smiling and said, "No problemo…..This is not a problems!" He introduced himself as Armando and then said "Bienvenidos" (welcome). He grabbed our bags and then showed us into the open air center. He was the head honcho, it seemed- caretaker and guide. He instructed a younger woman who surreptitiously appeared to show us to a room and he followed. He told us the next boat out was on Thursday, and that we could stay here the two nights until then…or longer if we pleased. He told us he was the guide and that he had a series of different tours he could take us on through the jungle One was to the Costa Rican border which included a visit to a couple different indigenous communities as well as the surrounding jungle. One was a jungle only tour, where we might see any of the millions of plants and insects and flowers and animals that populated the reserve. Another was a night tour, by boat, on which we would see lots of birds and lizards and turtles and caimans. I honestly didn't fully understand many or the details of what he was telling us, but that didn't effect my decision as to which tour we would like to do. "Quieremos Todo." I said. "We want it all!"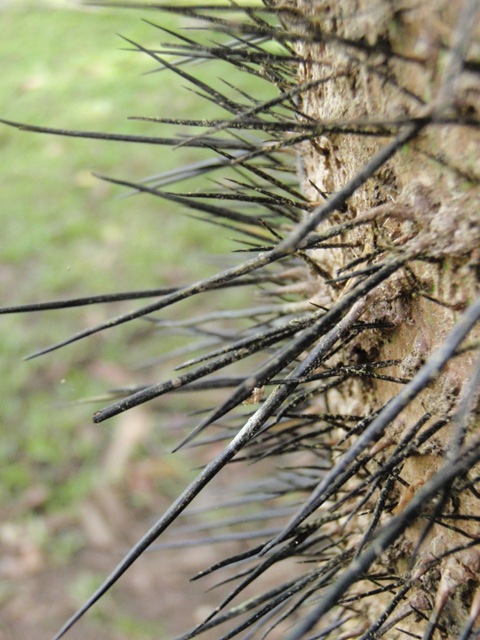 "Bueno" said Armando. "Y que guieres a hacer ahora" (What do you want to do now.) "Quiero dormir." I said. (I want to sleep). I told him that we hadn't slept in 33 hours -more or less-and he volunteered to tie us up some hammocks. It was around 3 PM. He suggested that we take it easy for the remainder of the day and then spend our next full day taking all three tours back-to-back-to-back. He also informed us that if we wanted to eat, we had better let them know which meals we would like and at what time we would like them, which we did. Then Armando left us to ourselves and our hammocks and our books and as the afternoon slowly progressed and my hammock slowly sank to the ground, I snored like a hungry howler monkey in a guaparrpa tree.
When I awoke, afternoon was giving way to evening and so we pulled on the rubber boots which we had bought just before leaving Ometepe and set out to see a little of our surroundings before dark. Everything was a dream. As I stood next to the babbling river Papaturro, My mind reeled to take it all in. I kept waiting for the birds to break out into a chirping chorus of "It's a Small World After All" and the Donald Duck boat to come around the bend. But this was the real thing, the monkeys in the trees did not play banjos. We sat half stunned on the small dock as the little fish that boiled up in the river every time any fleck touched the surface were snatched up by bats and lanky herons of black and grey and white glided downstream. A few steps into back into the jungle and the plant life was so thick, you couldn't see the sky. The trunks of the trees were covered in orchids and vines and there were flowers and fruits in every direction. In the jungle we were swimming in a sea of every shade of green and there were ants and spiders and leaves and thorns in every direction. It was a powerful feeling everything a buzz with life. If it is wasn't for gravity, I don't think I would have known which way was up. I could see myself drowning in the dampness of the dense jungle air, floundering on the ground like a fish out of water saved only by the lucky chance that a piece of blue sky might poke through the canopy to direct me toward the ground on which I might walk back to 'The Centro'.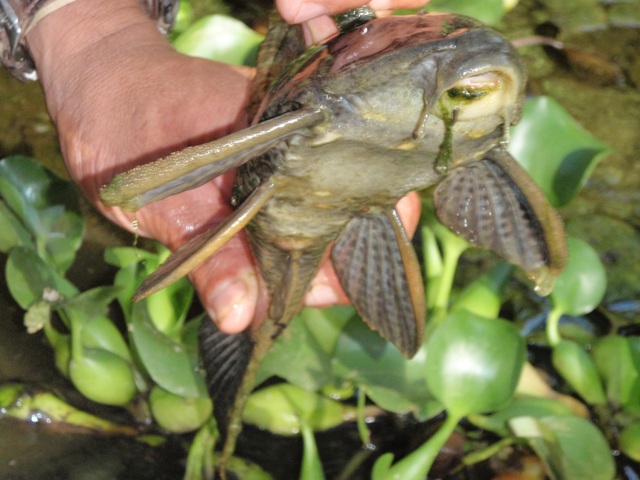 We had dinner just after dark at around 7 O'clock. If we had had any question that perhaps some other fortunate naturalist had made their way out to this remote ecological outpost, that possibility was laid to rest when, led by Armando, we trekked up the river and then over a small suspension bridge to a wooded riverside shack next to which was a table, covered as well, set with two places and two lit candles. Here we met Amaliea a large friendly woman who spoke a nice slower paced Spanish which was the easiest for me to understand that I had heard in a while. Also, clambering around in an outdoor, but covered, kitchen, there was Olivia, a younger woman with a hair net on that was obviously cooking something for us. When dinner was served -which happened very soon after our arrival, our company disappeared, leaving us to eat alone by candle light, save one tiny cat, who, we had been told, was named 'Cheko.' Cheko was a true jungle kitten. She is the only cat I have ever seen bolt straight up a thin branchless tree and then shimmy back down just as fast. She did it again and again, her eyes fixed on a small lizard that kept taunting her. If they let animals compete on the television series 'Survivor', my money would have to be on Checko.
The dinner was excellent and completely vegetarian. Soya chunks cooked up with a starchy vegetable called cheote and onion. What ever seasoning they used was delicious. There was a nice a bowl of beautiful and huge sliced tomatoes and another bowl of toastones (thick fried plantain chips. Besides the cheote and soya, the plates also had rice and beans on them and we were given a pitcher of juice with two glasses. I cleaned my plate and was perfectly full from it.
After dinner, Armando, a quiet teenaged guy and Amaliea sat with us and we talked a bit about this and that, where we are from, why we came all the way out there, how we had heard about the place, etc. I told them our favorite thing about travel was to see all the different incantations of nature that the world had to show us. They seemed to like that and thus they seemed to like us. So the conversation continued for a long while after dinner, the 'getting to know each other' frankness and sincerities slowly gaving way to laughter and kidding around (my specialty). One question that garnered a lot of laughs was when I asked Armando if he was married: "Tienes una esposa?" I asked. "Si," he replied. "Tienes ninos?" I asked (do you have kids?) "Si" he replied. "Donde Viven?" I asked. (Where do they live?) "Aqui" he said pointing to the boy and Amaliea. What a idiot I am, I thought, and then, pointing to myself , I said "Estupido gringo." Everyone got a long and hardy kick out of my fauxpaux! (Spell check doesn't like that one, either…come on, I studied Spanish, not French: Foe Paw…or Pho Paw…whatever…..) After some good laughs, we, still very tired, made the move back toward the Centro Ecologico, with Checo and Armando leading the way.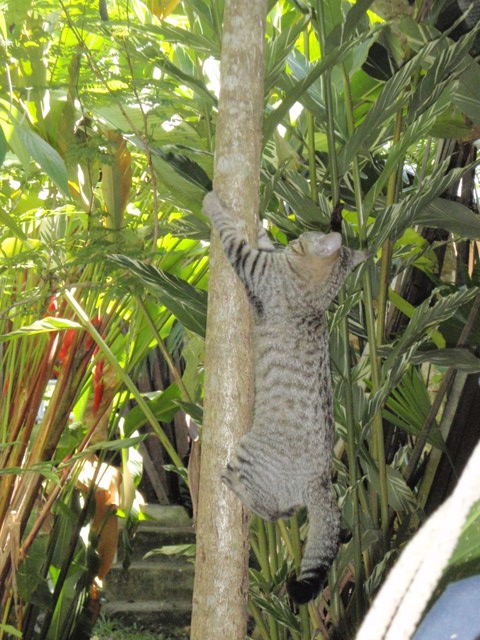 Our room at the Centro Ecologico is a semi-private two bunk room, partitioned off from the expanse of the main dorm by a wall that ends just above the top bunk. It has a private bath with (cold water) shower, a couple candles and the mandatory mosquito nets on both the lower bunks. One bunk is separated from the other by another partition with a doorway cut out of it. We both took the lower bunks because the mosquito nets for the top ones weren't around at the moment and it was only a matter of seconds before we both had drifted off into a solid night's sleep.
There is no electricity at the Centro Ecologico and, for that matter, any of the villages that we passed by. A few folks had car or marine batteries wired up to a light or a radio. (Most everyone in these parts use those new style energy efficient light bulbs, that are finally starting to appear more and more in the US). This didn't bode well for keeping my camera battery charged, so instead of setting the camera's (aka our only clock) alarm, I just winged it and we woke up in perfect time for our prearranged breakfast back at Armando's place.
Breakfast was gallopinto and pina (pineapple) and coffee and juice. Armando was ready to go so after breakfast we quickly washed up, filled our water jug, packed up our 'organic and environmentally friendly' mosquito 'deterrent'. (The kind of bug dope that gently tells mosquitoes -for the first ten minutes after heavy application- to kindly keep away unless they are really starving, in which case the selfless humans that adorn the flowery smelling stuff might be moved to make an exception.) Yes the jungle mosquitoes really are all that they are cracked up to be…and they are all starving, each and every one of them. They can bite through two layers of cloths like I can bite through two layers of cake -happily and with great gusto. So we did our part to repay the jungle for the feast it offered our eyes with a feast of our blood, and if a whole new species of mosquito emerges from the jungle, with poor eyesight and a fondness for rum, I beg your patience and guarantee you that it will only be a short matter of time before the Darwin effect will see them to their doom, as it has tried for my life and I have somehow escaped.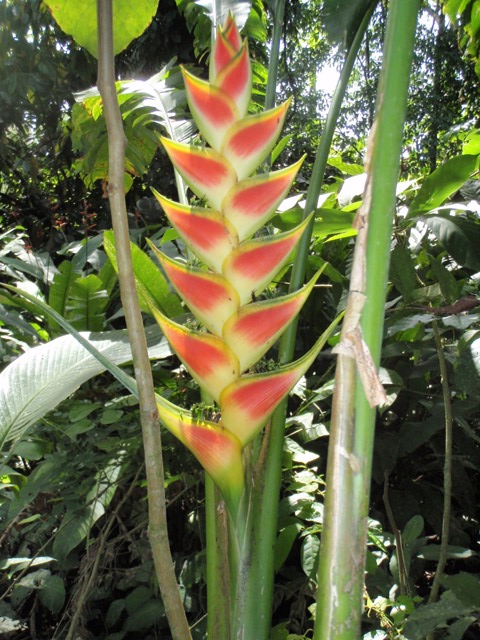 Tour number one, took us first to a school where the attendance level was at about 50% . There were three little girls coloring in one area and in another about ten kids divided up into three grades. In the fourth grade section sat one empty desk. Apparently the forth grade was on a field trip. Our next stop was a few guys building a boat much like the one we arrived on …some parts made out of new wood and some parts made out of pieces of a chopped up old boat. The wood here is hard, dark and beautiful. The men had a generator running into which they had plugged in power tools and one man ground down old nails with a shower of sparks sleeting down upon his unprotected face. I made a mental note to bring a couple packs of safety glasses with me if I ever returned.
Next we wandered through the village of Guatuzos. Every once in a while we would stop into a house and Armando would chat with the people inside. For our part we would say 'hola' when we arrived, and 'gracias' or 'adios' when we departed. I didn't know if we were doing the right things. Were we supposed to ask questions of the people of their lives? This was the part I cared for the least even though everyone greeted us warmly and Armando almost seemed obligated to say hello to these people as he passed by.. I have been in this position in other parts of the world as well. It seems false to me, like we were visiting a people zoo. In reality, however, it was probably Armando just chewing a little fat with some friends and happening to have us along too.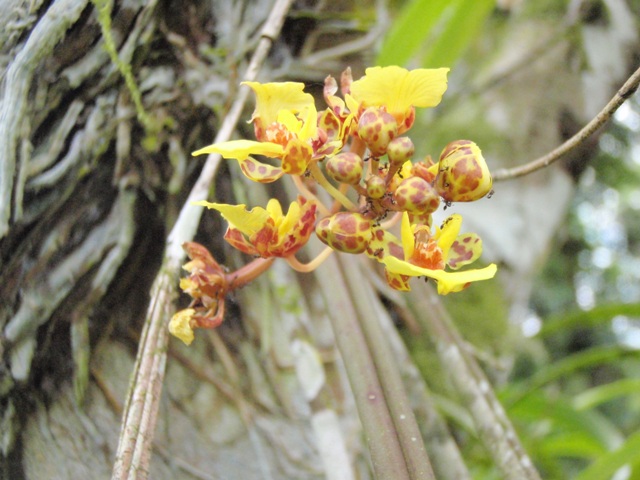 From the village we followed a path into the jungle. Every step of the way, Armando told us the names of every plant and flower and tree that we saw. He knew the common names and the scientific names, neither of which I could recognize. On this tree he would pick off a pod that he would break open and smear out a rich, creamy reddish paste that he told us people use for natural insect repellent, paint and hair dye. On this bush he would crack open a gourd and pull out a natural sponge. This tree was sacred to the Mayans. This tree produced a resin that people use to start fires. This is a cacao pod, where chocolate comes from. This slimy stuff tastes like caramel. This trees bark they make antibiotic medicine from. This bark is used for cosmetics. This orchid is illegal to photograph in Nicaragua. This little frog is poisonous. On and on, he knew it all. Every once n a while we would stop and rest. Then he would proceed. This is the way they harvest and dry beans. This flower is one of three different species…one grows up and grows down and one is fuzzy and grows either way. This is a vanilla plant, one of four species…two of which produce the edible vanilla bean. This spider is big but not poisonous, this spider is small but is poisonous. This snake comes in three colors and likes to hang around the flowers that attract humming birds. It is poisonous. This butterfly migrates. This one does not.
Armando filled our heads with enough information in five hours to film a nightly season-long TV special. By the time we emerged from the jungle we were two hours late for lunch, but Olivia didn't seem to care. She had waiting for us another great meal of spaghetti and gallopinto and toastones and pina and juice.
After lunch we were off again, with no delay. This time we went out behind the Centro Ecologico. First we visited some caiman and turtles that they kept in a massive cinderblock corral in a field out back. In the corral, Armando appeared to be looking for something else. It was a prehistoric fish, which he did find and with a very slow reach followed by a quick snatch, he had it in its hands. The fish was unlike any fish I had ever seen. Almost reptilian, With long feelers in front and things that almost looked like legs. This, he told us, is believe to be the closest relative to the first creatures to climb from the water and inhabit the land.
Further into the jungle we came to a steel staircase that ascended into the canopy above. As we climbed it, the world changed before our eyes into a world of breezes and birds and light. The canopy bridge that they had built was extensive running from one tree to another to another to another. A series of cables cushioned by pieces of truck tires attached the whole apparatus to nearby trees. When the wind blew and the trees moved, each section rose and fell in an unnerving fashion. We spent a good amount of time up there. In one spot that ran beside the river, we sat for a long time with our legs dangling over the edge, bird watching. (When ever Armando saw a bird to show us he would point up and proclaim "Bird Watching!"…this has become a little joke for us, so now whenever we see a bird we point to it and say 'bird watching") Besides helping us to see the wonders above the ground, the bridge was also used by giant 'Tiger' ants which fittingly were orange with black tiger stripes. Armando told us that these ants were not poisonous and picked one up to prove it. Those of you who know me, know they are my least favorite creatures. I have been attacked by ants a few times in my life. Once, when I was twenty-one, after a raucous night of heavy drinking in Memphis, TN, I fell asleep on top of my tent (there had been wrestling) and awoke with so many bites on my face that my eyes were swollen shut for two days…ever since then, ants have been my sworn enemy. But tiger ants are alright…or at least pretend to be.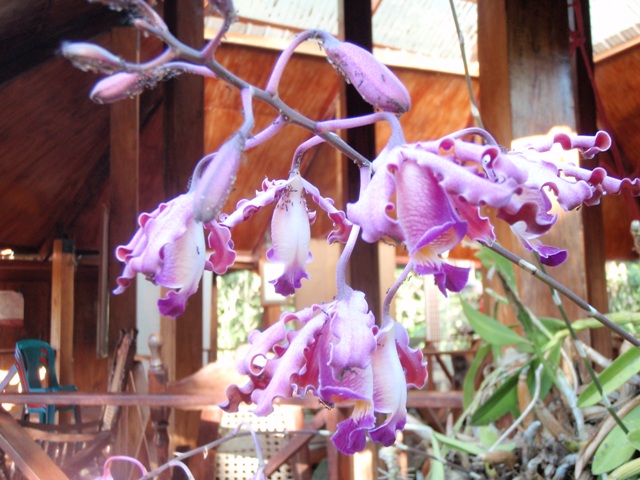 I could have spent days up on 'The Bridges', but the tour was not meant to end there, so we continued on and eventually climbed down a different set of metal stairs than the ones we climbed up on.
Again we trekked through the jungle. Armando pointed out a huge crater in the earth a product of a bomb that fell during their most recent civil war. Then Armando stopped us. "Bird watching!" he said pointing up into the palms. We froze and looked up at a little puffy white and black bird. Nothing spectacular, but there was a different intensity in Armando's gaze as he carefully unsheathed his camera. You are very lucky, he whispered. Armando silently snapped pictures,. I tried unsuccessfully to take one myself, my silly camera beeping obnoxiously as it tried again and again to focus up through the branches and fronds. We waited and watched. I could tell we were not going to leave this bird before it had left us, which eventually it did. This bird, Armando told us, he had only seen a couple times in his life. It did not have a name because it had not yet been classified. You are very lucky he said again (in Spanish) and then in English he said working slowly at each word, "You… are…lucky!?". And even though that bird was not the biggest nor brightest, I knew that we were lucky.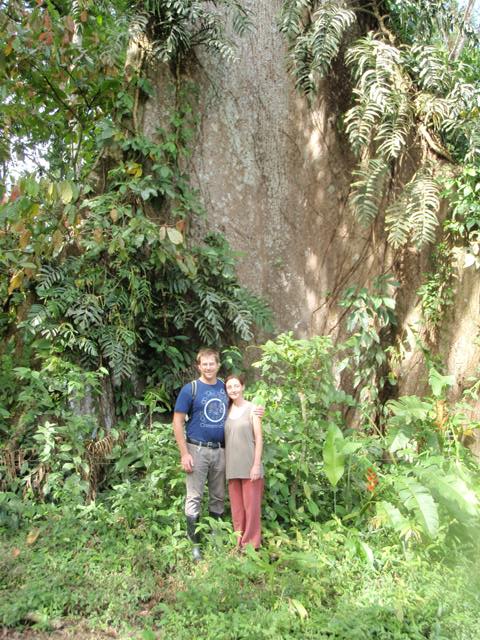 The afternoon tour finished up with us in a large man made 'room' in the jungle, cordoned off by a mesh screen walls and a mesh screen roof. In the room were a hundred tall stumps planted into the ground and on top of each stump there was an orchid plant clinging to the top. This room contained one hundred different species of orchids, Armando told us and a we slowly walked by them we spouted off each of their common names and then each of their scientific names. Not every plant was flowering, but many were. Orchids, As I've learned and seen illustrated over and over again, are a parasitic plant. They don't grow in the earth, but rather they cling to the branches of other trees. Their root systems hang off into space and they nourish the plant from the moisture they draw out of the damp jungle air. The flowers of the orchid come in all different shapes, colors and sizes. Some have a strong perfume, some don't. Some orchid's flowers are so small you need a magnifying glass to get a good look at them, while others are quite large and hang down in long strands. In the course of one day, I have potentially seen more orchids than I have seen other species of flowers in my lifetime. Very cool!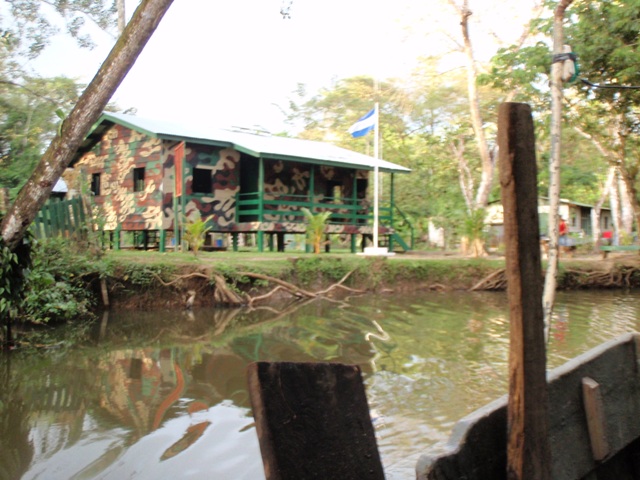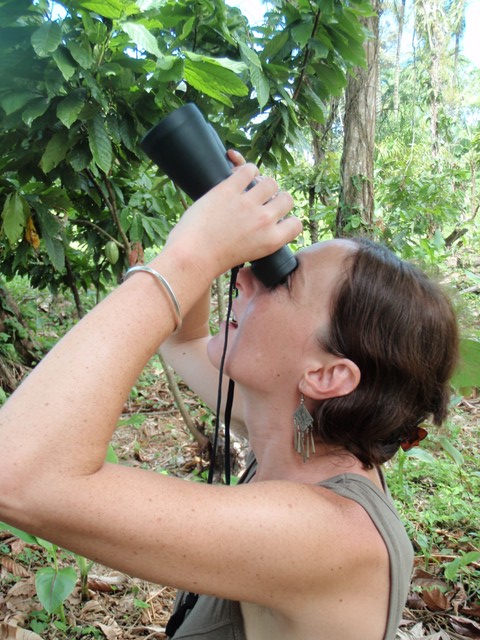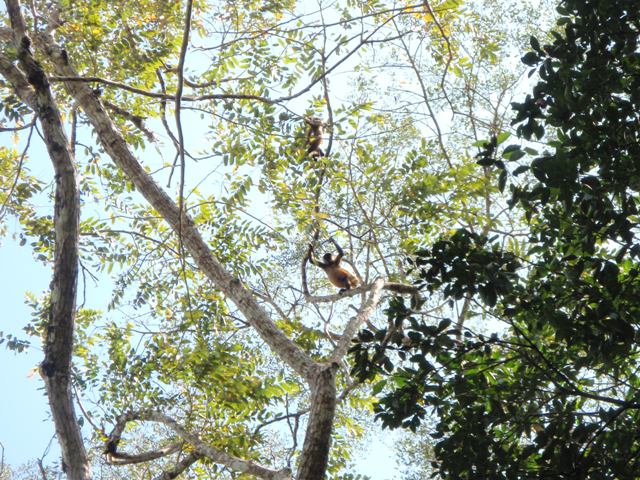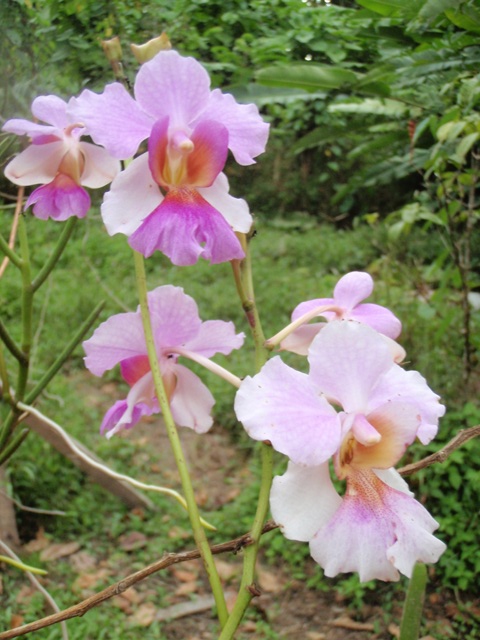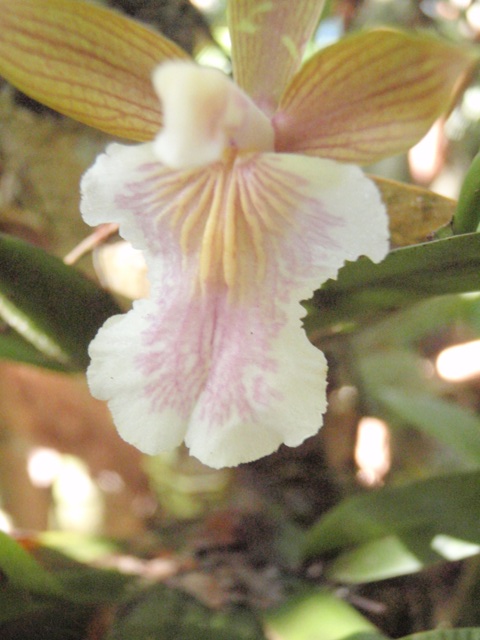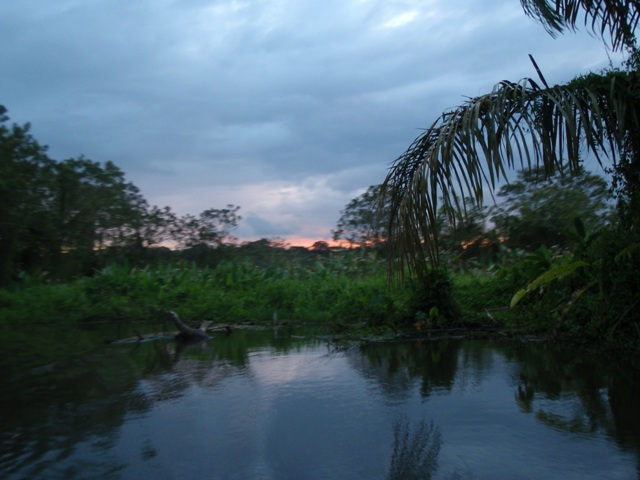 After the afternoon tour, the sky was starting to dim, so we launched right into the evening tour. Unlike the other two tours, this one was to take place on the water. Armando fired up his a rickety boat, we piled in and cruised down the river as the sun set in angry red hues to the west. On the ride down river, scores of bats skimmed the surface of the water looking for small fish to catch…an unusual tendency for the generally insect eating creatures. "Bats Fishing." Armando declared proudly using another one of his very few blunted English phrases.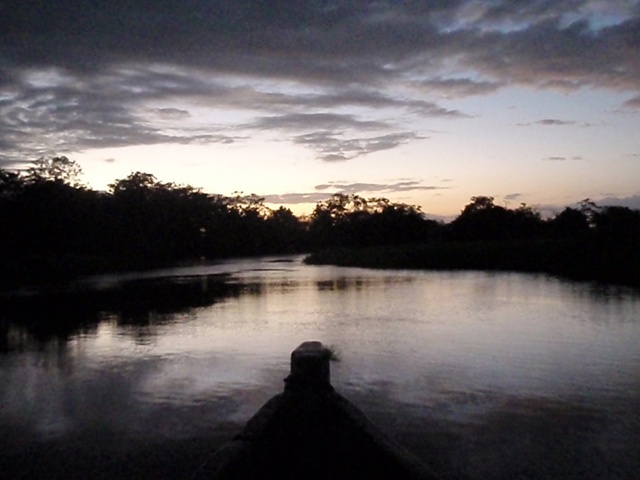 It sprinkled for a moment and then stopped, and just as the final beams of light were fading to the West, we emerged back out onto Lake Nicaragua with the shadowy form of the massive volcanoes of Ometepe vaguely outlined in the distance. When it was dark we turned around and slowly made our way up the river, Armando working his flashlight methodically along the shore and through the trees as he somehow kept the boat from hitting the land's edge. Here and there he would stop and throw her into reverse. "Bird watching!" he would say and then shine his light on one roosting bird after another. Some were of great size, some were of beautiful color, and through the dark, all were wondrous to behold. Armando also spotted Iguanas perched on branches that hung over the water and turtles hovering next to downed trees. He used his light to spot the reddish glow of the nocturnal world's eyes. What Armando was really looking for, however, were Caiman…the alligator's smaller cousins who populated these waters in great numbers. Shortly he found one and as we tried to get near it, it disappeared under the brown murky water. "Let's go!" said Armando which we learned was not directed at us, but was the line he used each time a caiman snuck away. The next caiman he spotted lingered surprisingly long as we got right up next to it and with a quick lurch, Armando had it in his hands. He brought it aboard and showed it to us, pointing out its ears and the membrane that it used to cover its eyes underwater. He was gentle with it and I could tell he loved the things. Then from under his wrist watch, he pulled out a rubber band and banded the caiman's jaws shut. Next thing I knew, he was handing it to me. As I first took hold of the seemingly pacified beast, it suddenly thrashed about, its long claws scratching into my hands, and Armando had to help me to calm it down. Then it laid still and I had the large reptile alone in my hands.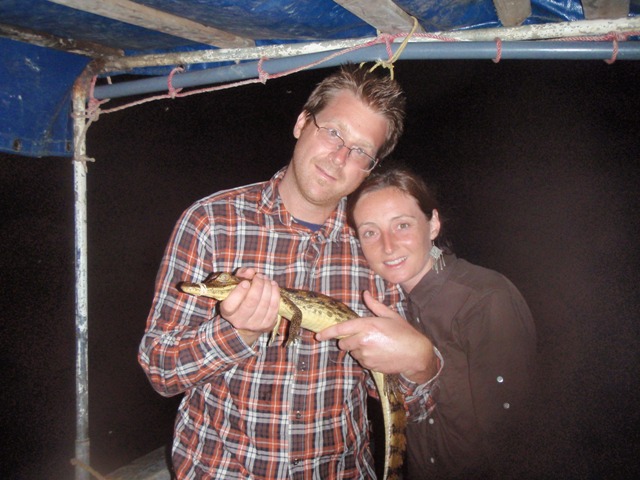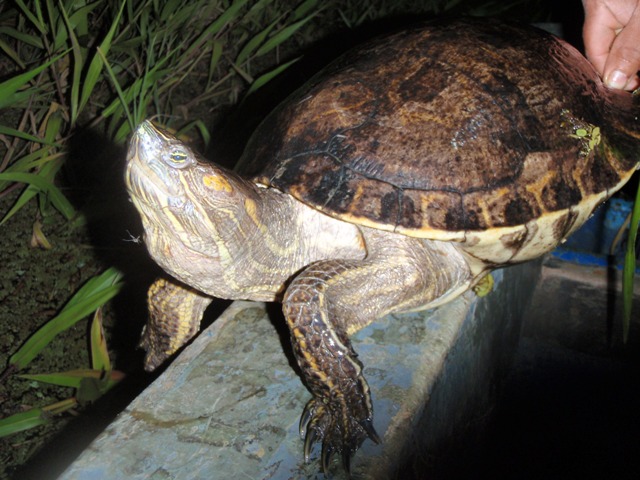 When we finished with this caiman, we moved on to the next and then there was another after that. We could tell that Armando considered the caimans to be a major highlight of a visit to Los Guatuzos and that he had great pride in his crock-hunter abilities for catching the little fellers. I liked seeing the Caimans, and holding one in my hands was a unique experience. I have, however, canoed in the alligator infested swamps of Okeefenokee state (or national?) park, where alligators as big as our canoe snapped their chops within inches of our paddles while we wondered all the while whether this was usual and, if it was not, why we were allowed to rent this little canoe and head out alone with out any mention of the tooth covered creatures that the thin canals barely allowed us to pass. So for me, a meeting with a caiman, while fascinating in its own right, was a relatively safe endeavor.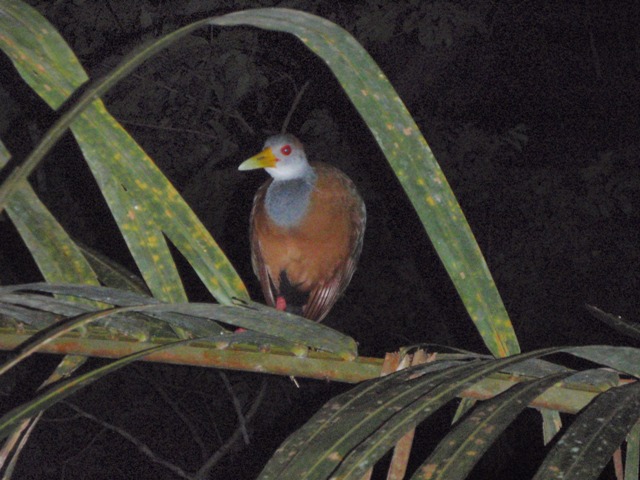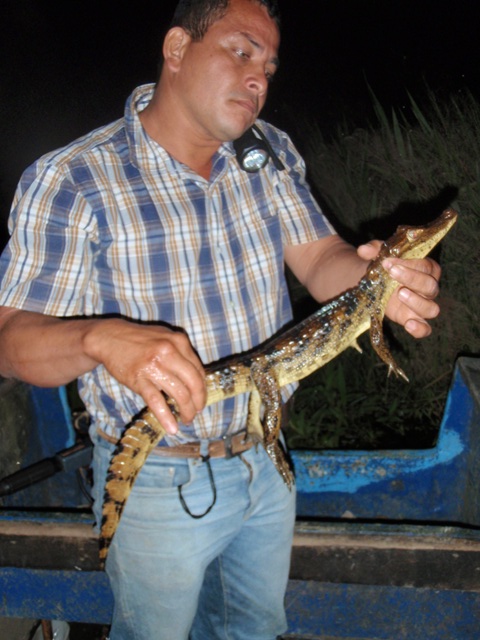 Once the night tour came to an end and we returned to the Centro Ecologico, were again significantly late for dinner so we headed up the river to the dining spot straight away.
Dinner was soya patties and gallopinto and toastones and some tasty boiled vegetables and those same wonderful fat and perfectly ripe tomatoes that we had enjoyed with each meal. We realized that the vegetarian nature of the meal all boiled down to the fact that with no electricity and therefore no refrigeration, meat was a potentially treacherous option that tourists were not encouraged to risk. The soya was reconstituted from dried hunks and therefore immune to spoilage.
After dinner, Armando pulled out his lap top and he and his wife and Jen and I watched home videos of Checo being Checo and Armando releasing huge Caiman and a family birthday gathering. Then we moved on to amazing photos that Armando had taken of frogs and snakes and flowers and birds. And after this, it was finally time to bring an end to this incredibly full day. But even on the walk back to the Centro Ecologico and our beds, Armando took us astray and into the jungle to search around with his flashlight for some last new treasure to show us. Here was a spider. Here was a plant. And then there, in one tree crouched the cutest little monkey-squirrel thing with big glowing eyes -a white and brown Magwaii, the likes of which I'm not sure I've ever seen. And so that was that. Buenos noches, Armando, amigo ….y gracias por todo.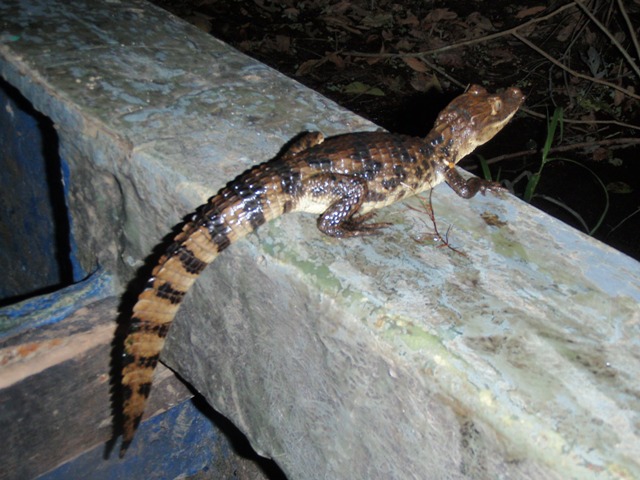 The boat the following morning left at 7 AM so there was no time for breakfast. We awoke at six as the sky opened up with rain, and packed our damp things by candlelight. Then we walked over to Armando's, paid our tab and found ourselves heading down river toward San Carlos on the crowded, but this time not scarily overcrowded, Thursday boat east. The front of the boat was loaded up with someone's furniture. I guess they were moving. It was funny to see a clunky early 90's upholstered chair and particle board corner hutch, floating through such rustic surrounds. The furniture was getting soaked as well and I could just imagine the dank and moldy smell that the chair would surely retain for the remainder of its years. Jen and I got some bench space near the front this time and I even had a huge sack to lean against that was fortunately stuffed with something soft. We were able to stand when we wanted to and look out at the jungle as we passed it by.
On this ride we did not stop at the island of Chichicaste, rather they came to us. Two women and a boatman piloted a small boat loaded with food and drinks up to the side of ours and we floated for 15 minutes as folks ate fish and drank cans of juice. After lunch we began heading East again and a nicely dressed man on the boat stood up with the good book and started preaching the word of god to anyone that wanted to listen. No one seemed particularly interested, but no one stopped him either.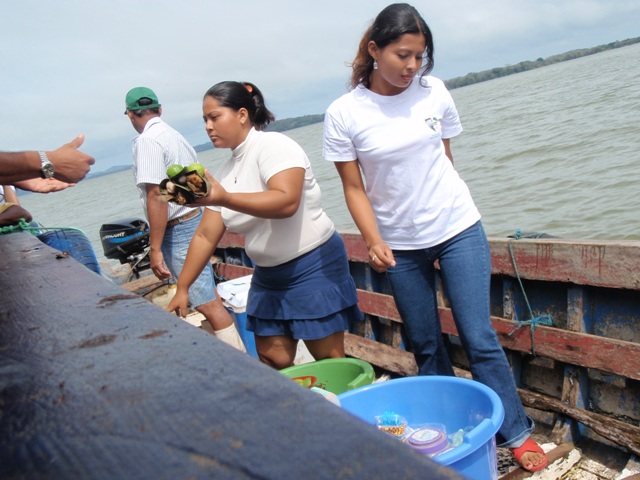 We arrived in San Carlos at around 11:30 and killed a few hours over lunch and internet. I found a message from La Costena airlines confirming our seats on Sunday's flight, which saved us a trip to the airline's local office which was rumored to be run out of some woman's living room. I was able to pull some pictures off my camera onto my laptop, label a few decent ones, reduce their size to web-friendly dimensions and then upload them onto my sight. I did not have time to write much -even caption the pics- and I hadn't, in Guatuzos, been able to type out my nightly 'notes' to paste onto the site because there had been no electricity there, so any explanations to accompany the pictures had to wait. I got my last picture up and hit the 'publish to web' button at about quarter past three and our next boat was scheduled to leave at 3:30. Because of this I had to race ahead of Jen, through a good chunk of town to make it to the ticket window and buy two tickets. Buying tickets here is never quick and always involves filling out several different passenger lists, complete with name, age occupation, nationality and passport number. I learned a while back -and here is a good tip if you haven't yet thought of it- to write my passport number (and Jen's) on a business card that I keep in my wallet, so I don't have to dig out my 'little silk bag of essential things' (passports [I have two], international vaccination card, extra passport photos [for visas], a credit card or two, a few big US bills, airline tickets, international driver's license, ect) each time I need to write down my passport number. Nicaragua, by the way, is very safe. Easily one of the safest feeling countries I have ever traveled in -right up there with Canada and Switzerland…maybe more so- but in many less safe feeling countries, you might not want everyone hanging around the ticket window to know exactly where you keep your 'little silk bag of essential things'. Anyway we made it just in time and before we knew it we were on the water again, this time in a fast narrow fiberglass boat that flexed in waves from front to back. We were bound For Los Sabalos!