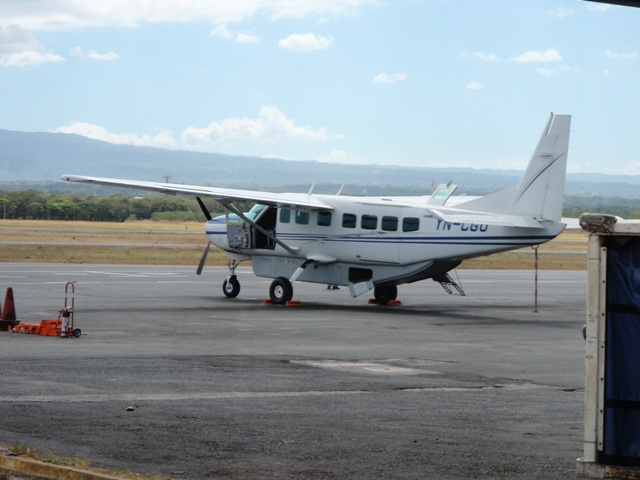 Plane to Little Corn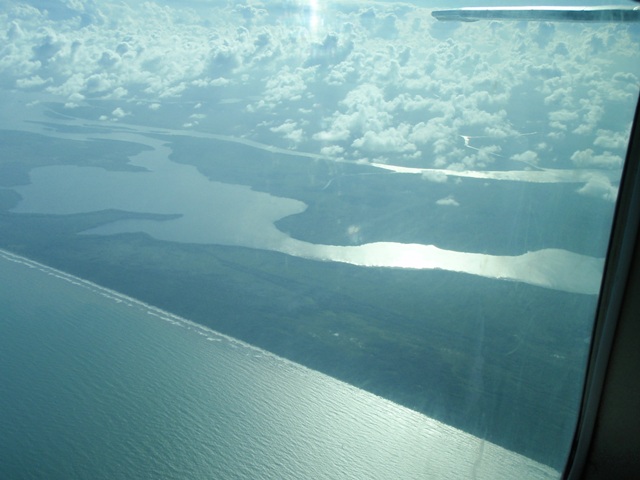 Nicaraguan Caribbean Coastline
The flight to Big Corn Island was incredible. It was a tiny little plane with twelve passenger seats. They had over-the-shoulder seat belts, and a fellow passenger played Peter Tosh on an ipod speaker as we left the earth. The little plane bounced around in the sky as we watched the vastness of Nicaraguan pass beneath us. There were volcanoes in the distance and lake Nicaragua appeared as an ocean to our left, with the volcanoes of Ometepe jutting into the sky. Seeing their hugeness from the air, I was impressed by the notion that just over a year ago, I had climbed to the top of one of those volcanoes and swam in the cold, muddy water of the crater in the clouds. I left my prized Myanmar tee-shirt up there (by accident) and I wondered if it might still be up there.
The flight lasted an hour and a half and words cannot adequately describe what a thrilling ride it was. It was the second smallest flight I have ever been on, the actual smallest being the little plane that took my friend Maria and I high up above Newport Rhode Island, before we jumped out with men strapped to our backs. (I guess I have traveled by helicopter, as well…are those flights, or are they rides?) Regardless, it was exhilarating and I couldn't help but think that the flight alone was worth the fare, even if it brought me back to the same place it took off from instead of the supposed tropical paradise that we had set out to see.
Eventually the unpopulated jungle of the Nicaraguan East gave way to the Caribbean sea with an abrupt and unbelievable coastline that stretched endlessly in either direction. The water started out a dark blue but quickly turned the bright aqua that people the world over dream of swimming around in at some point in their lives. Then it was ocean for a long while without much of anything in the way of sea craft to be seen. Finally, someone spotted land in the distance, which grew larger as we approached and before long we were bumping down the little runway of Big Corn Island's landing strip.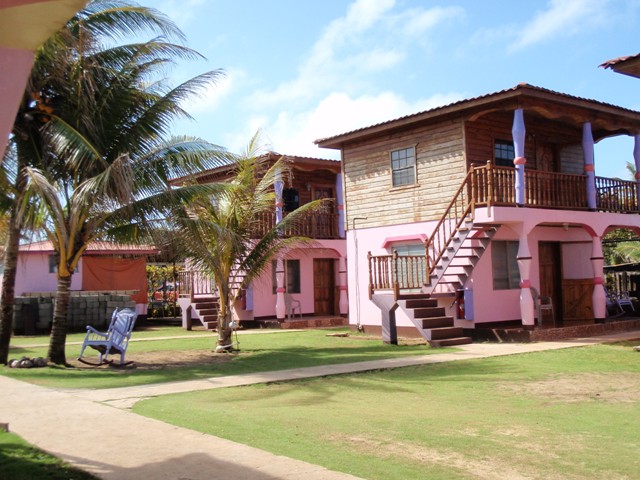 Morgan's Place
Once off the plane we met Edwin, a big friendly taxi driver who wore a superman tee-shirt beneath his big smile. He helped us gather our bags and drove us to Morgan's hotel, which we had picked out of our guidebook because of their low prices and decent reputation. During the ride, the friendly Edwin gave us a little tour, pointing out this spot and that. Edwin was from Bluefields, one of the few Nicaraguan towns on the Caribbean coast. Edwin was on his third wife, he told us. The first left him for a better man, and the second eventually did as well, but now he had found a keeper. She was a native of Big Corn Island, he told us, and she was fifteen. (Edwin must have been upwards of forty years old).
On the Corn Islands, like many Caribbean islands off the Central American coast, they speak English and a native dialect - Here itis 'Miskito'. To make matters even trickier, Spanish is also spoken on the Corn Islands due to the large number of main-lander Latinos that have migrated to these parts. The end result is a mish-mosh of languages, and it always seems inevitable that those I try to speak Spanish to prefer to speak English, those I try to speak English to prefer to speak Spanish and those who want to speak to one another without me knowing what mischief they are preparing for me, speak Miskito.
Morgan's place was nothing particularly special, I would have to admit (sorry Morgan), but we got dropped off there all the same and choose the second, cheaper room that we were shown. It had a private bathroom, air conditioning and a television, none which we noticed, for some reason, until after we settled in. I guess at this point, we were a little tired from a couple days of travel.
After settling in for a moment and switching into flip-flops and shorts, we hid our valuables (I usually, hang my passport bag-thing behind a framed picture or mirror or headboard mounted on the wall, …don't tell anyone) we set out for a walk along the rocky, trash strewn shoreline and down into the village center. Once in the center, we caught a cab to 'picnic beach' with a young cab driver and his girlfriend. The driver was from Leon, his name was Jorge (George in English, but pronounced whore-hay in Espanol). Being from Leon, Jorge spoke Spanish, and we became friends when it came up that I had worked a little on a fishing boat, which he had also spent years doing for work as well. Lobstering is big business on the Corn Islands, and they have at least three different types they hunt for. Often, Jorge told me, foreigners come down and fish for lobster off the Corn Islands, which the locals naturally dislike. Many times, the foreigners take lobsters that are too small or scrub eggs off of the females. (illegal in most of the places in the world that I know of) When the occasional foreigner gets caught practicing these unsustainable techniques, Jorge told me as he lowered his voice, the locals slit their throats and throw them into the sea.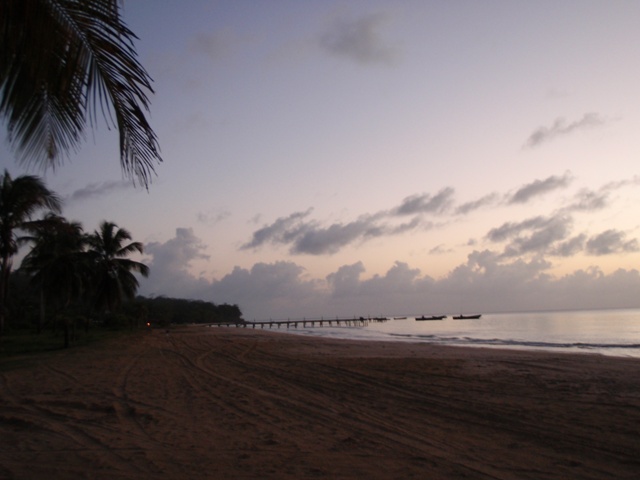 Picnic Beach
Jorge dropped us at picnic beach as the sun set and agreed to meet us for a ride back to Morgan's in thirty minutes, which was perfect because after twenty five minutes the sun was down and a swarm of mosquitoes rose up from the sand. Jorge took us back to Morgan's and we talked fishing for a while longer. To set the record straight, I was never close to being a full-fledged commercial fisherman. I just helped out a friend of mine (Mike, who very much is one) a handful of times a couple years ago. And this little bit of experience has proven invaluable more than once, when breaking the ice with locals on various travels over he past couple years. So…thanks Mike…if you are reading this.
At Morgan's we ate a terrific dinner of whole fish. Jen had hers served 'ajillo' style (with garlic sauce) and I had mine 'al Caribe' (Caribbean style, with coconut milk). Both were good, Jen's was the best. During dinner we met Kerry Morgan, our friendly hostess, who ran the operation. We talked hotel shop with her for a long time (we appeared to be the only ones eating there) and we then went off to bed. In our room, the mosquitoes buzzed in through the ripped screens, but luckily I had decided to pack my mosquito net at the last moment, and I hung it up from the ceiling, which insured us a peaceful sleep physically and psychologically. Before closing our eyes for good, we flipped on the television and found an English channel that was playing the film 'Sky Captain and the World of Never, Never Land' and so we watched Hollywood actors blaze around in amphibious bi-planes, as the AC slowly froze us to the bone. I dreamt all night like I haven't in many months…the tropical heat seems to have that affect on me.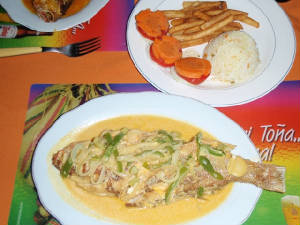 Justin's Dinner at Morgans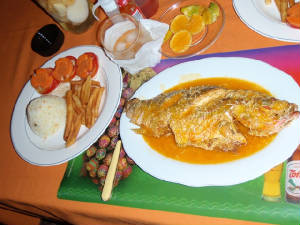 Jen's Dinner at Morgans
Wednesday, Feb 11th. Because an alarm clock -or any sort of a clock- was a critical oversight in our pre-travel preparations, we felt extraordinarily lucky that Mrs. Morgan just so happened to have a Motorola phone charger that fit Jen's cell phone. We had brought the phone without a charger thinking we would only use it briefly before leaving the States and briefly upon return, a combined scenario that would require only one full charge to do the trick. Before going to bed, we plugged the phone in and set the alarm to
7:30 -the hour we figured we would need to get up in order to have breakfast and meet Jorge for our ride to the boat launch. The detail that I failed to attend to, however, was the switching of the phone from vibrate mode to ring mode. I don't know how long the phone was vibrating, but when I checked it, it was 7:50 AM…not quite 7:30, but tragedy averted all the same. Breakfast was beans and rice (called pinto gallo), dried out toast, a slab of the ubiquitous salty fresh cheese, coffee and butter. Jen had a couple eggs too. Jorge was a couple minutes late, but picked us up in plenty of time to make it to the launch in time. He had a couple little school boys in the back when he arrived and we dropped them off first, along the way. At the launch we waited twenty minutes in the sun before we were loaded into the long fiberglass boat along with a handful of locals, a few other tourists and three barrels of diesel fuel all bound for Little Corn Island. We had been warned in advance that the boat ride was a wild one and that we would probably get wet. We were not let down.
The boat, or 'panga', ride was totally awesome. We flew, literally at times, through the huge rolling sea. The driver gunned it just about the whole time, only cutting the throttle when a total flip-over was imminent. The boat rocketed through the water at a 45 degree angle such that the only person who could see what was in front of us was a young man who stood in the bow clutching onto a rope for dear life. We launched over wave after wave. Each time the boat came crashing down everyone's behind hit the bench with a jarring smack. Most of the tourists seemed anxious and ill at ease. The locals chatted away casually. Jenny clutched at my arm, as I tried to snap shots, both of us grinning ear to ear. This ride, like the flight from Managua, was a huge, huge bonus. One of the funniest and most thrilling things I have ever done. I felt like I was cruising down an endless toboggan chute, inches shy of a horrific crash. The boat went airborne again and again. Oh, words just cannot do it justice. I have been on a lot of boats…I've even been in a boat crash in Thailand where people got hurt, but I have never felt an adrenaline rush like the Panga ride to Little Corn.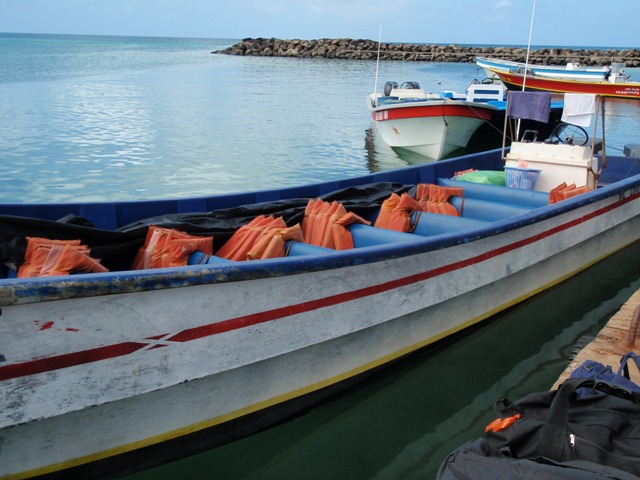 Panga to Little Corn Island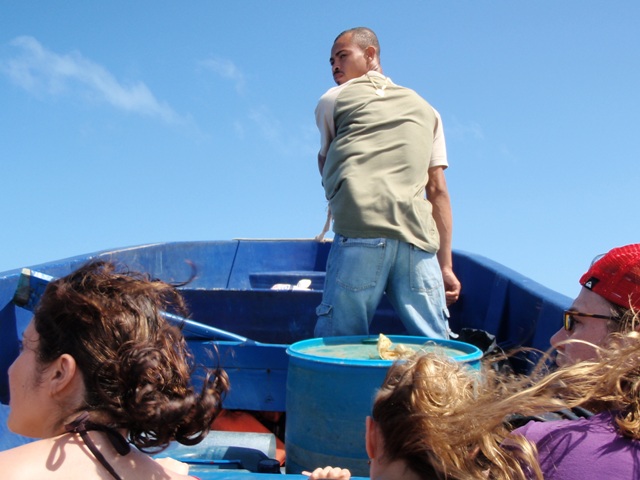 Panga in Motion
When we finally arrived to Little Corn Island, we were met by Daisy and Dixon. Daisy was a youngish school teacher from California and Dixon was an even younger local boy. Both worked at the Casa Iguana, where we had a four night reservation, and both were exceedingly friendly. Dixon threw our bags onto a little cart and Daisy led the way down a series of 'sidewalks' and paths to Casa Iguana on the other side of the little island. I put the word sidewalk in quotation marks because there are no roads on Little Corn Island. There are no motorized vehicles save a few boats that tie up to one of two docks. You can walk the circumference of the island in three hours we are told. I'll be checking that out soon for sure.
Casa Iguana is a friendly place. Very well kept and idyllic beyond all compare. Our first two nights will be in basic cabin number three, but we are then scheduled to move to a deluxe cabin, only because that is all they have for our third and fourth night.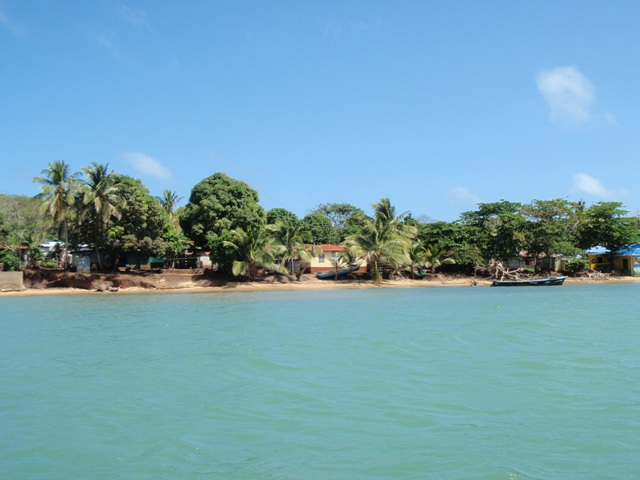 Arriving on LittleCorn
The remainder of our first day we spent getting acquainted with the island and chilling out. We walked back into town for a bite of lunch at a locally run Cuban restaurant, with the friendly Twaila, who we had met on the pinga, as our hostess. (I had commented on the big bag of mint that she was carrying and it came up that she was bringing it to prepare mojitos at her Cuban restaurant.) For lunch we shared a fish cocktail and a fish in Cuban sauce. Both were unique and delicious. As we ate we overheard an American guy talking to Twaila about some business that he was trying to start on the island. It sounded like a lodging operation of one kind or another, and it was interesting to hear about the trials and tribulation of trying to get something started in this small world far, far from home.
On the way back to Casa Iguana after lunch, I stopped in and rented some fins to accompany the snorkel and prescription mask that I brought from home. It was still too hot to hit the beach, however, so we read a while on our porch until the afternoon sun let up a bit. Then I hit the beach and checked out the under water scene. Directly in front of Iguana there is some pieces of reef and though the bottom was stirred up a bit, I did see numerous fish of differing shapes, colors and sizes. It was great fun to be in tropical waters again.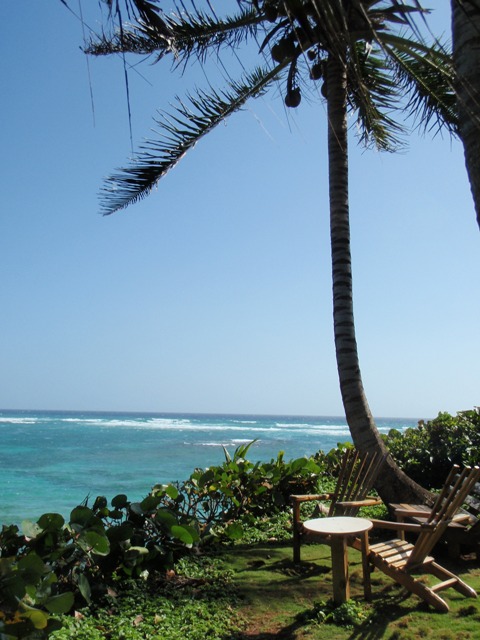 In Front of Casa Iguana Logde
Dinner at the Iguana was great as well. You eat family style here and are expected to attend dinner at seven unless you let them know in advance that you have other plans. Dinner was chicken with pesto (real, honest to goodness, pesto) preempted by a nice cabbage salad, accompanied by potatoes puree and green beans and followed by fresh baked carrot cake. Yum! We both had a couple rum on the rocks with lime -Jen taking nicely to my beverage of choice in tropical locales- before dinner started. During dinner we met Tony, a friendly diver from New Jersey, Cole, a woman who works here as part of a hospitality school internship from Temple college, and Shawn, a guy from Vail, Colorado who also is working here for a while. Everyone was friendly and super cool (diacachemba!) Once dinner wound down, we lingered a while, talking with our new friends and then retired to our cabin to fall asleep to the sounds of waves crashing and the stiff ocean breeze wafting through our screen window.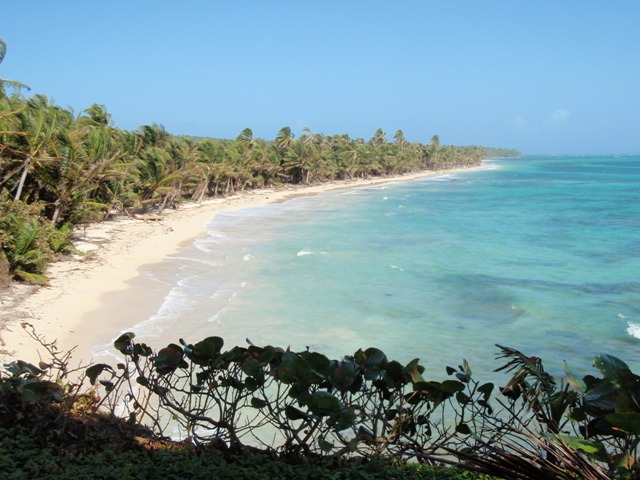 Iguana Beach
Thursday, Feb 12th. During the night the wind had gathered up strength and gusts shook our little cabina. You could hear the occasional coconut or palm frond come crashing down. We had been told that the week before that there had been five days of very bad weather with near hurricane force winds and rain. All the boats had stopped running and everyone that was on the island could not get off. The island's finicky power generators failed as well, leaving everyone to dim days and dark nights. I felt sorry for the tourists who came all the way here only to be limited to playing cards and rolling dice. The silver lining in all of that for us was that our chances of being brained by a coconut were severely reduced by the sheer number that fell in that five day period. Coconut accidents are not a laughing matter, a reality which one becomes acutely aware of when one looks up. This island is packed with coconut trees, each with dozens of nuts. At any given moment you are, nine times out of ten, underneath a coconut tree. I have heard that in the Bahamas more people die every year from coconut related deaths than in automobile accidents. Perhaps that is merely a wive's tale, but I've heard it said more than once. Here on Little Corn, however, it would have to be true because there are no automobiles on the island.
We ate breakfast Thursday morning on the lodge's porch. The lodge is built up on a cliff next to the sea and the view is out of this world. Jen ordered #2: scrambled eggs with peppers and onions, pinto gallo and coconut bread toast. I ordered #5: granola and milk. All breakfasts come with a bowl of fruit: Pineapple, banana, papaya, two kinds of melon and coconut. The coffee at Casa Iguana is endless in supply and made from only the freshest organically grown Nicaraguan coffee beans. Not to dwell, but coffee is an important morning ritual in both our lives and while many Central American countries produce some of the best coffee in the world, all too often…nearly always…you are served instant coffee. After breakfast we cleaned up in our cabina and set out for our day's adventure, which was a trek around the island.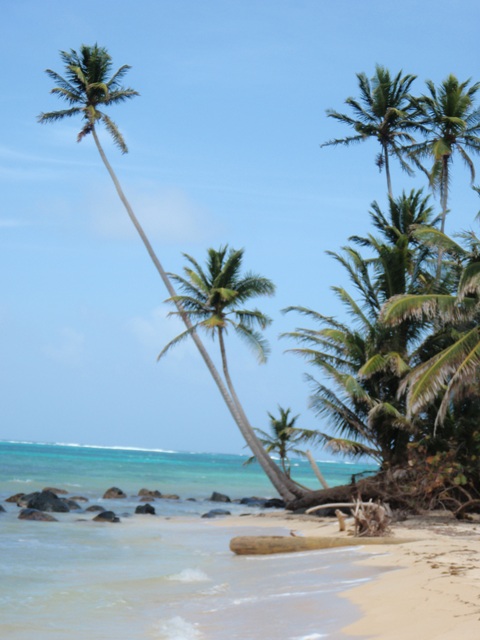 Beautiful
We started out walking north up the beach. I decided that I was going to climb up a coconut tree and get us a couple pipas (small, young, green coconuts -full of coconut water but yet to develop the hard shell casing one associates with coconuts -perfect for cracking open by hand to drink.) As I sized up the climb, a local guy passing by walked over and said "Yoo wanna coconut? Ow meny?" and before I said a word he was ascending the tree. "Two," I said and two he twisted off and brought down. I tossed him a couple cordobas for his services, smashed the coconuts against the trunk of the tree and we were filling our mouths with coconut water over and over again. When you drink coconut water this way, it is not a particularly neat process because the nut splits down the long way and the water trickles out the long crack. If you hold it up high enough and let the water consolidate into one stream, you can usually get most of it into your mouth as long as you tilt your head all the way back. Inevitably, however, getting the stream to align with your tilted back mouth takes a moment or two of fine tuning, during which time the coconut water runs onto your face and down your shirt. Fortunately the water dries without leaving a trace on your clothes. Coconuts are a great source of hydration when you are in a place where the water is not safe to drink because coconuts are nature's perfect water purifier.
Our walk down the beach took us past a few other beachside cabina colonies, none appearing quite as well put together as Casa Iguana, but nice all the same and most likely a tad cheaper. We had a little hand-drawn map that we had gotten handed as we had passed the local dive shop when we first got to the island, and we used that to get our barrings. A ways down the beach we took a path inland and followed it through the village where children played and rode bikes, chickens pecked nervously at the ground, men chopped at things in their yard with machetes and women glanced out at us from the windows of their corrugated metal shacks. The path took us North though the center of the island and soon it was jungle all around us. We saw little snakes and lizards, lots of birds and fruit trees. After quite a ways we came into a vast grove of orange trees, loaded with ripe fruit. I picked one, peeled it and tossed a section into my mouth only to find out that they were actually really, really sour limes. (I'll take a picture next time I'm out that way, just to show you how completely orange-seeming these limes were, inside and out.)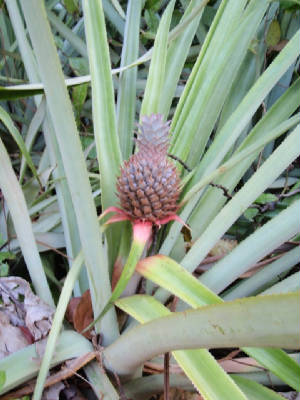 Where Pineapples are Born
A hundred meters past the lime grove we came to a clearing with an old cement house planted in the center. The view from the house was incredible, and on the porch sat a friendly old man. He was Otto and we had made it to 'Otto's Beach' on the tip of the north end of the island. Otto was a native who had lived here so long, he told us, that they had named the beach after him. He sat in a rocking chair with an old radio in front of him and the beautiful aqua blue Caribbean sea behind that. I couldn't imagine a more perfect life. "I tried ta sell dows dam lime fer a huile," he said, "bot people dem jus come an are takin dem any-whey, so I jus gived it up." "I guess that would be like trying to sell coconuts here," I said. He laughed and agreed. We chatted it up for a while. He seemed happy to have a visitor in this isolated spot. When we were through, he pointed out the best path down to the sand. "You can jus walk dat beach all de way back to yer place." He told us. And so we tried.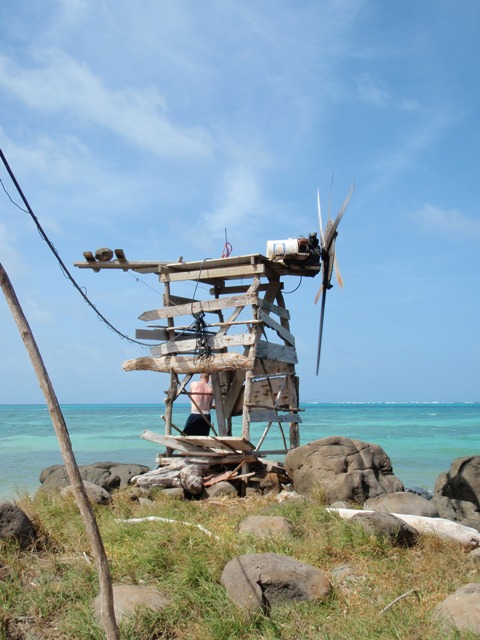 Homemade Windmill
The walk down the beach was a like a walk through a post card. The whitest sand, the perfect palm trees, the lightest glowing turquoise water. We passed a couple other bungalows. The very few people that we saw were happy and friendly, enjoying a beach that only appears in dreams. Just past one place that had a gnarly homemade windmill perched on some rocks that poked into the water, we cut back into the jungle on a little worn path and soon crossed paths with a couple and their two young boys that we had met on the airplane ride from Managua. The little boys were mesmerized by everything they saw. Picking up strange nuts, investigating mysterious holes borrowed into the ground, running from one wonder to another, while mom and dad tried hopelessly to keep them on target. They were staying at Carlito's Place just down the beach from the Iguana. They told us that they had stayed there once before. It is low key place, they told us. Carlito tries to avoid the party scene. It is perfect for the family.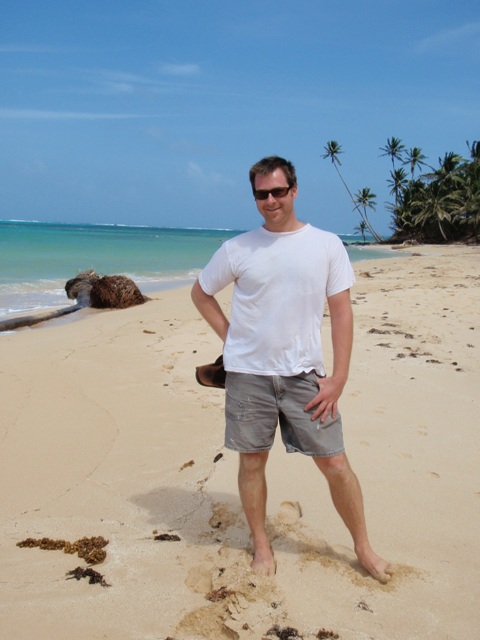 Justin on Little Corn Island
A little while later the path split and it soon became apparent that we choose the path less traveled. Soon we were in someone's yard and soon after that we were looking down at the beach from atop a sizable cliff. We scrambled along the edge of the cliff for a ways trying to find a route down and eventually we found our way down. (Jen found her way and I found mine) Then it was straight beach all the way back to Casa Iguana.
By this time it was getting toward rum o'clock and a stroll into town to the market was in order. 'Flor de Cana' is Nicaragua's finest rum and getting a bottle and a few limes was easily done. Not so easy was getting a bag of ice, but after an intricate quest we were able to find a lady, on the back porch of her house, that had a freezer from which she sold bags of ice. The bag of ice was not cubed, but rather a solid bag-shaped chunk. Back at our cabina it took a lot of stabbing with my small pocket knife to chip off sufficient pieces to chill our rum, (I only brought this little promotional Surfcomber knife that some company sent to us hoping that we would buy more) but eventually it was done. So out on porch we went and with a brilliant sun setting into the rolling sea, we had rums on the rocks with lime. Lovely!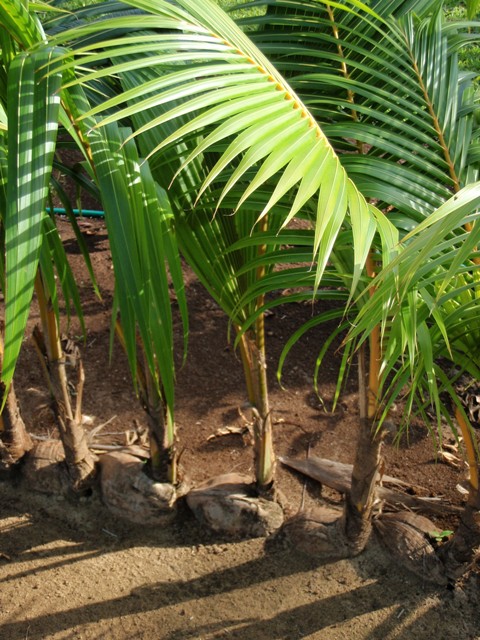 Iguana's Coconut Path
Dinner at the Iguana was barracuda, with herbed couscous and roasted carrots (preempted by a different cabbage salad and followed by banana cake) I kicked back a few Tonas with some of our new friends and then was off to bed.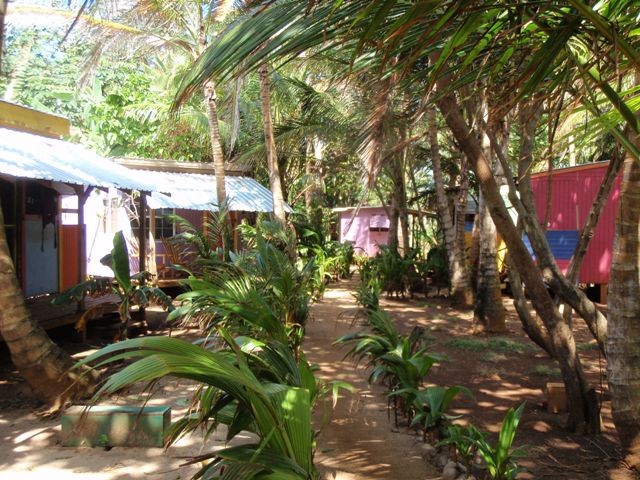 Iguana's Cabinas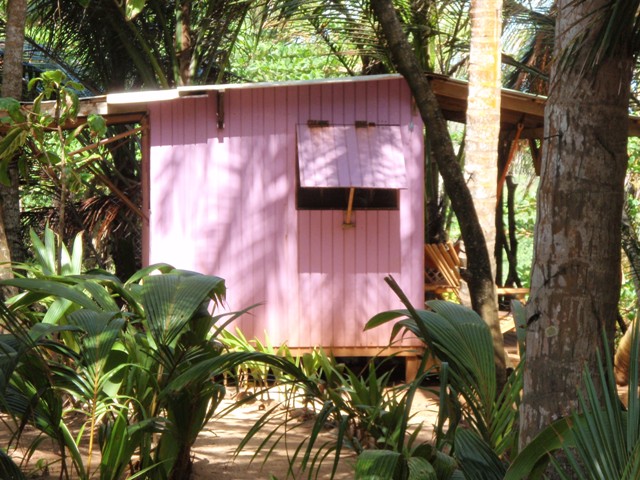 Our First Cabina (basic #3)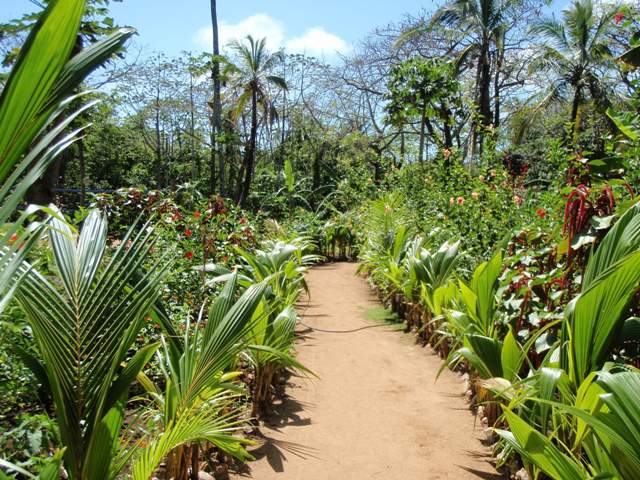 Day 3 on Little Corn Island. Today we had to switch Cabinas…from basic cabina #3 to a deluxe cabina #50. (there are nowhere near 50 cabinas, here….maybe ten or so) We had been very happy in #3, but someone had a reservation apparently, so the upgrade was our only choice. The deluxe are larger, have private bathrooms and cost $65 bucks as opposed to $35 per night. All the cabinas here are well appointed with a little lock box for valuables, mosquito nets over double beds, private decks and lots of books. The moving around took up the morning, but we were settled into our new place by noon…plenty of time for the highlight of the day -a snorkel trip out to 'John's Garden'.
John's garden is a section of reef on the south side of the island and it is spectacular. At two o'clock we met up with a small group at the dive shop on the 'front side' which is sort of the main drag of the island. Our 'snorkel master' was a woman named Noah who went over a brief orientation which included a diagram and explanation of this particular section of reef as well as a few safety points. The group consisted of two rather butch looking women from Buenos Aires, ourselves and another American couple that we had seen around over the past couple days. The women from B.A. did not speak English, and one in particular seemed very nervous about the excursion from the get go. Noah did not speak Spanish, so there was a little confusion over the nerves, but once I figured out that they were Spanish speakers, I was able to determine that the problem was a fear of sharks. It is not uncommon to see sharks snorkeling in the Caribbean, but they are generally harmless 'nurse' sharks. Most species of sharks, for that matter, are not generally interested in the taste of human flesh. The only problem that might arise, I have heard, would be if they mistaken you for a seal, which are not common to these parts anyway. Tony had told me that he had heard that here is a resident hammerhead that shows up from time to time, but it's a pretty rare treat to bump into him (or her). …So, I went out on a limb and explained to the Argentineans that there was absolutely no danger involved with our snorkel trip -a little white lie, I suppose, since there are risks hidden in everything we do, but that seemed to put them at a little more at ease.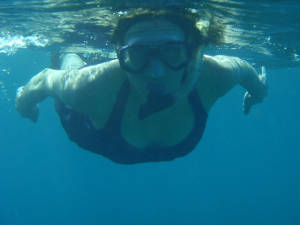 Jen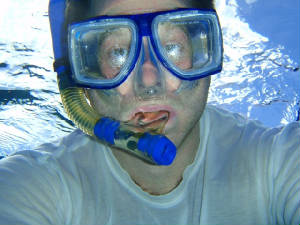 Justin
After gathering our gear, we climbed into a panga and flew around the side of the island to the section of reef that we were going to check out. The weather was perfect and the water was clear as we strapped on our fins, spit in our masks (this keeps them from fogging up) and tumbled over the edge of the boat backward. The reef was very, very beautiful. My camera is made to go underwater up to 15 feet and I took a bunch of pictures, but as I have found taking photos underwater before, they never come out particularly well. Even in the clearest of sea, which this was, the volume of water between the subject and lens gives the images a murky and washed out look. All the same, I will post a couple shots for you to see.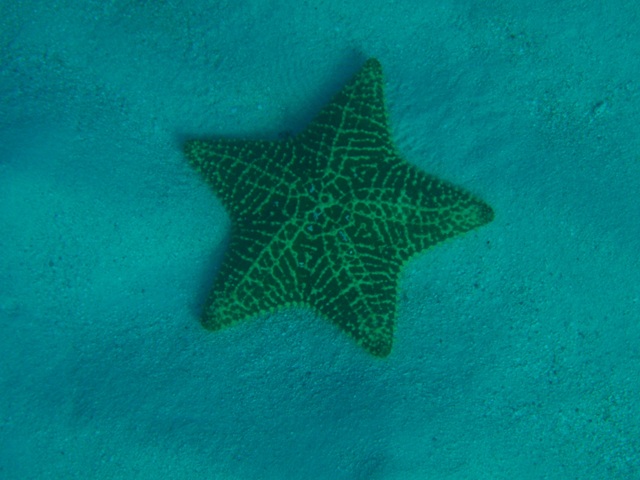 Star Fish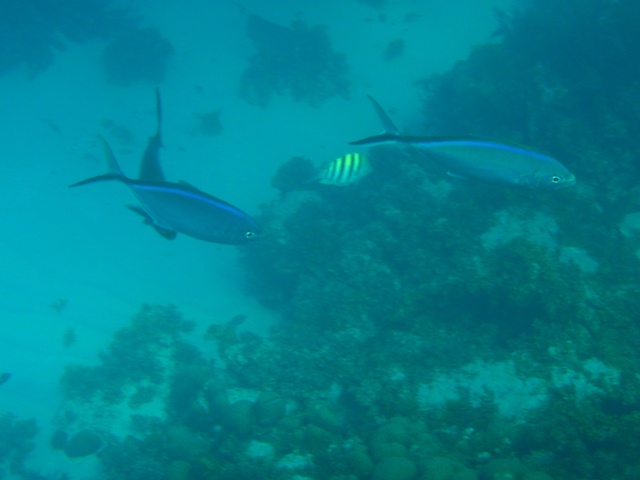 Fish
The reef itself was really cool. Lots of different shapes and varieties. Jen was my 'buddy' so we got to go off and explore in our own little pod. The fish here are also a sight to behold. Speaking with other divers I had learned that Little Corn's quantity and variety of fish are the greatest in all the Caribbean. Many other famous spots, like Rotan and Utilla off the coast of Honduras, have beautiful reef formations, but very few fish. In John's garden we saw hundreds of fish of amazing variety. Everything from tiny little fish of every color of the rainbow to medium sized fish that practically glowed florescent, to a couple big fish (these were mostly gray). Of the largest fish that we saw, one barracuda took the cake, looking nearly as big as I. We saw a trunk fish, too, which was quite large and very curious. Jen and the trunk fish really took to one another, staring deep into each others eyes for long periods of time. I didn't know whether I should be jealous of Jen or the fish, but the two really hit it off.. "I got the feeling that he was really intelligent." Jen said afterward.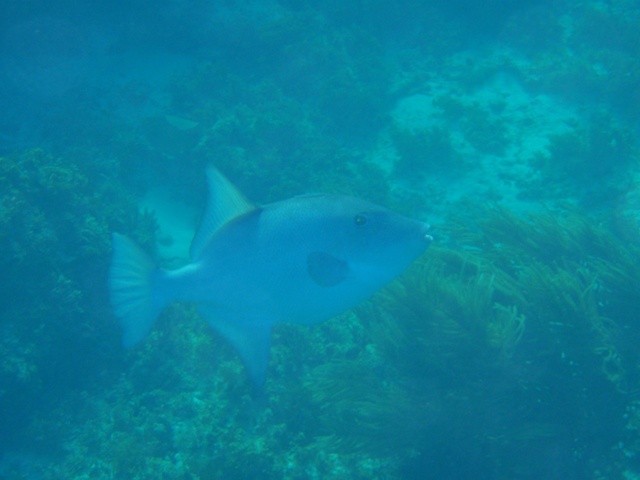 Trunk Fish (Big as a Small Dog)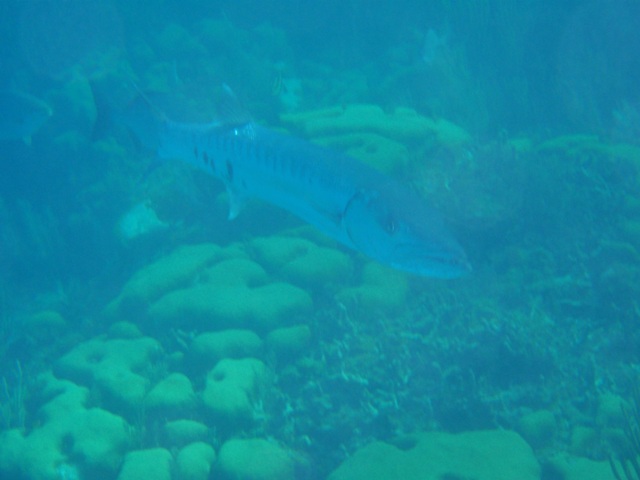 Barracuda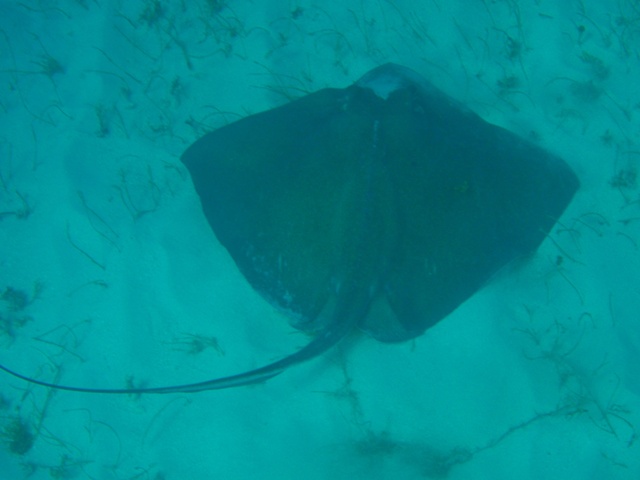 Sting Ray
The next wonder of the deep was a big stingray that wallowed along the bottom. I dove right down to snap a picture of him (or her) and he (or she) did not seem concerned in the least…probably because he(or she) knew he (or she) could sting the bejeesus out of me at a moment's notice. There were also a lot of big starfish, surprisingly varied in markings and color, that lurked sinisterly and expressionless on the ocean floor.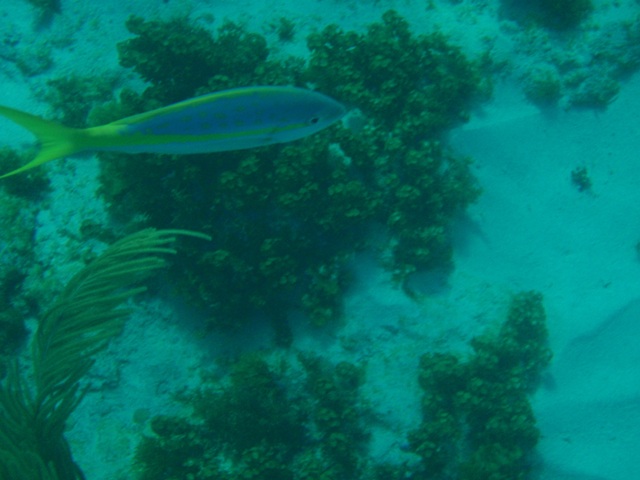 Fish
Our snorkeling lasted about an hour out there, and back on the boat, we all compared notes about what we saw as we flew back around the island to the 'front side'.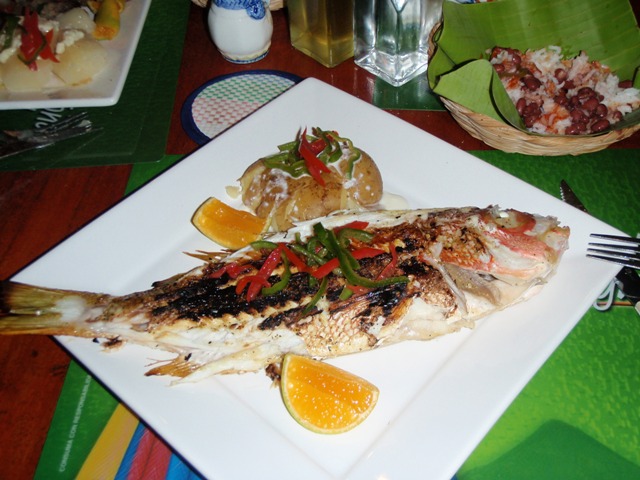 Valentines Fish (Red Snapper)
Being Valentines Day, we had made a reservation earlier in the day to spend dinner on this Saturday night at the Cuban restaurant. Per Twaila's recommendation, I had pre-ordered a Cuban roast pork dish that needed to be prepared in advance. Jen ordered the red snapper off the menu. Twaila's husband does the cooking at 'The Havana Libre' and I think he must have some culinary training because they do a perfect job. Besides being delicious, the food is well presented . They used banana leaf beds and garnishes of multi-colored, thinly sliced, peppers and creama fresca. Before the main course arrived, a salad of sliced ripe plum tomatoes and perfectly julienned cucumber was served, followed by a small mound of white rice and a dish of stewed red beans. Washed down with mojitos and finished off with an outstanding coconut flan, the meal was proof of why so many people say Cuba Libre is Little Corn's best.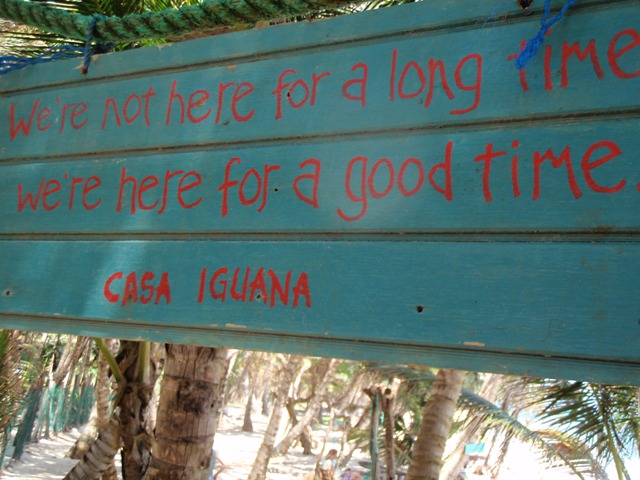 Me too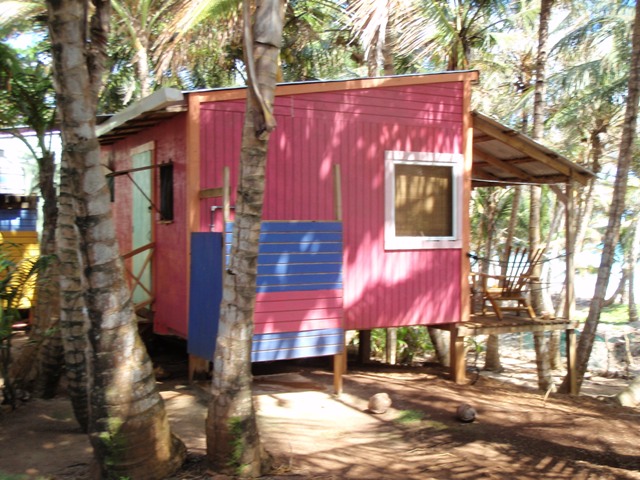 Our Second Cabina (deluxe cabina #50)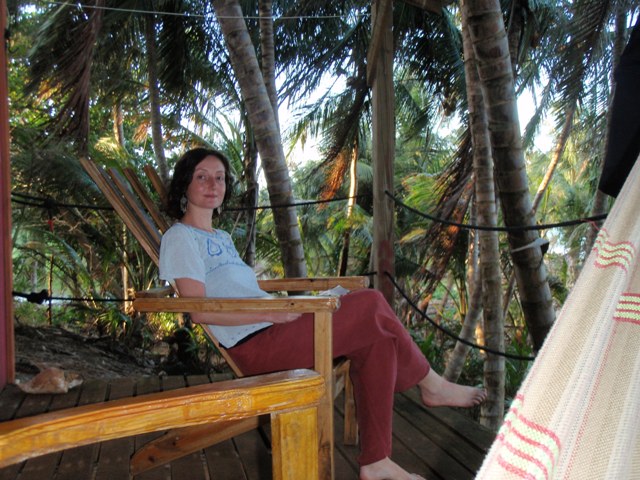 Cabina 50 Deck
After dinner we headed back to Casa Iguana. Jen was tuckered out, but I had told a couple folks that I would grab a drink with them at Iguana's bar so I tucked her in and wandered over for a couple beers. At the bar I sat on the porch with the always animated and enthusiastic Italian couple…he a wine maker and avid fly fisherman, she a sun worshipper and local stray dog fanatic. Also there were 'the Americans', a friendly threesome from Virginia- one guy and his wife and their female friend- and Tony, who was leaving the next morning. I was possibly the youngest of this crowd by a year or two, but they all knew exactly how to have a really good time, and there was a lot of laughing, a lot of drinking, many stories and even a touch of philosophical ponderance. (Spell check thinks I made the word 'poderance' up, but I think it suit's the point well, so it stays!)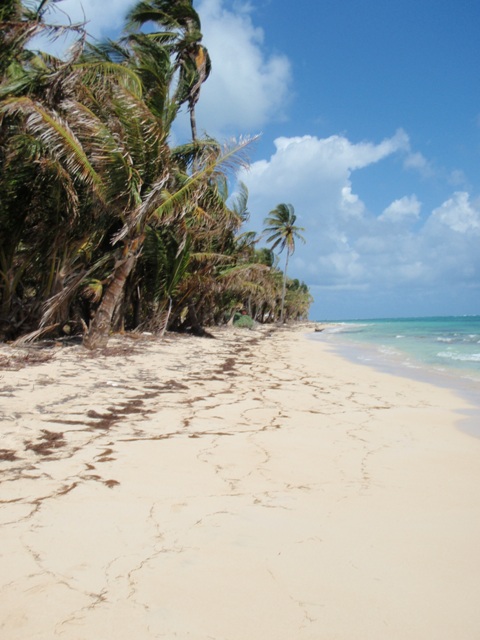 More Beach
Sunday, Feb. 15th. There are many different shapes and sizes of cabinas down the beach from the Casa Iguana. This is a good thing because on this morning, the time has come to move out of Iguana and find another place for a couple nights. Originally, we were supposed to leave the island today, but with a last minute email, we were able to switch our flight from Big Corn to Managua from today to Tuesday.
We had known in advance that the Iguana was full beginning today, and though we checked in from time to time, this fact did not change. So this morning we packed our things, left them in the lodge and walked down the beach to find alternative digs.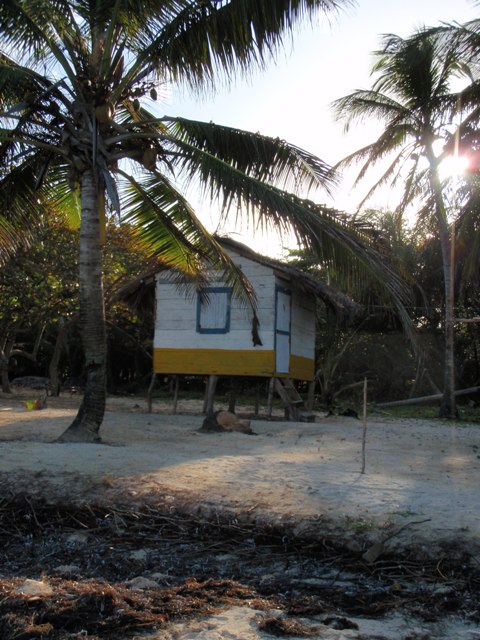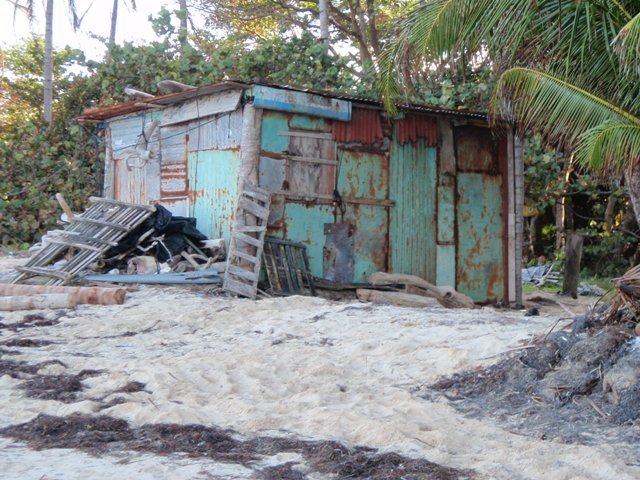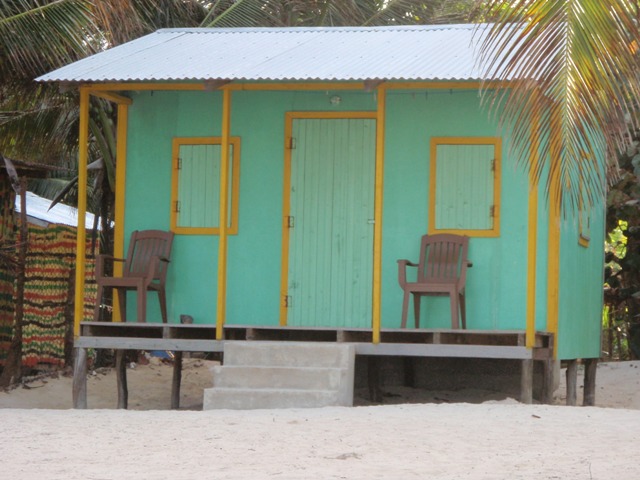 Down the beach there were many different types of cabinas, but many of the best were either too full or cost more than we wanted to pay. We ended up choosing 'Grace's Cool Spot' a horrifically painted, but very friendly bungalow spot. Our proprietor was Andrew and he told us he would have a place with a private bath ready for us by 2 in the afternoon.
We returned at two, played some dice to stall a bit while the room was finished, and moved in. The place was a considerable downgrade. The walls were made of bamboo, which was nice for us in the way that they let the fresh air in and nice for the mosquitoes in the way that they let them snack on our blood. The bathroom was basic, but acceptable, save one major drawback….there was no water. The floor of the cabina had been decorated with a thin vinyl covering, which unfortunately had torn, with some chunks missing. The cabina did have a decent double bed with a very nice mosquito net over it.
At the Cabinas we met Danny, a nice American who had been living there over a month and had assimilated into the business as a sort of host, helper and fisherman. Danny was a contractor from LA. In his time at Grace's, he had organized a daily snorkel trip, which I immediately signed onto for the following day.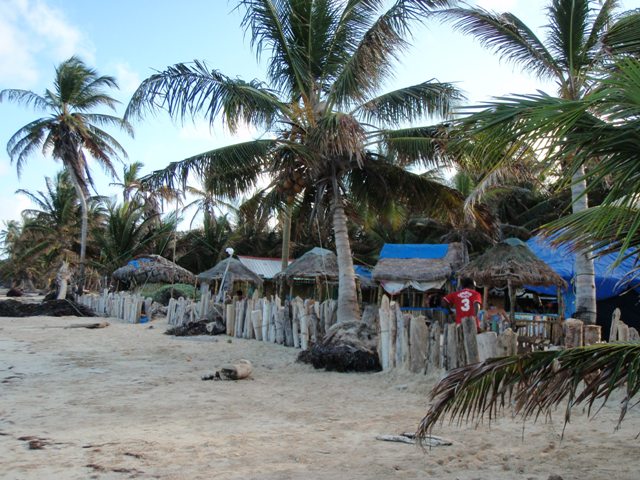 Grace's Cool Spot
Our first day at Grace's was dominated by the move and then a little hammock time on our new porch. Generally, when I move into a new place, I like to take my first dinner there for two reasons: 1) The added revenue that comes in from dinners means a lot to the establishment, so it scores you some 'friendliness' points with them that can pay off for the remainder of your stay. 2) It is a good way to meet your new fellow guests, -make some new friends and dig up some info, gossips and ideas of things do. But because there was no water in the whole place (the motor on their pump burned out) we decided to head to the front side for dinner.
On the front side, we searched around a bit trying to find something good to eat. Being Sunday, many spots were closed and the ones that were open had to bare the extra business. We stopped into the 'Lobster Inn's' restaurant, where they had room, but the woman at the counter was so cold, we quickly left on the vibe. So we ended up at the Dolphin, where we had had mediocre lunch a few days earlier. That day, for lunch, they didn't have much on the menu, but tonight it was dinner and busy and we figured we might have better luck. When the waitress first visited our table, I asked her if there was anything on the menu that they did not have. She said they had everything, so we ordered a drink and looked over the menu for a while. Both Jen and I knew we wanted fish, but prepared which way? Once we decided and the waitress returned we began to order and she stopped us: "No hay Pescado!" (We don't have fish!) So, rather unhappily, Jen ordered lobster and I ordered chicken with jalapeno sauce and once it came it was decent enough to do.
Back at Grace's we dove under our mosquito net. The unfortunate mosquitoes clung all over the net and while a few found the several small holes and got in, for the most part we were safe. We read a bit, until the power went out (most places, including the Iguana, shut the power off at a set time each night to save generator fuel) and then we went to sleep…except we didn't right away because there was a nocturnal creature somewhere in the galvanized roof scratching and scraping together a kingdom. The small square Cabina acted as an amplifier and the noise was almost too much to bare. I banged on the ceiling with a stick a couple times to shut him or her up, but the silence only lasted a minute or two before he or she got started again. We do not know to this day what that creature was, but if I was a similar creature, I would surely go over to his or her house as often as possible.
When sleep finally came, we slept well. At one point in the night Jen woke up to another sound. The sound of someone walking around in the dark outside our cabina. We had all two of our big windows open, and there was nothing to stop even the largest of persons from hopping in. The stiff breeze-rustled palms and eerie dim glow of the night, along with a twinge of fear that someone was lurking outside, gave us both a couple goosebumps. I got up quietly and moved a few of our items away from any sort of window reach and after a while, with nothing ever materializing, we drifted back off to sleep.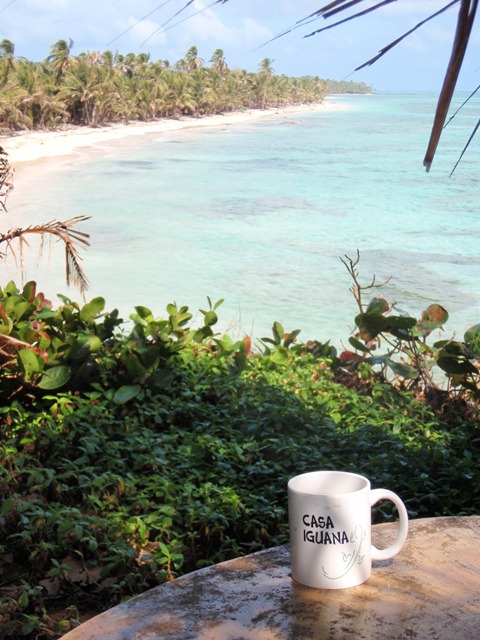 Casa Iguana Still Had the Best Coffee on the Island
Monday, Feb 16th. First thing Monday morning we trekked back down the beach for the unbeatable coffee (and bathroom) of the Iguana. We got back just in time for me to catch the 11:00 AM snorkeling trip out to 'The White Holes'. This trip had a few more folks aboard, a couple wielding spear guns. I had heard that the White Holes was the best, from Tony who had gone out to almost every dive spot around the island. I was not disappointed.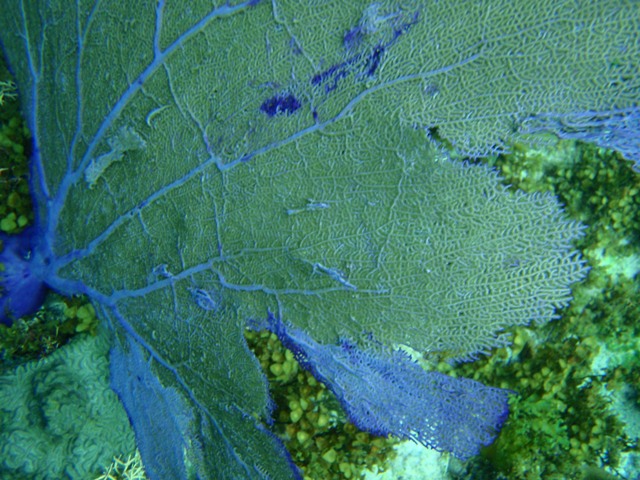 We hit two spots. I lasted about twenty minutes in the water without my shirt on and then, feeling the strong sun, spent the remainder of the trip with a t-shirt on. The White Holes were terrific. Again I saw hoards of beautiful fish and great coral. I also swam a bit with a nurse shark which was either very curious about me, or, perhaps, trying to defend her turf. Either way, she kept swimming up to me and after me, and I was infinitely happy to have this little bonding time with such a large fish. By the second spot I was really getting into a rhythm. I was getting bolder and bolder with my free dives, taking a deep breath and diving down 15 or so feet to check out the deeper coral. When you find your equilibrium, you can just hover inches above the sharp coral and skim over it, getting a really close look. Naturally, half way through the second spot, my camera battery quit, so I was unable to get a shot of a huge grouper…as big as me…that also seemed curious to check me out. He made me a little nervous because he seemed a little territorial and had a huge mouth full of big teeth.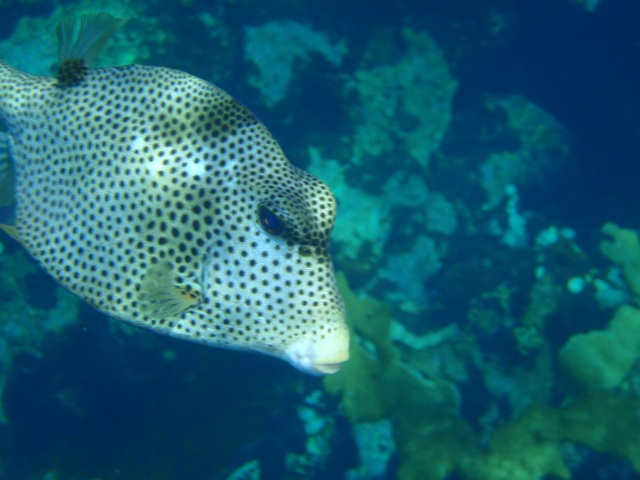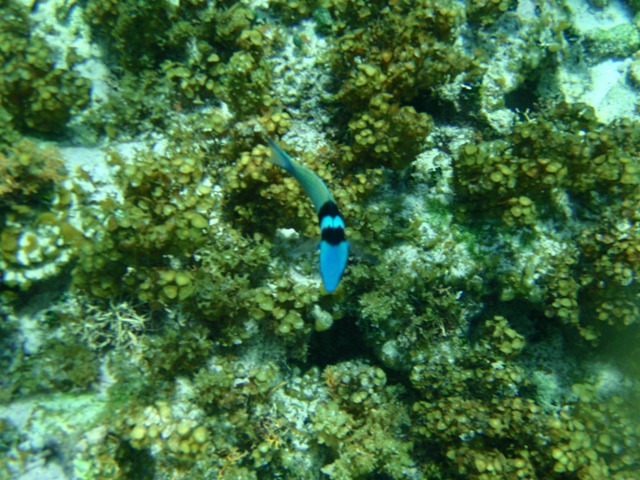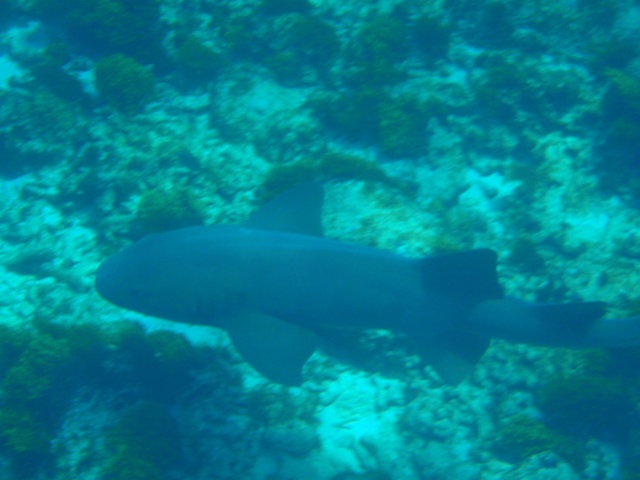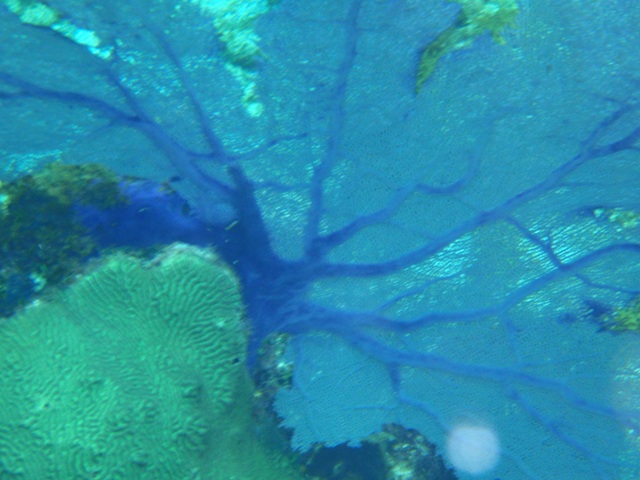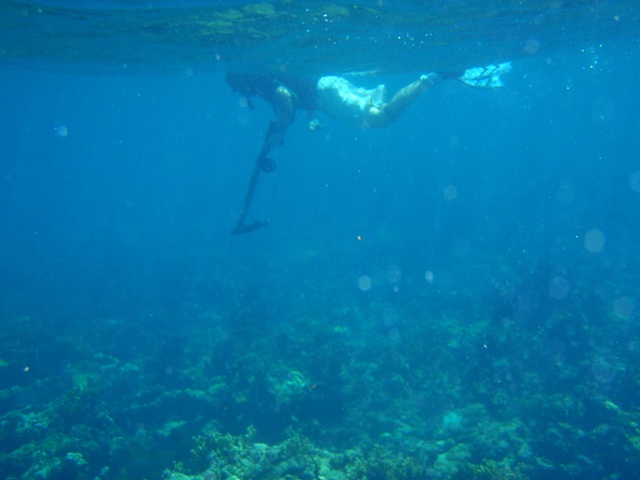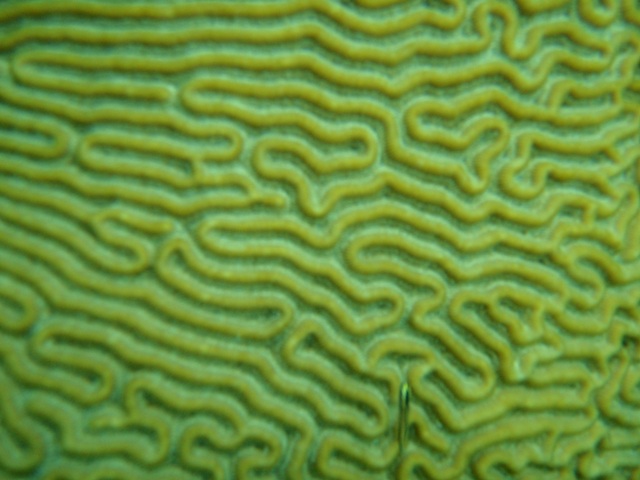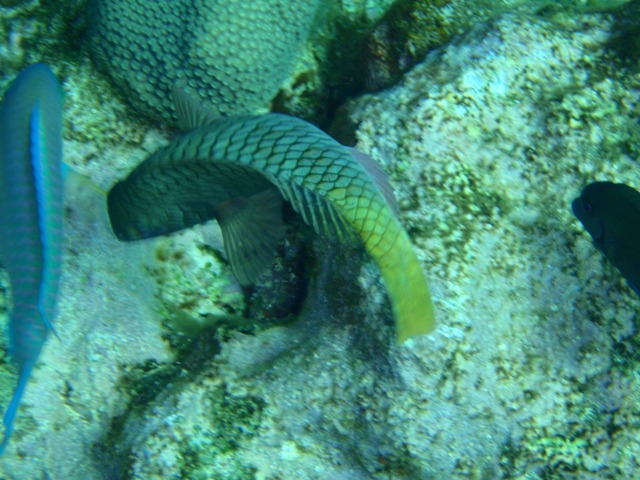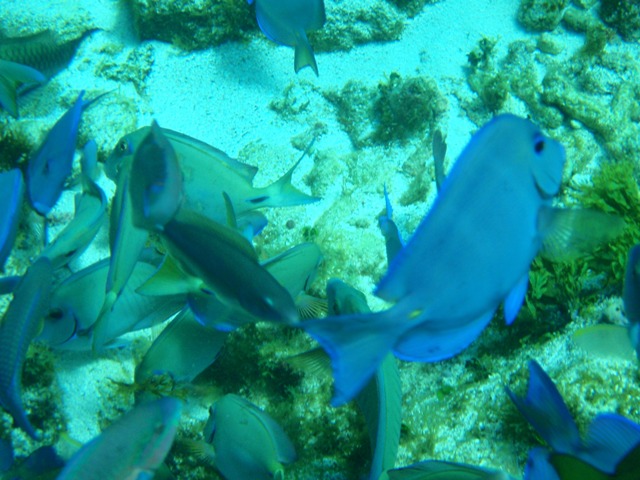 Once back on shore, I grabbed a long little lunch at Carlitos with Jen. While there, a flash storm popped up and it dumped rain for ten minutes or so, then it cleared up. By the time we left Carlitos it was late afternoon and we read in hammocks for a while until around six. At six we had a couple rums by the beach and then headed over to The Iguana where we had reserved a spot for our final dinner.
On the walk to the Iguana, we saw a lot of crabs which seem to come out of their abundant crab holes at a particular time of the evening and then dissapear again an hour or two later. There are three main kinds. Big redish ones that put up their dukes when you get close and then chicken-out when you get closer, little whiteish-clear ones that are very fast and can jump great distances and hermit crabs, some of which get very big and inhabit even the largest conch shells. All come out on the paths in great numbers at this magic crab hour.
The Iguana was packed like we hadn't seen up to then. We got a table outside, and ate a delicious dinner of Snapper with a caper sauce served over a polenta puree. I had gotten a lot of sun that day and was tired, so after dinner I just had a couple beers with the folks there and then we went back to Graces and went to bed.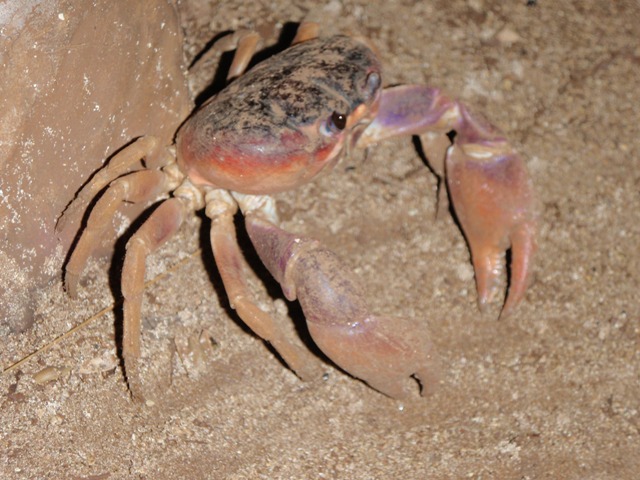 Tuesday, Feb 17th Today the day had finally come to go. We hit up the Iguana for coffee again and then packed up our things back at Graces. The panga off the island left at 2, so we had some time to kill. I joked to Danny that we would just slowly wander back to the dock, stopping for a beer at every place we passed. While I cannot say I hit every spot, we did alright. I also stopped in the dive shop to settle my tab and return my fins.
The Panga ride was a whole different story going with the waves…not nearly as exhilarating. Back on Big Corn, we got a ride to the airport with an unfriendly mustached cabbie, wearing a red sox cap. (He'd fit right in in New England) I pointed to his hat and told him that was my team, but he didn't really respond, probably because he had no idea what the 'B' on his cap meant. Last year we saw a lot of Red Sox hats all over the Americas, and often the wearer had no idea it was a sports team. (Years ago you used to see Yankee hats all over the place. So don't tell me there are no positive aspects to 'cultural progress'.)
Good bye Corn Islands! We shall be back!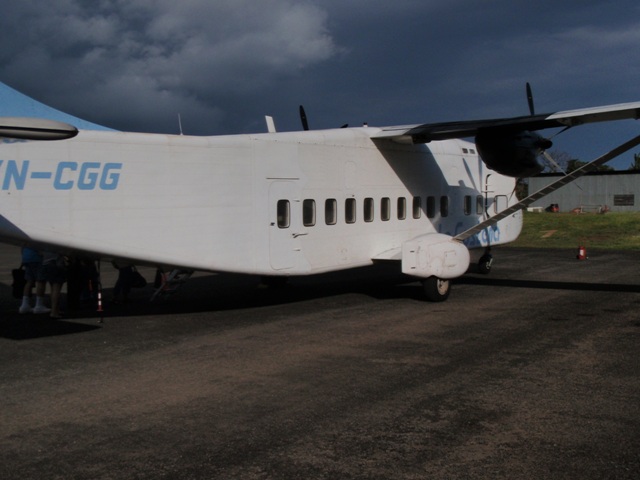 Flight off the Island