During our panga ride off Little Corn, we sat next to an American couple from California named Anna and Justin. After a little chit chat we all realized that we had the same plan for the remainder of the day. We were all flying to Managua and then trying to get to Granada. Anna and Justin had heard that instead of catching a cab from the airport to the bus terminal then waiting for the next bus, then taking that bus, slowly, to Granada (1.5 hours), and then getting a cab to whatever hotel or guest house we were to choose, we could just hire a cab from the airport directly to wherever we wanted to go in Granada for forty dollars US. Being four of us, it would cost $10 bucks a piece. Though more expensive than the alternative, this option seemed well worth it, so this is what we did. And one of the side effects of this decision was a fast friendship that we all formed.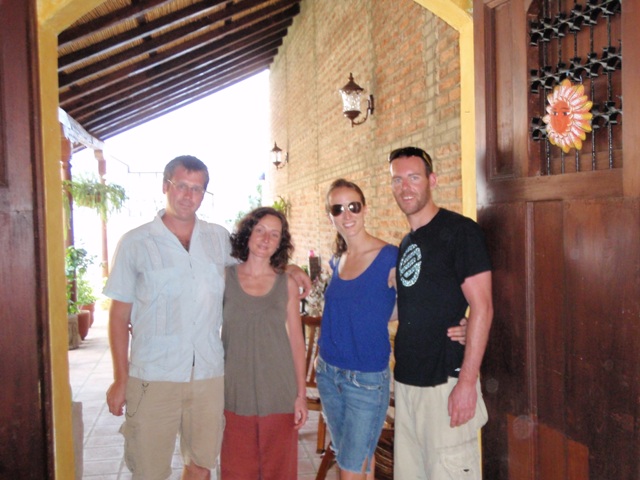 Justin Jen Anna Justin
Everything went off like clockwork, too. The first cab we grabbed was happy to do the deed, and forty bucks was his first asking price. In the cab, it only took an hour to get to Granada and the cabbie took us right to Posada del Sol, where I now sit and type into this machine. We had heard of Posada del Sol from an overly friendly Canadian couple, who told us it was brand new, not in any guide books and a great value for what they offered. To us the newness and unlistedness of this posada was attractive because it meant, all things being equal, that there was a relatively strongly likelihood of it not being full, and none of us felt like schlepping around after a long day of travel.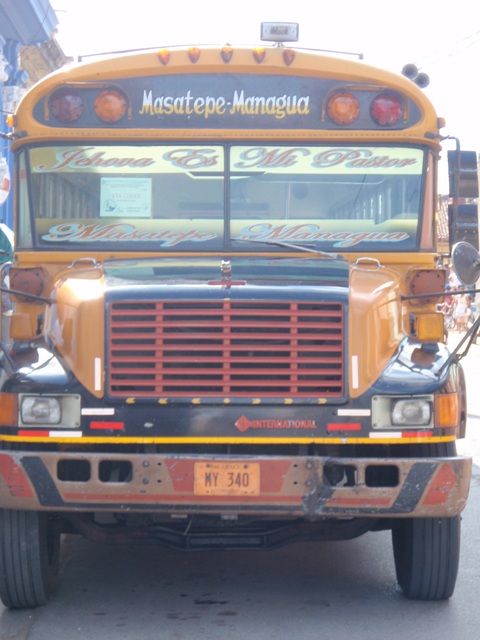 We rolled into Granada around 6:30 PM, and took a couple rooms. Jen and I jumped in the swimming pool to cool off, then took long overdue showers (it was my first shower in 6 days…not that I didn't have the option…I just swam a lot everyday on the island and I love salt water sinking into my skin). After an hour or so, we regrouped for a stroll around the plaza and had a nice dinner (comida tipica), complimented by a small bottle of rum. Jen had papusas (originally of Salvadorian origin, but now widely available from Mexico to Panama) fried cheese, pickled vegetables and slightly burned gallo pinto. I had charrasco with chimichurri (Argentine style steak with an herbaceous 'chimichurri' sauce). We slowly enjoyed our meal over good conversation, and closed the place down. Back at the Posada del Sol, our room has a kicking AC, which we blared full tilt upon hitting the hay and slept like logs, waking up in the morning complete ice cubes with stuffed-up noses (AC always stuffs me up).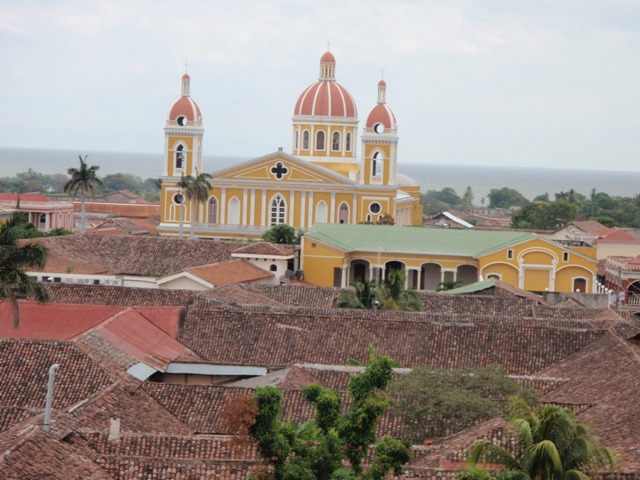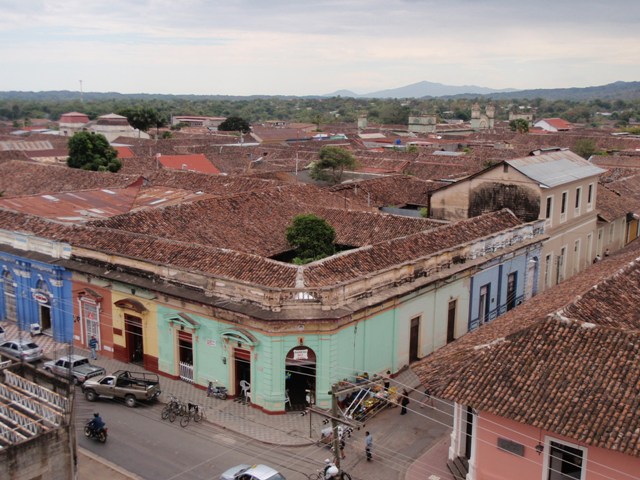 Granada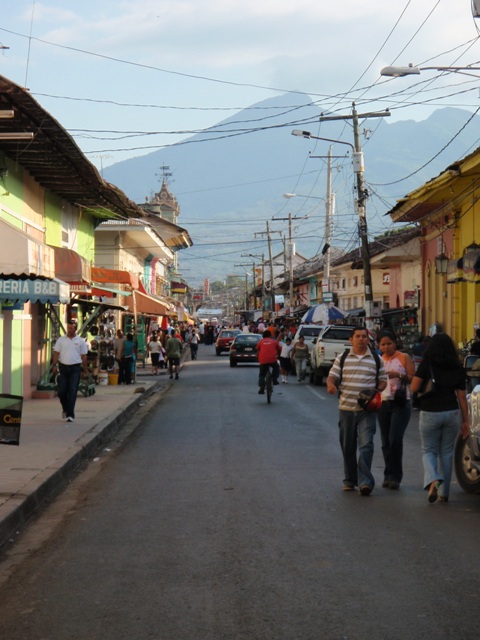 Volcano behind Granada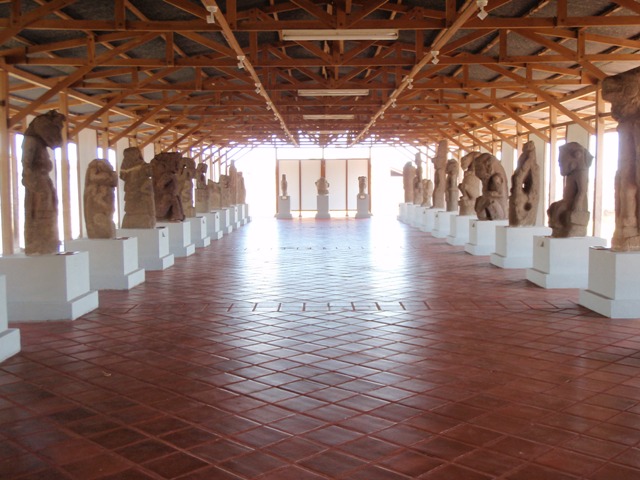 Monestary Artifacts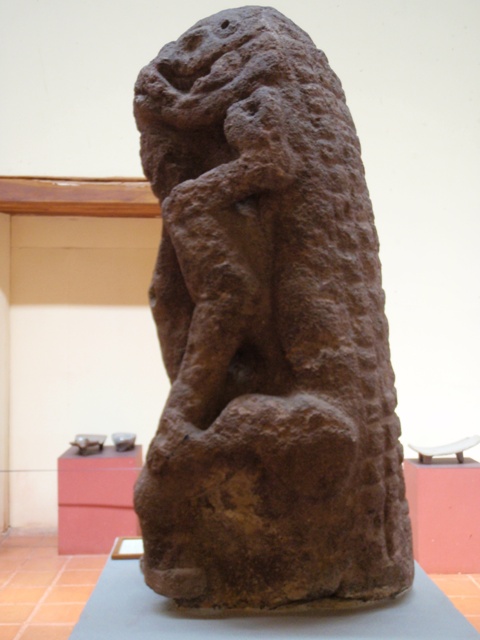 Alligator on my Back
In the morning, Jen and I went down to the courtyard for coffee and met an older man from Managua and a younger professor from none other than Appleton, Maine. He was a poet and she was a poetry teacher and they were both here for the international poetry festival that had just got started. What luck! The two gave us the low down on the festival, interspersed with thick political banter. (The USA has had it's way with Nicaragua for over a century. We were actually ordered in 1986 by the International Court of Justice in the Haig to pay billions of dollars in restitution for illegal actions…minings, bombings, destruction of the country's infrastructure… which we refused to pay, claiming that the court was not competent to pass judgment [even if we find the court quite competent when it suits us] and to this day, Nicaragua still remains Central America's poorest country. Despite this the people still like Americans and are hopeful -like every foreigner that I have met throughout the 13 Latin American countries I have visited in the past year - that with a changing of the guard, our country will become a better steward of the land and the people of the 2 continents that we share). Ironically, there is a huge stress at this year's festival on separating politics from poetry because of the many nations that are represented here. While my readership is generally of like minds, I, too, have tried to keep this site separated from my political points of view. And it can be hard, because here in Nicaragua, and in Panama and in Colombia and in El Salvador and in Guatemala and in Chile and probably many of the other countries that I have visited in past year, our CIA (or our DEA or even our troops) have made their mark. Can you imagine another country coming into ours, mining our harbors, plotting the overthrow of our democratically elected government, marching on our cities or training others to do so? [I guess to some extent, through recent events, we can imagine this.] If you come here, you can't help but be conscious of it, because these now trivial and forgotten tid-bits of our history have had major consequences on the realities of the lives of people down here. And while we are forgiven (by most) not all is forgotten. (We have done good, too, -through aid [usually with strings attached] and through social programs and volunteer work that can be seen today. And I hope we continue to invest in these programs. I, for one, am all for paying taxes that will be used to help these neighbors ....as long, of course, as there are a few dollars left over to fly our Merril Lynch and AIG exectutives to their well-deserved year end hunting retreats ….I really should stick to poetry, however. (I can hear a few of you saying "yes, Justin, you should" even from this far away.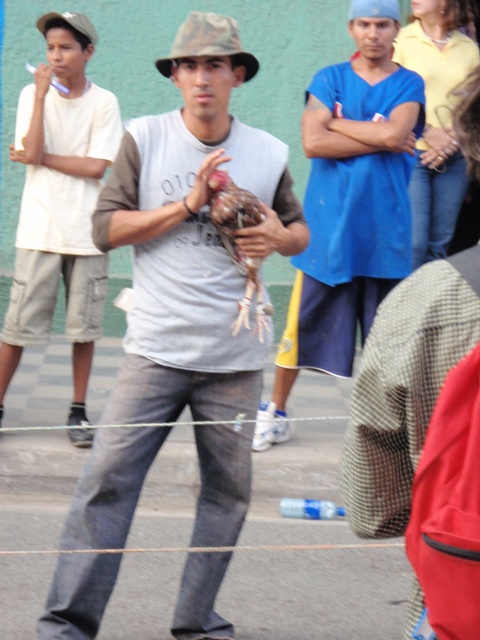 Boy and his Fighting Cock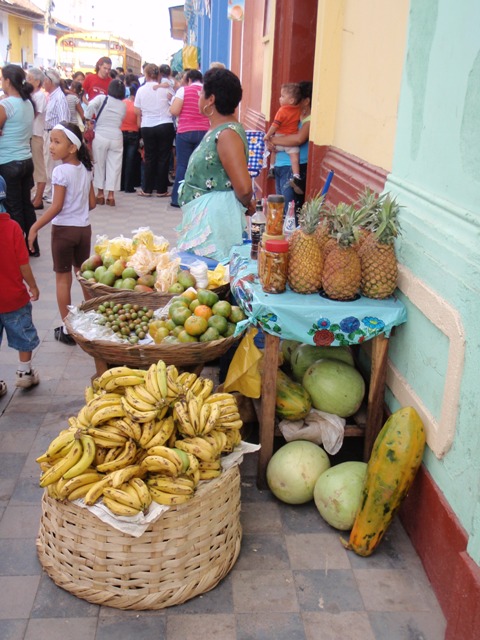 Fruit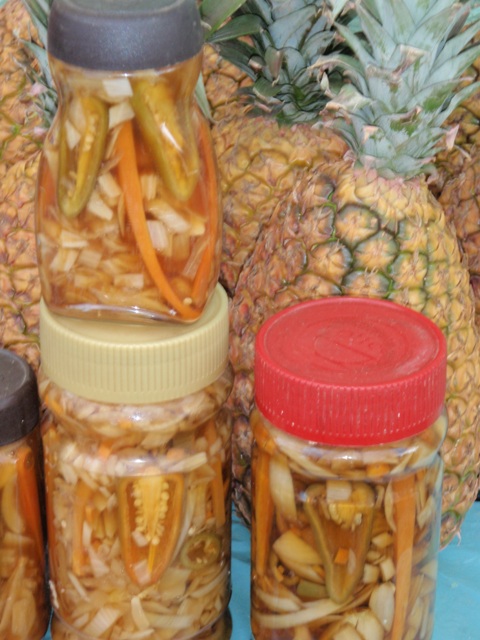 Pickled Salad (Curtido)
Arriving for the poetry festival here in Granada has been wonderful luck for us. At any given time of the day, there are poetry reading going on. Mostly in Spanish, granted, but also in every other language under the sun. We keep seeming to miss the English poets, but we still have time.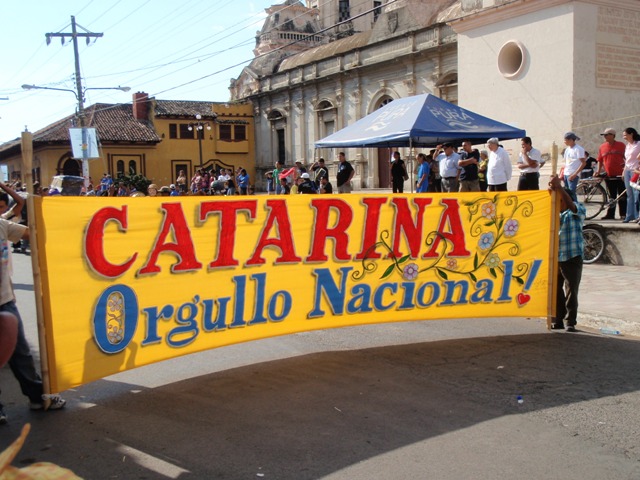 The parade is actually dubbed a funeral procession. Each year they have a different theme. The theme this year is 'lies and deceit' and the funeral procession is meant to lay lies and deceit to rest. There is a beautiful black hearse-carriage carrying the coffin wherein lays these lies and deceit and they march down to the river to throw the coffin in. The parade is a lengthy affair, wondrous and chaotic. There are brass bands and moving sound systems, organized dance troops and disorganized bands of costumed hoards. From what we could gather, many of the dance groups represented the different cultures found in Nicaragua. From indigenous to Hispanic, Caribbean to campasino, mystical-fantastic to historical, colonial and folkloric.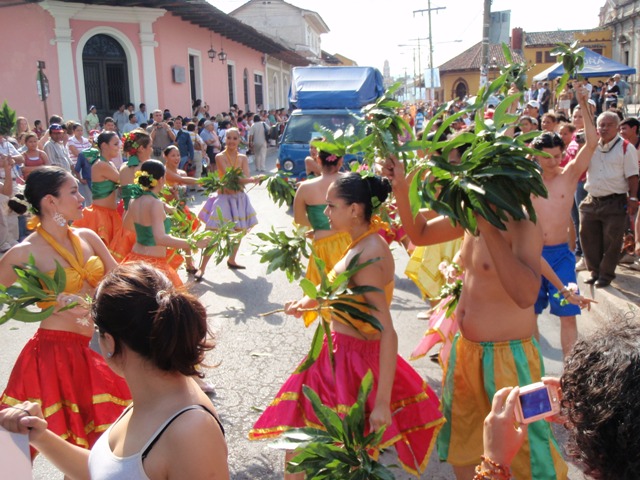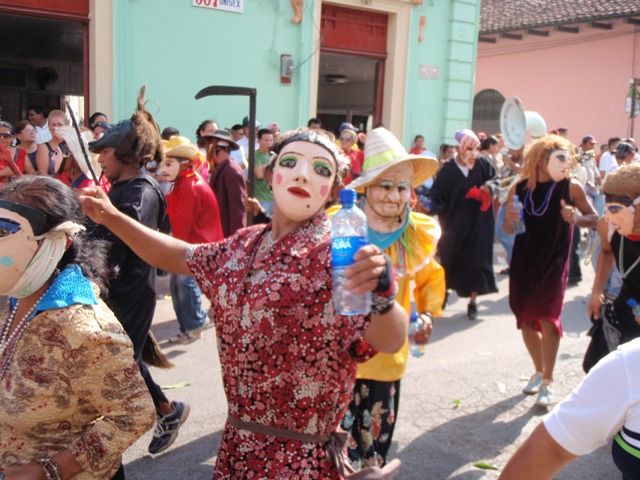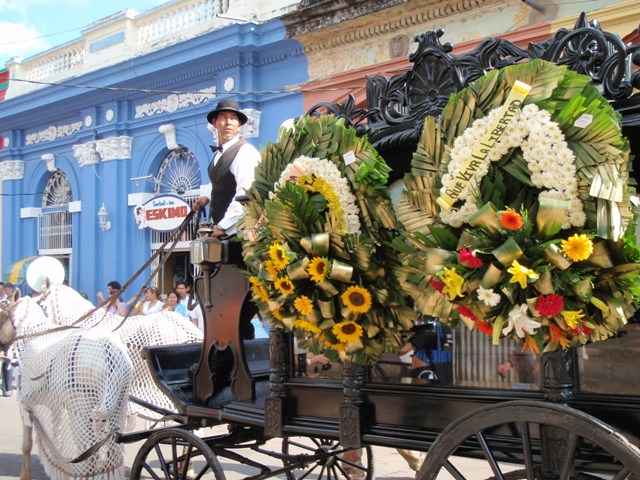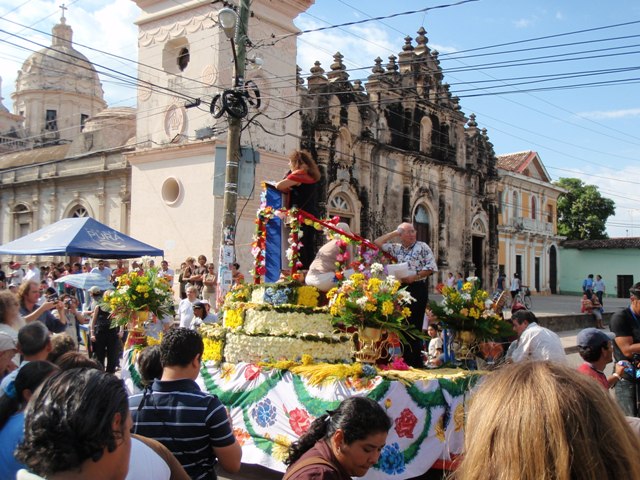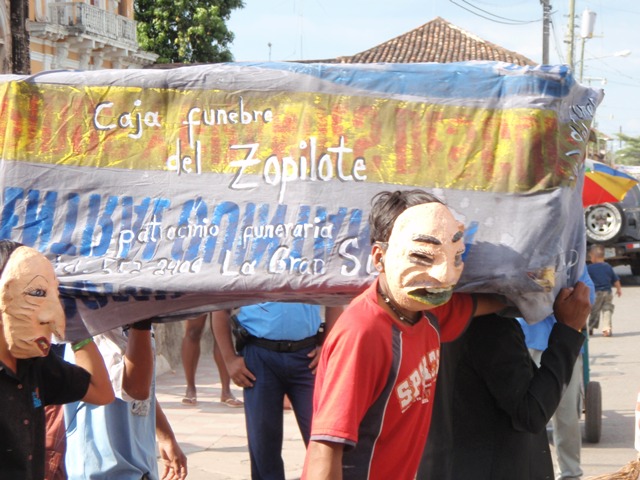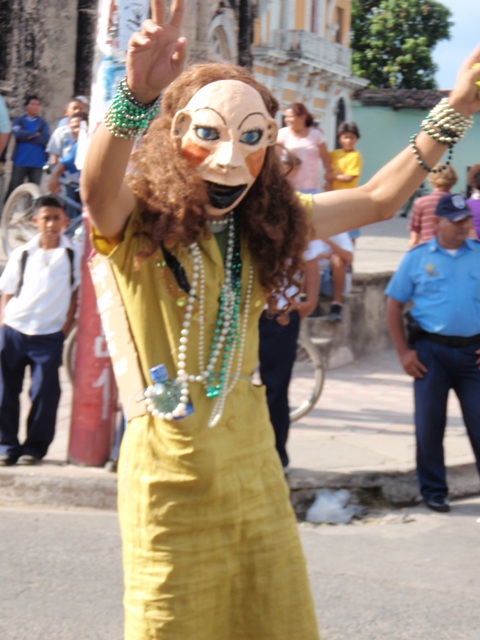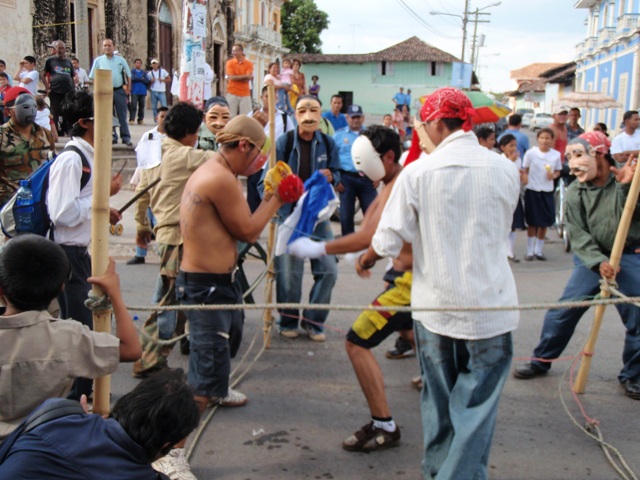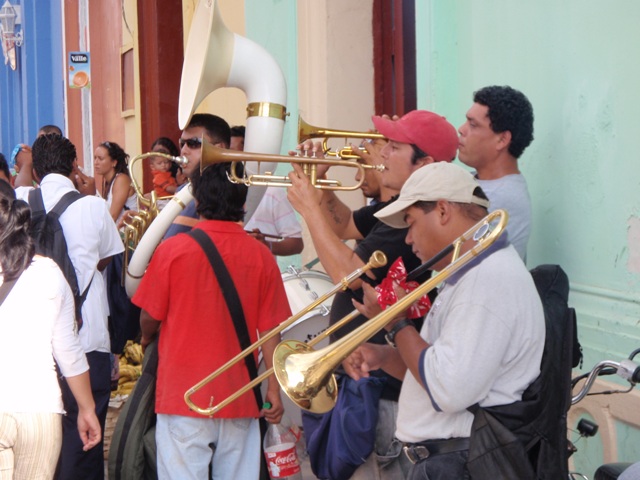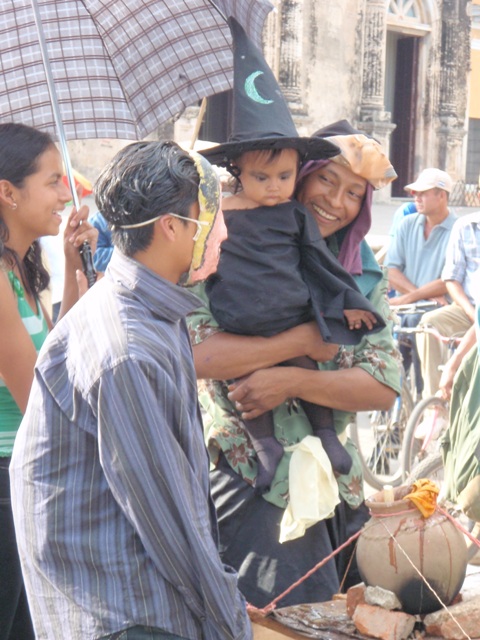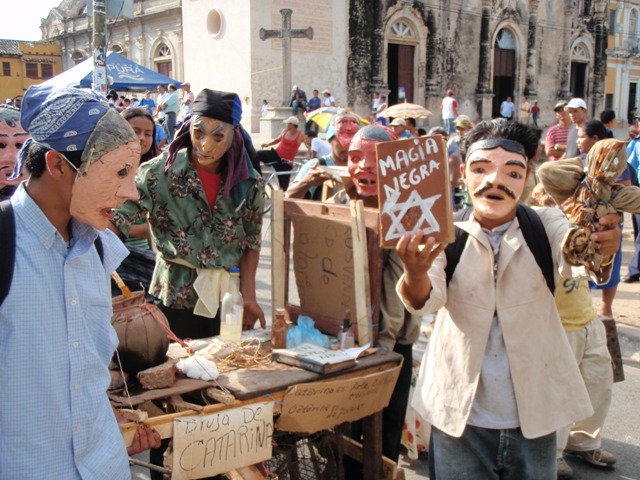 We arrived at the procession assembly early and watched it all begin.. We were both in heaven…absolute heaven…so lucky to have arrived to Granada when we did and completely enveloped in the madness. As the procession moved along, I took probably a hundred pictures and a hundred audio recording and all the video my camera's battery could handle. Everyone was ecstatic, the parade participants, the onlookers, the police, the street dogs (probably the pick-pockets, too) The participants posed for pictures, young and old. One frightening witch-doctor-esque man in a ghoulish mask handed me a hollowed out coconut shell with some opaque liquid inside and beckoned for me to drink from it, and, caught up in the moment, I did, much to Jen's horror and surprise. It tasted fermented and milky and sweet…hints of vanilla, perhaps. The next thing I knew I was tripping my face-off….ha ha ha…just kidding…nothing happened….I think it might have been this stuff called Chicha or bruja vieja, which is a fermented drink of rough-milled corn (not particularly strong) that I have seen old ladies selling around the square. It actually tasted pretty good…I might just have to find a little more later on!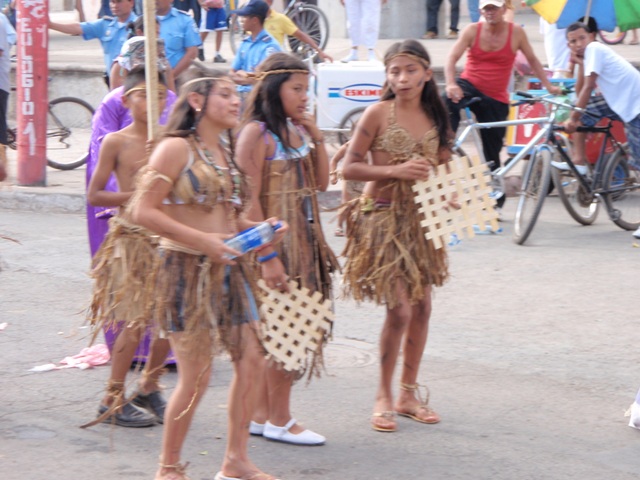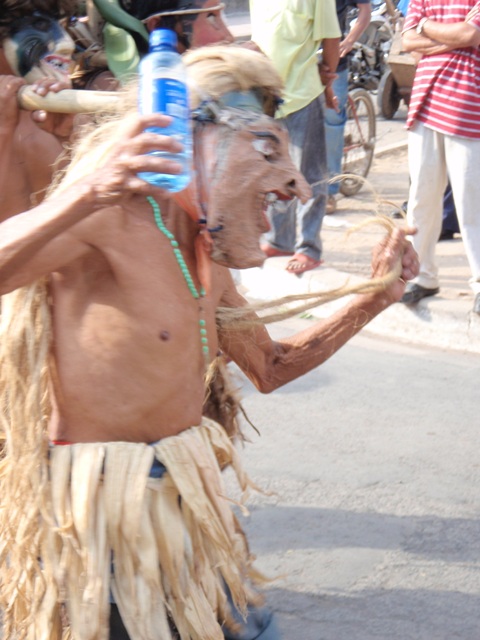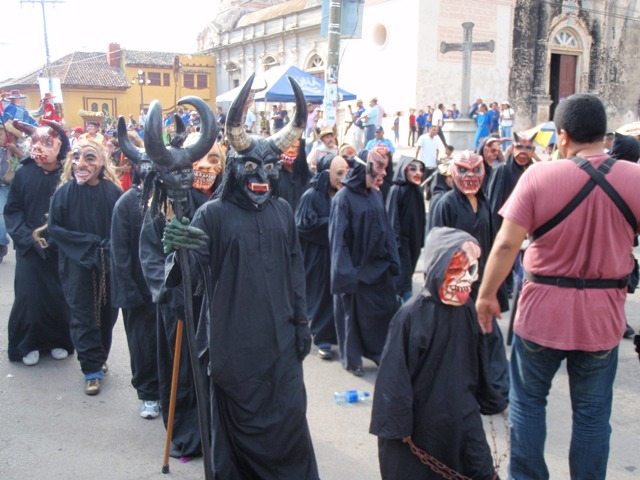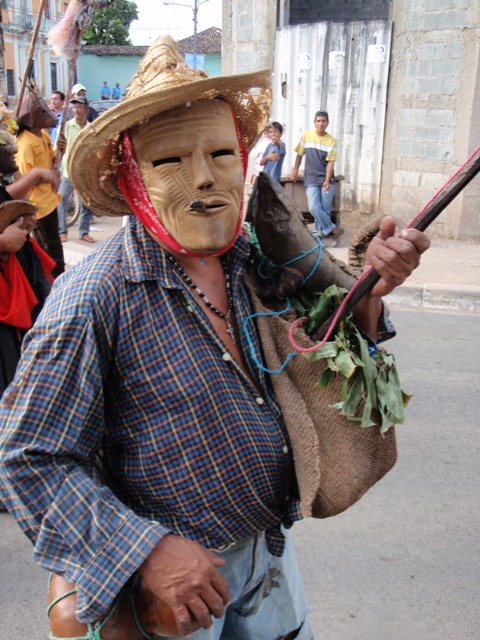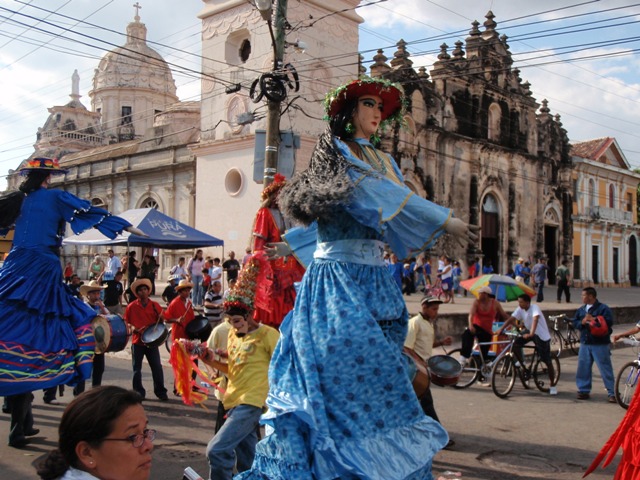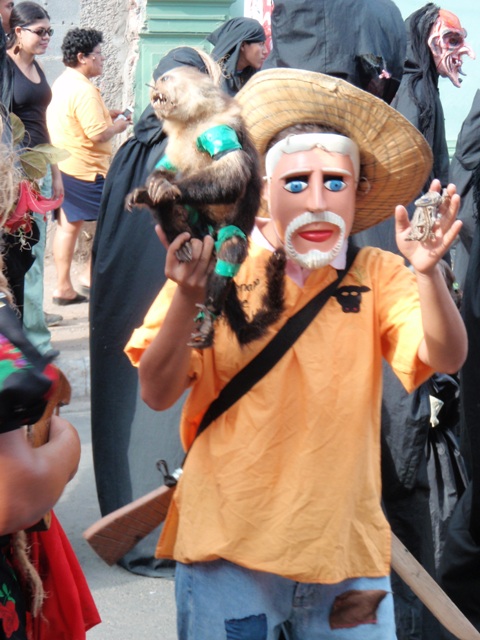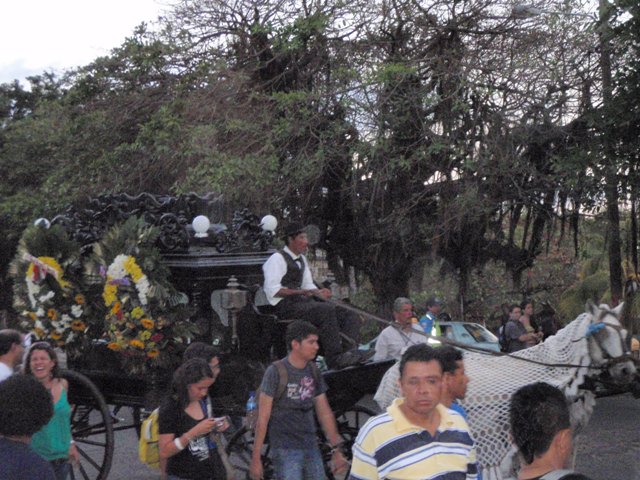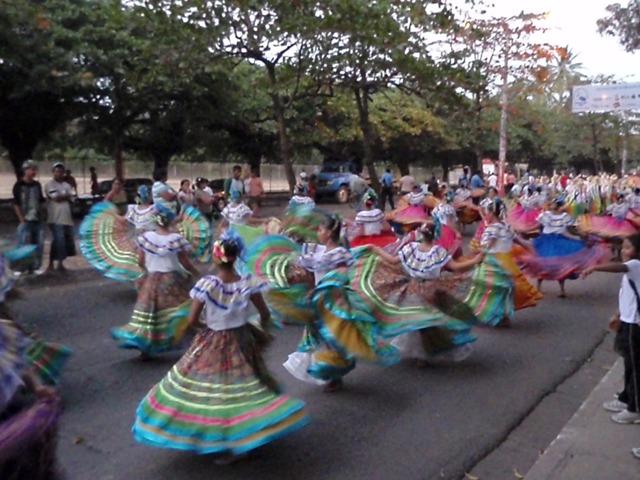 After a couple hours and the passing on of our camera's battery, we snuck back to our hotel, I plugged the battery in to recharge, we took a dip in the pool, a shower, changed clothes, and, re-racked and revamped, headed back out to catch up to the parade which we could hear, all the while, in the distance. The sun was just setting and the parade was nearing the lake. The dancers, who had been at it for hours in the strong afternoon heat, were still going strong and the crowd was as jubilant as ever. Once down at the lake, things sort of broke down into a chaotic cluster-mush of dancing and mock fighting and fireworks exploding and ice cream-men ringing their bells, and then the coffin was taken from the dark carriage and led toward the lake. The crowd was so thick, I never saw if it went into the lake. At one point there were several proclamations over a loud speaker, and one was made by an American guy we had seen around the parade. He was tall with long white hair and a long white beard and dark sunglasses and they introduced him as so and so from Kentucky and he went into monologue about sin-eaters and such. With that the parade wound down and everyone started to ramble back to town -a backdrop of huge bluebird school busses firing up their engines and laying on their horns, behind.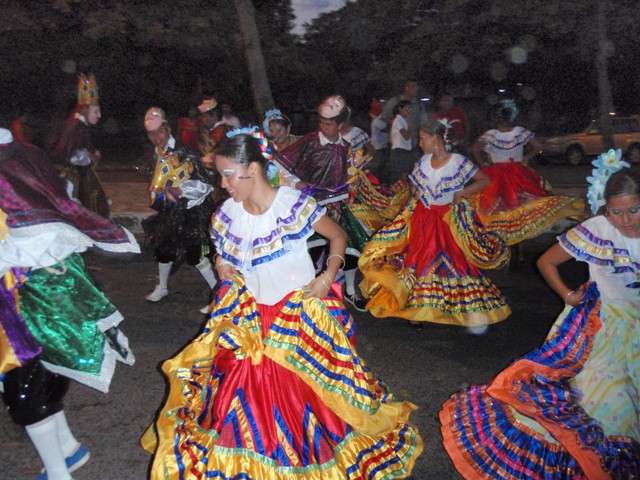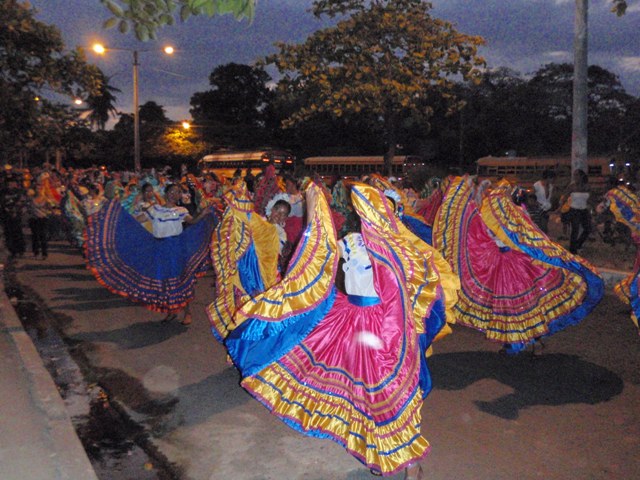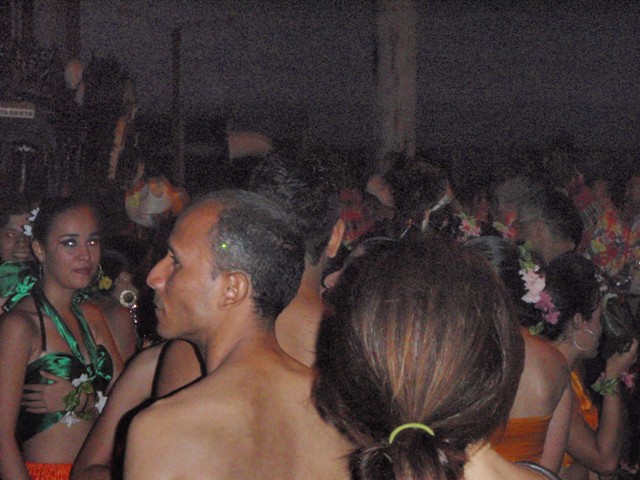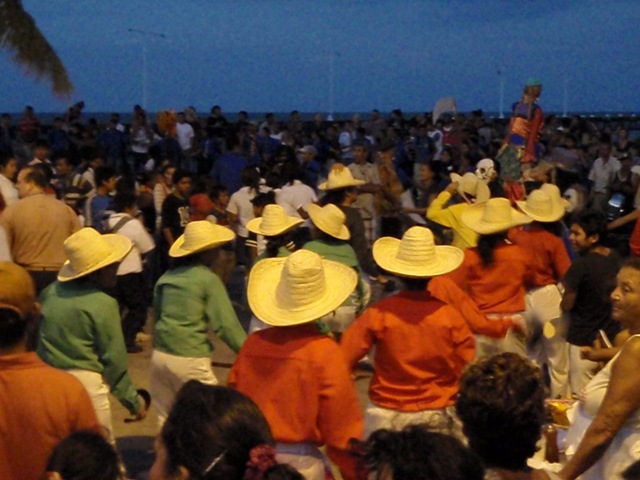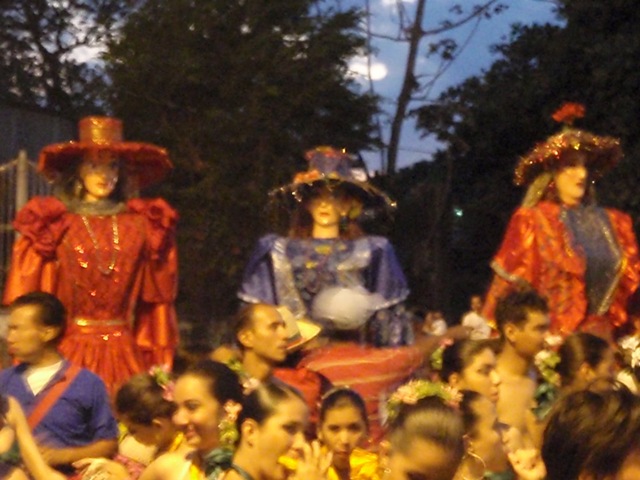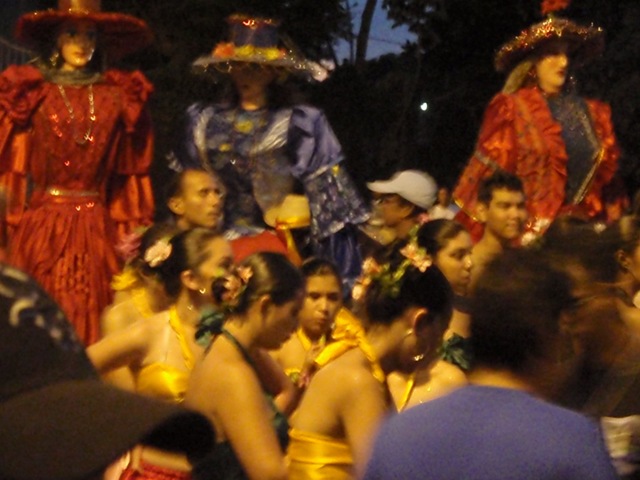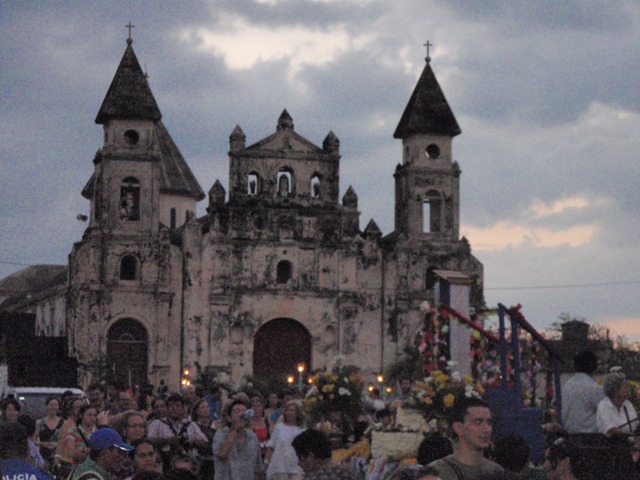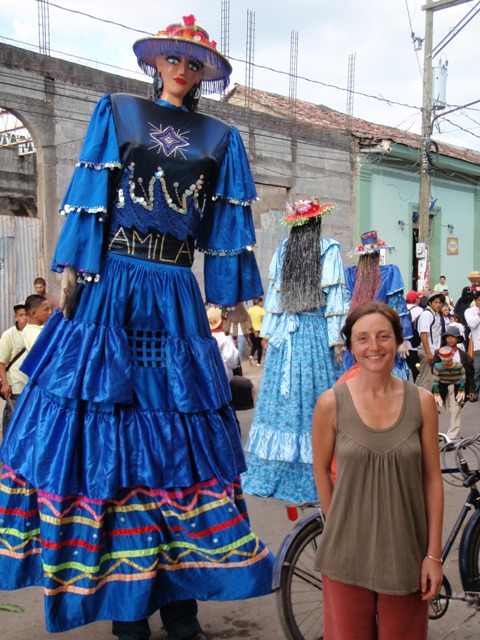 We found a nice dinner spot (Dona Conchi) with a lush courtyard garden and a pair of musicians -one playing guitar, one playing maracas- and we had a great outdoor dinner. After dinner we headed to the central plaza and caught the end of a live concert, a lot of which I was able to record, and then we headed a few blocks down to a cool outdoor bar called 'Café Nuit' that I remember visiting with Eli last year. They had some live music which was alright, a DJ playing loud Reggaeton which was not, a couple drunken Nicaraguan girls who were grinding each other obscenely, and a bunch of gringo backpackers who were dancing around foolishly with varying degrees of grace and skill. It was a bit of a tired scene -we being tired as well- so after a couple drinks we headed back to our Posada, resolved to return there when there was better music. (Last year I remember a wonderful Cuban singer was there who really put on a fantastic show)
Thursday, Feb. something or other: We spent a laid back Thursday tending to personal matter, like laundry and web site updates. Not much to report, really. just a chill and relaxing day -a dip in the pool, nice lunch and a terrific dinner. Yea, dinner was out of this world. We went to a fairly fancy restaurant called El Zaquan, which specialized in Nicaraguan foods (comida tipica) where we had great grilled delicacies It was a little more pricey than other eating places, but expensive here, for what you get, is extraordinarily cheap by US standards The restaurant had a strong focus on grilled vegetables and meats and I went big with the mixed grill special. The special involved a little grill actually being placed on your table covered with delicious grilled chicken wings, a couple grilled ribs, an ear of grilled corn, grilled plantains, a grilled sausage, and a grilled potato. It was out of this world. Jen had a grilled chicken dish which was every bit as good as my mixed grill and the meal came with salad and good bread and three different salsas (salsa being sauces, only one of which was actually a Mexican style red salsa.) The meal was great, but it sunk us, and by 11 o'clock we were in bed.
Friday, the day after Thursday: I have finally finished catching you up to speed. Sorry it took a while, but I am on vacation, after all! If you haven't yet, you can go back and fill yourself in with a bunch of new pictures and stories from Corn Island as well as a description of our time here in Granada thus far.
We are on the verge of busting our next move...getting on the road. When we figure out what that shall be, I'll let you know. Options include Isla Ometepe, which we shall need to see at some point for sure or, more ambitiously, a journey into the rivers and jungles of the South East -near the Costa Rican border- which would take a commitment of time that I'm not sure that we have.
With clean clothing and plenty of rest, we are going to spend the remainder of the day trying to hear as much poetry as possible and then...who knows...I kinda feel ready for a drinking night ...and a drinking night could be especially elevated this evening, because it appears from the roaring engines, and black leather and generally big, bearded dudes that rolled into town last night and this morning, that there is some sort of biker gathering going down this weekend. Passionate poets, big biker dudes, the immanent bottle of rum.... Oh, Mama.......Look Out!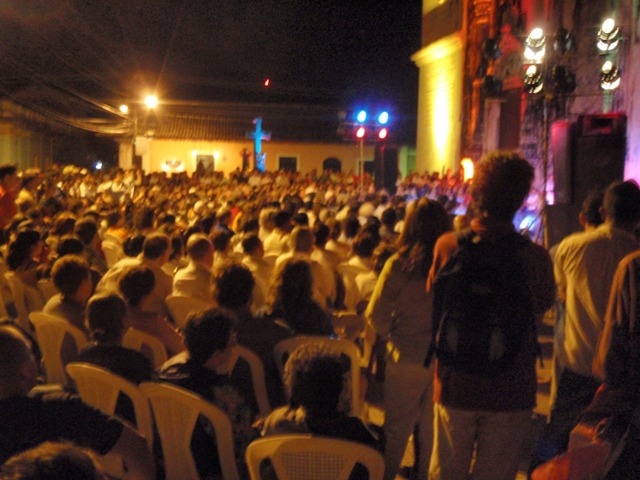 Poetry Festival - Concert in front of Le Iglesia Merced
Gracias Para Vida - Live at Merced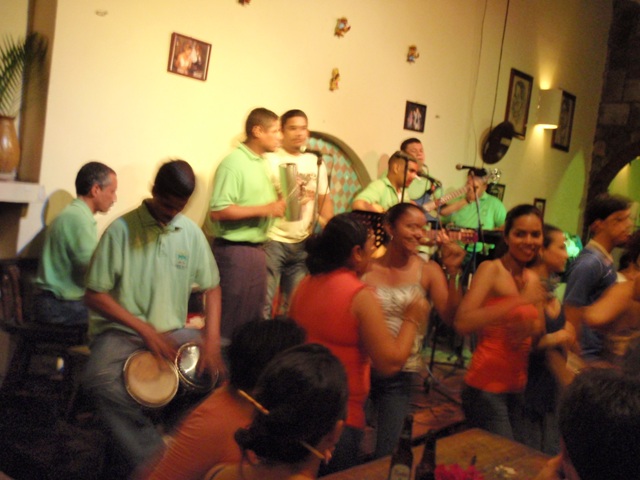 Cafe Nuit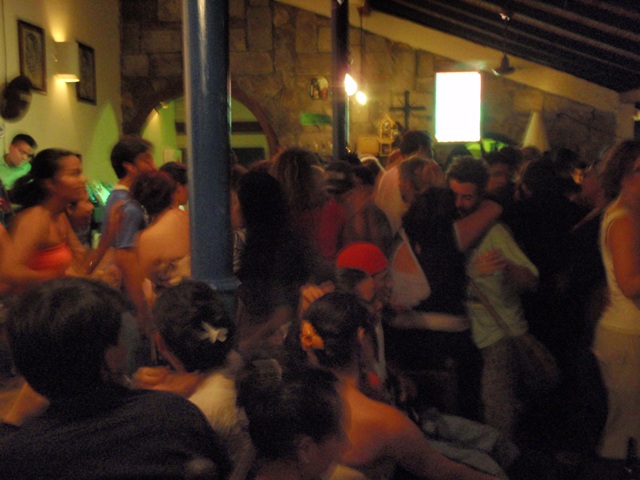 Dancing at Cafe Nuit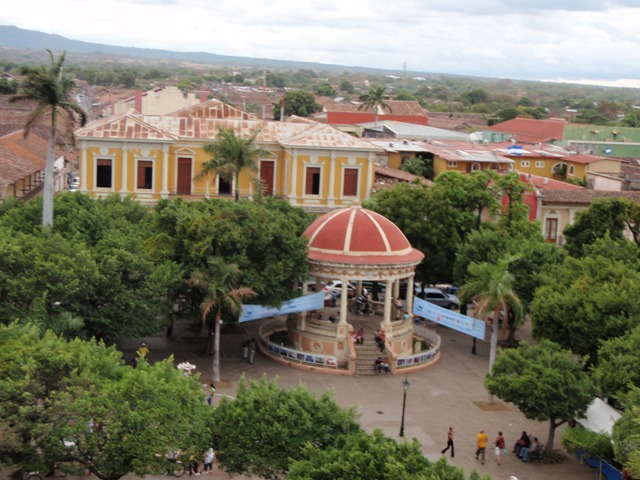 Central Plaza - Granada
Sat. Morning: Ouch! What a night! We didn't find the biker bar, but we had a great night of live music and rum. First we caught the end of a great concert outside La Iglesia Merced. You can click the audio clip to hear a performance of one of my favorite songs: Gracias Para Vida, written, if I'm not mistaken, by Violetta Parra from Chile.
Next we stopped in to the Cafe Nuit again, because we happened to be around the corner, and the place was jumping. There was a very good salsa band and somehow we found a table, so we ordered our evening's second medio-litro of rum (half of which I still have, thank god) and spent the remainder of our night there. The rum at Nuit didn't taste quite as good from the flimsy plastic cups they gave us, which is probably a good thing, because judging from the sting of the sun on my eyes this morning and the vaguely unpleasant pit in my gut, we had plenty.
Now we are off to Isla Ometepe, hopefully.
Good Bye Granada!