We have made it to Panama. 1This is day two here 1(this keyboard makes a Ž1` each time 1I push the shift key1) 1Anyway, the border crossing was the quickest yet, maybe an hour, and we made it to a pristine beach town called 1Las 1Lajas where we had a tamale for dinner off the back of a pickup truck and then hung our hammocks and made a beach fire. 1We met an Alaskan fellow named 1Aaron who hung out for a while and we finally went to sleep under a clear star covered sky in hammocks strung over hoards of fire ants. 1Both of us got bitten a few times, but not in our hammocks.
1Now we are in a town called 1El 1Valle, in the crater of a 1volcano. 1Carnival is starting here in 1Panama, and lodging is getting hard to come by. 1We have hired a guide for the day...he is maybe 10 years old...and he is waiting to show us hot springs and cave paintings, a water fall and a mountain that looks like a sleeping indian girl in profile. 1IŽll update in detail soon, because we are going to try to find a nicer hotel for the super bowl tomorrow...probably in 1Panama 1City. 1Ill edit this then too...gotta run1!
Feb. 2, 2008. Panama City, Panama.
Here we find ourselves in Panama City. We have gone big on a relatively fancy hotel room, so as to have the proper TV connection to watch the Super Bowl. Yes, we are those type of dorks. So here I have wireless internet and pages of hastily written updates that I could edit, revise or re-write. I know the site has lacked some of the initial intensity, as we have gone to more out-of-the-way places with less-to-no internet. So many details have slipped by. Every moment has been noteworthy. Anyway let's catch up, shall we?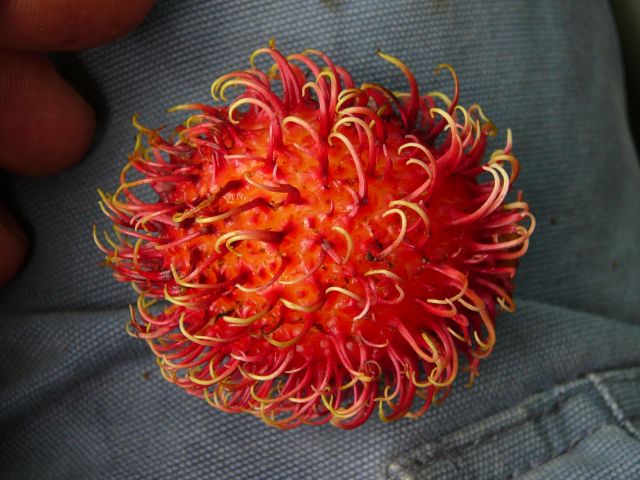 rambutan
After crossing the border, as I wrote before, we headed a few kilometers off the highway to the beach. The town was called Las Lajas. There was not much going on in Las Lajas, and after searching around some bad roads, we headed back to the only place that we had seen. At first a kid told us it would be $5 to camp, but after we had hung our hammocks and grabbed a beer, another fellow came over, apologized and said it would be $10. We couldn't get them to budge, and after considering just heading down the beach and camping somewhere for free, that $10 was a price that we were willing to pay for secure parking and a little restaurant/store with cold beverages on hand. Just as we settled in, a lady and her son in a beat-up SUV cruised up selling tamales. I'm not always a fan of the tamales, but I grabbed two and it was a great decision. These were tamales de pollo (of chicken) and the masa (corn flour dough) was spiced and almost orangey in color.
Tamales down here are corn flour/meal dough, with different fillings inside that are then wrapped in banana leaves and steamed until they are cooked. The dough doesn't bake like bread; it thickens up a bit, but is still smooth and soft. Correct me if I'm wrong, but in Mexico and SW USA tamales are often wrapped in corn husks.
These tamales were really good and totally filling, and even though it was our first meal of the day, it was also a suitable last meal of the day. By this time, the sun was setting over the pacific and we used the last half hour of light to gather wood. Eli started a great fire, like us NH boys were brought up to do, and we drank just a little rum and just a very few beers. There were coconuts everywhere which made for great coconut-rum cocktails complete with coconut cups, and I felt like I was at a Chinese restaurant...almost.
There were very few people around, but we were joined by a fellow named Aaron. Aaron was from Georgia and more recently Alaska and it happened to be his birthday. His father had been living down here and building a few little houses, and he came down to check it out. Now he probably will never leave. I've encountered that story here a number of times: "Came down to check it out and haven't left yet". It is understandable. Central America is tropical, inexpensive, friendly and pretty wild in places. If I wasn't such a chronic wanderer, I just might never leave here either...if only there wasn't other curious places to visit. The funny thing about traveling is the world doesn't get smaller, it gets bigger. The more you see, the more you realize that there is to see. A vicious circle. But enough about me.
After a solid night of tending fire, I gave Aaron a ride home, which turned out to be a bit of a distance, and when I got back, Eli and I let the fire dwindle and wound things down. The stars were killer and it had cooled off nicely. As we rambled back to our hammocks, I grabbed the tamale wrappers (banana leaved) and brought them down to throw them in the fire. Suddenly my hand was burning. Fire ants, all over my hand and arm. Fire ants are funny buggars. They like to carefully crawl all over you and then bite all at the same time. It wasn't our first meeting, but I was reminded how much I dislike them. When I got back to the hammocks, I pointed the flashlight down and saw the ground was crawling with them. Moments later Eli was hooting...ouch, gad-dam...they got him too! (Check the tips section for some fire ant tips).
We were careful, from then on out, not to touch the ground much, and they never got up to us. The next morning we got up and got going. I picked the random town of El Valle up in a volcanic crater as our next stop. We had been beaching it for a week or so, and I needed some mountains and cool fresh air.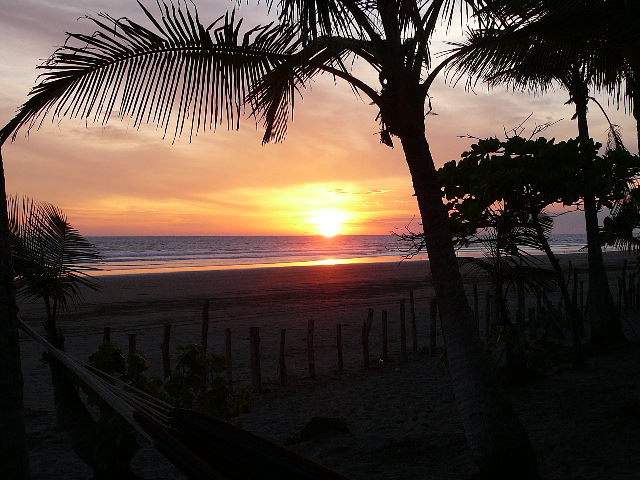 Las Lajas
The ride up to El Valle was pretty. Lots of bright flowering bushes, trees and shrubs. There is some plata (cash) up in these hills and quite a few very nice estates. All in all it took 20-30 minutes to reach El Valle from the highway. El Valle is in a crater, but if no one told you that, you might never think it. Just seems like a small hill town, with mountains nearby, a little windy and cooler than the coast.
In El Valle, it took a while to find a place. We found a suitable looking cabana place, but no one was there. We waited quite a while, jacking up the car, taking a tire off, unloading and repacking the back of the car, but no one ever showed up, so we headed for the center of town. In town we stopped at a market, had a cold drink and made friends with a couple of young boys. Eli taught them how to make a frog and a dragon by intertwining his fingers in a special way. The best I had was 'here is the church, here is the steeple, open the doors and see all the people'...except I didn't know how to say steeple in Spanish...I think they got the point.
One of our new friends turned out to be a guide, so he said. His name was Brian and he would be happy to show us the sleeping Indian lady, the square trees, the waterfall, the hot springs, the zoo, and the painted rock. We made a plan to meet him at 10:00 the next morning.
We did finally find a room for the night, but it is expensive in El Valle, Panama. The Cabanas were run by two friendly brothers, one of whom gave us a DVD to watch of Carnival in the town of Las Tables, that he goes to every year and he recommends. I have heard it is Panama's greatest, but it is packed...wouldn't be a hotel room for miles and it is six hours north of Panama City, so I doubt that we will be making it there.
After heading out for Pizza and a cupa de vino tinto, we crashed out for the night and slept pretty well until the 6 AM lawn mowing session began outside our window.
Saturday in El Valle was spent with a quick internet session the update with the number 1s all over the place, and then a cup of coffee. Brian and his little brother showed up right on time. Eli ordered a little breakfast at the coffee stop, and I wandered through the vegetable market, grabbing a couple bananas. Next we piled Brian into the back of Silver Al and took in the sights of El Valle. The waterfall was nice, and I think I saw the sleeping Indian lady's profile.
The hot springs were not so great. We kept getting in trouble too. First I barged into the wrong changing room. Next I used the face mud on my body, a mistake that was remedied with a two dollar fine. A woman pointed out the body mud, so I spread that on, but then it turned out that she didn't work there and she was wrong and I was in trouble again. Just as I gave up on which mud was which, satisfied with the mud that I was already covered in, the sun went away and it took forever for the mud to dry. Meanwhile Eli got in trouble for smoking, which apparently was not allowed here either. After finally rinsing the mud off, I climbed into a very murky thermal pool (cement pool) for a few moments and called it good.
Eli had not been feeling well on this particular morning, so we moved pretty quickly through the other tour items. I hiked into the woods with Brian to see the square tree, which El Valle is famous for. (they are famous for golden frogs too, but they, apparently, no longer exist in the wild here). We decided to skip the zoo, because we both agreed that zoos are depressing.
All during our drive around El Valle on Saturday, children were celebrating carnival by throwing water. You could usually see them ahead and close the windows, but Silver Al was a particularly exciting target. Hoses, buckets, cups, water guns and water balloons were all deployed against us. One girl carefully sprayed our entire car down, walking around it and hosing every inch. It was a nice gesture, I thought, even though Silver Al's got a dirty dusty funk that water alone won't really touch. When she began to walk away, I rolled my window down just a tiny bit and yelled gracias. The little girl was quick as lightning, however, and I couldn't roll it back up fast enough. The gringo got sprayed, and that little girl was so happy I almost wanted to get out of the car and let her spray to her heart's content. Such a simple pleasure, spraying someone with water...I can totally relate!
After dropping Brian off with some cash for his services, we decided to head for Panama City.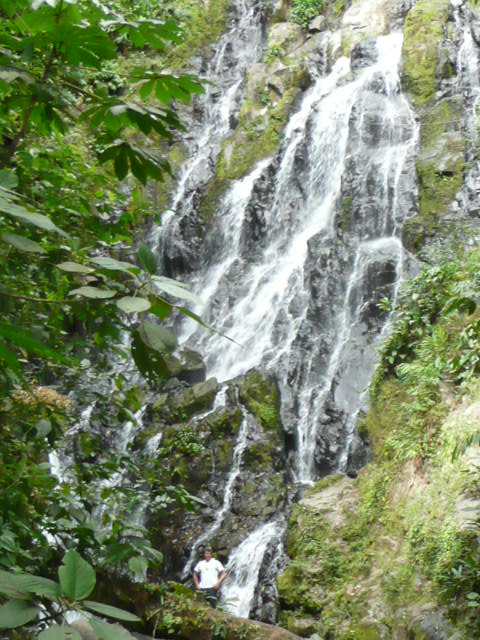 El Valle Waterfall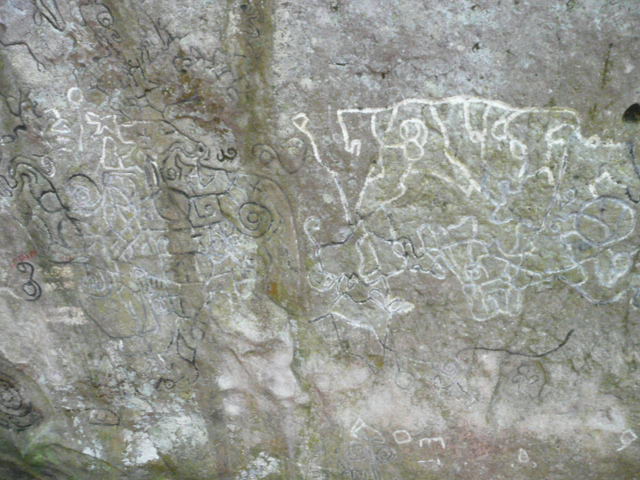 Painted rocks -El Valle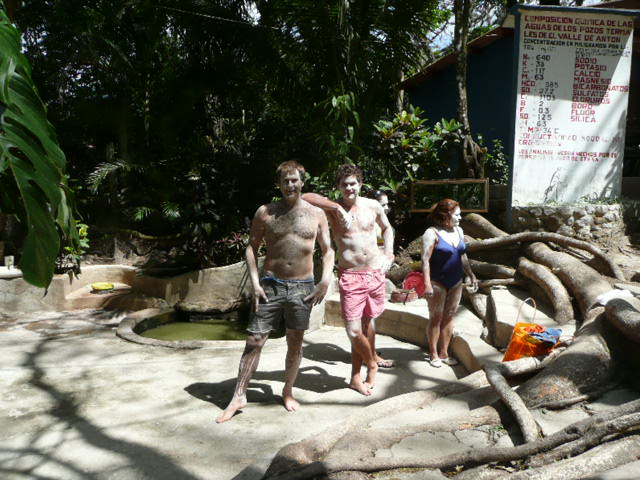 Hot Springs, covered in mud, El Valle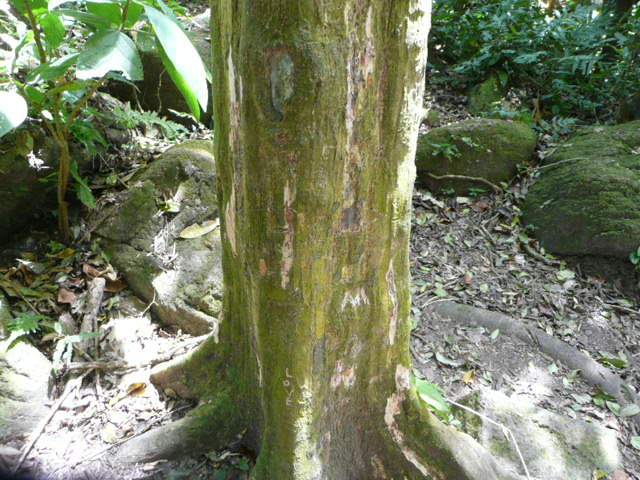 Square Trees of El Valle
Feb. 4, 2008. Panama City is pretty quiet, probably because Carnival is going on now, and a lot of folks leave town. The traffic leaving the city as we drove in on Saturday was crazy...lined up for miles. We have not done much here in this city. We got a nice room, have done some laundry in the tub, gone out to one bar down the way the first night (kind of seedy, but pretty low key...almost empty) and got a good night's sleep on some of the most comfortable beds we've slept in for a while.
Can you believe those Red Sox!! World Series champions 2007
Yesterday was the super bowl and we kinda spent the day chilling out waiting for it. I went for a little walk around, but not very far.
We started out watching the Super Bowl in our room, but after the start of the second quarter, we headed over to (I hate to say this) The Hard Rock Cafe, Panama which happens to be right next door and happened to be having a drink and appetizer special for the Super Bowl. (As well as 8 dozen televisions to watch the game on). All the commentary was in Spanish, of course, but we watched the whole game, and...well...yup...you saw what happened! We did manage to eat an incredible array of appetizers and drink quite a few Balboa beers and Jack and gingers (they didn't have Jim or George). The remainder of the evening was a tad glum. We went back to our hotel bar, which offers us $20 in free drinks each night. It was not a late night for us on Super Bowl Sunday.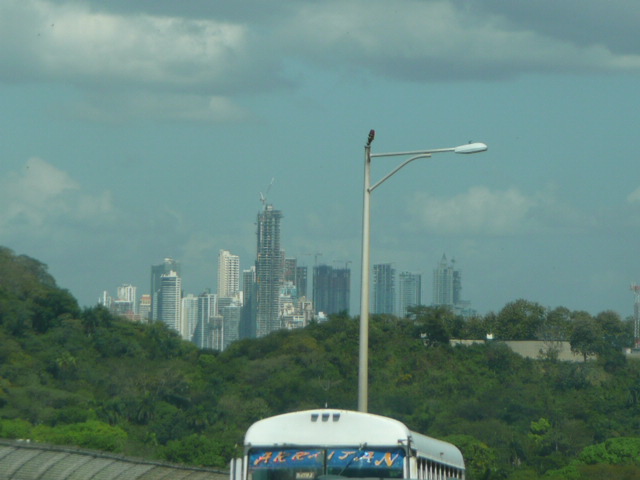 Panama City
Just got the low-down on shipping Silver Al from Panama to Colombia. All offices are closed for Carnival until Wed. (Government and Shipping). We are going to be shipping with a company called Seaboard Marine. They have a ship leaving Colon on Sunday, so we have a week to figure everything out, but until Wednesday, we are going to leave this big city, which could be anywhere in the world, and try to find a little more of Panama. Eli is researching our next move right now. He is reading about Parque Nacional Archipielago de San Blas on the Caribbean side and Parque Nacional Soberania just outside this city. Both sound pretty nice. I could use a little outdoor/nature time, plus I haven't gotten my fill of the monos yet. (Monkeys)
I'll be sure to keep you posted!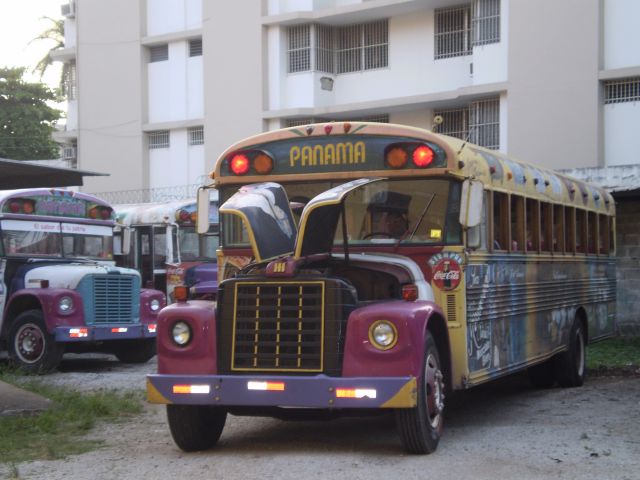 Panama
Here is what we know so far:
Cristóbal > Cartagena
20 feet container = $600.00 freight + $200.00 bunker + $50.00 BL
40 feet container = $900.00 freight + $400.00 bunker + $50.00 BL
+ $150.00 to load a car on the container
+ $160.00 to unload a car in Cartagena
Port > Port
Freight: PREPAID
Feb. 5th 2008. We headed over to the Caribbean side of Panama to kill a little time before the offices open up for the shipping task at hand. We ended up on Isla Grande, a sweet little island just a quick jump off the shore. We actually were not originally planning to come here, but we missed a couple turns to a couple national parks so we just kept driving east until we hit the coast and then south until the road ended. It got to be a pretty bad road, but Al made it. It costs a buck-fifty to catch a boat out to the island and a few more cents to have a couple boys in the parking lot watch your car while you are away.
We barely scored the last room on the island, which is packed up for carnival. We never actually considered that finding a room might be a problem. Anyway, we found a room and have been hanging out. Last night there was amazing singing and dancing going on. I didnŽt take any pictures, but I got some good audio files to share with you as soon as I can post them. The dance reminded me of the mating rituals of birds. The women shake their hands and hips and the men do the same, except the man keeps plunging toward the woman and the women keeps dodging and fending the man off. Three men drummed and a group of ladies sang. There are hardly any gringos on the island, but we have befriended an Australian woman named Kat (On one of those year-long, round-the-world adventures) and a handful of very friendly Panamanians, Jose, Hugo, Marty and Alecia.
It really feels like a different world over here...as opposed to Panama City. Everyone is throwing water, drinking, dancing, bbq-ing. Kids block the roads dressed in voodooesque costumes and dance in front of the car for a little tip. One kid had a staff with a disfigured barbie doll attached to the top, shredded pants, huge sunglasses and long earthen beads. There is a wild feeling in the air and tonight is fat Tuesday, so things should get pretty crazy.
Tomorrow we will return to Panama City, along with millions of other Panamanians. Traffic should be a nightmare.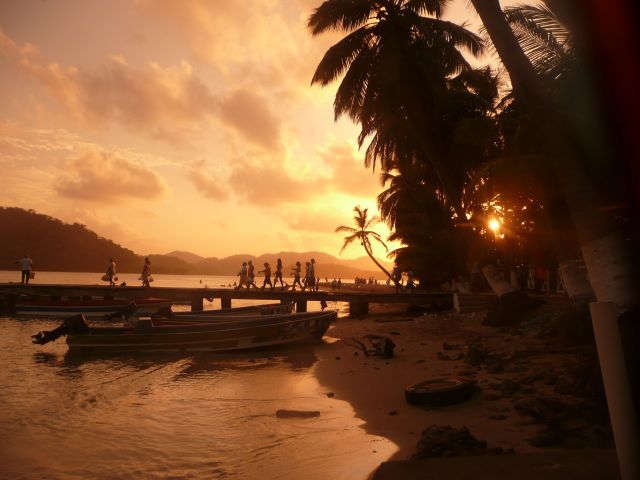 Isla Grande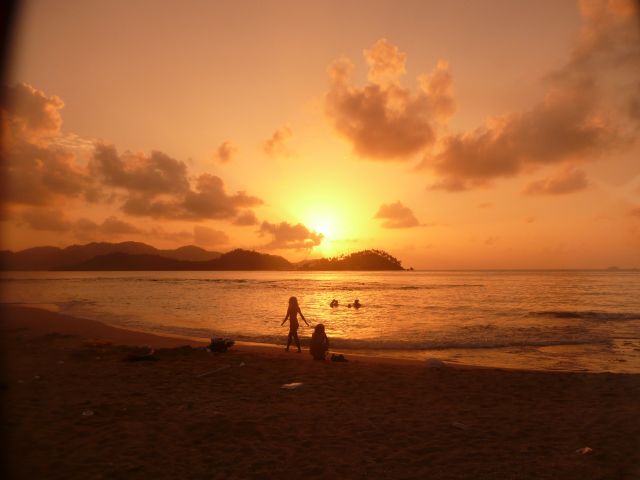 Isla Grande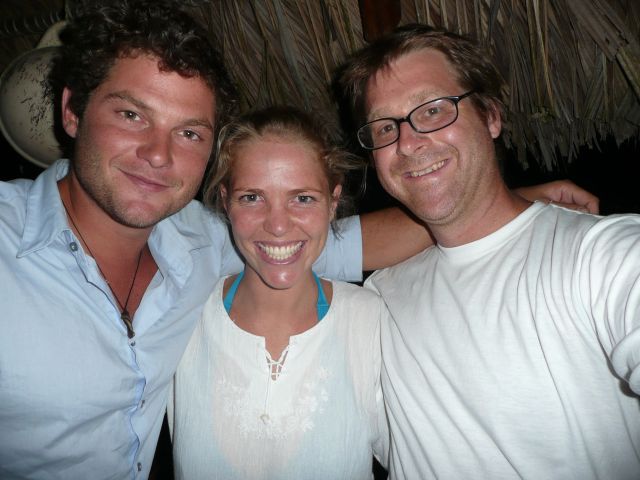 Eli Kat Justin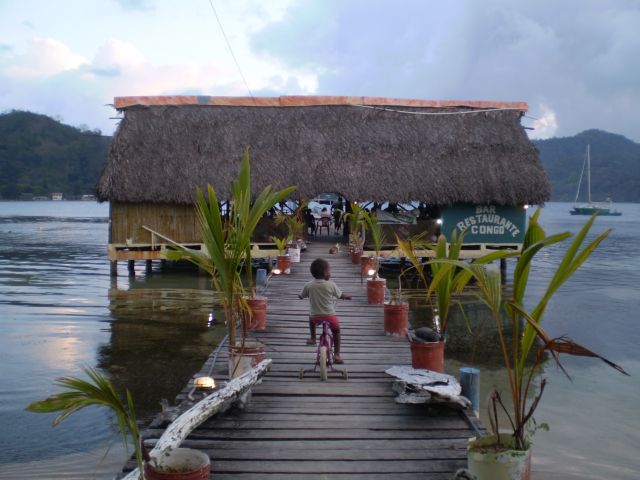 Isla Grande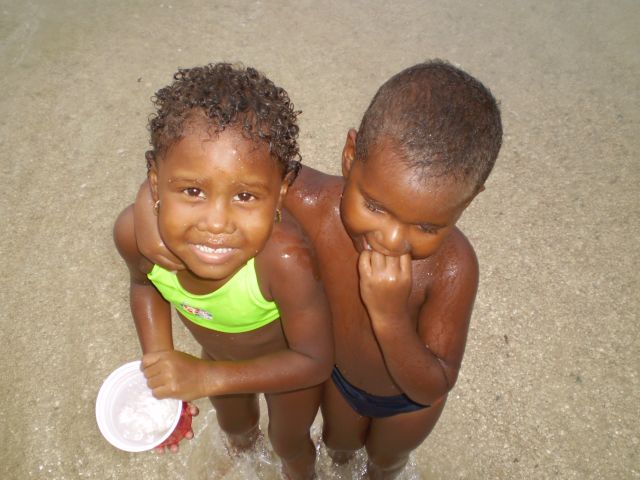 Isla Grande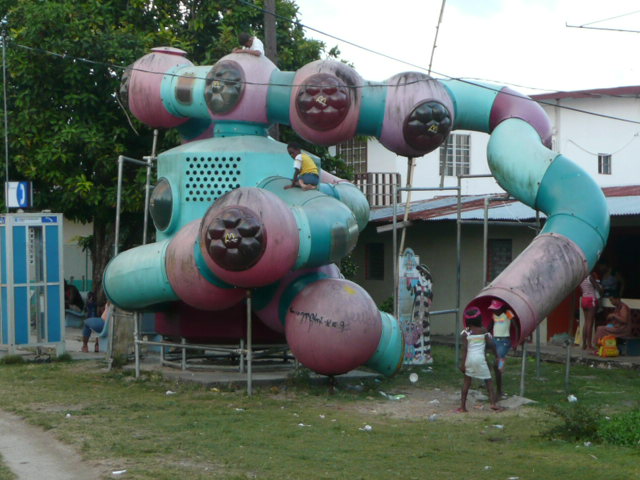 Mc Donalds Does Something Good For The World?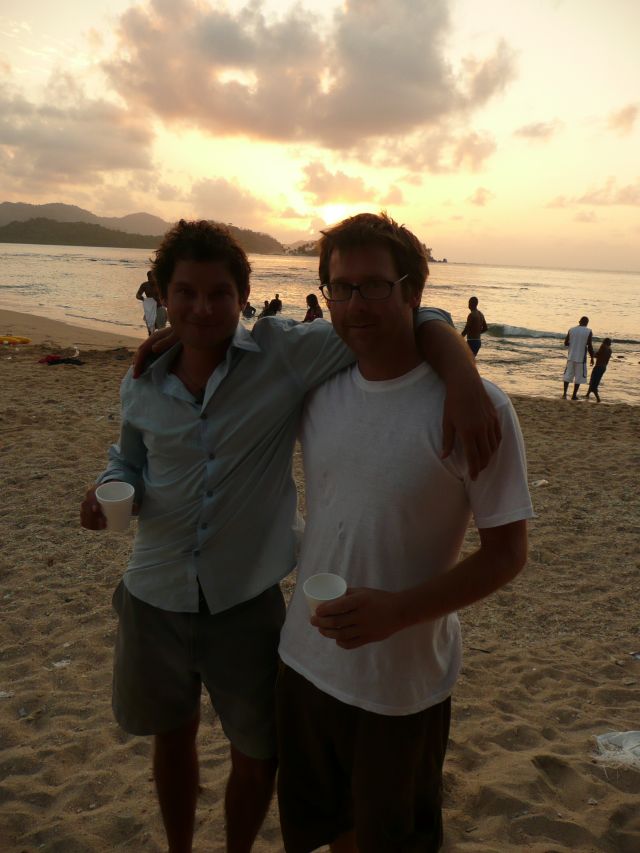 Justin and Eli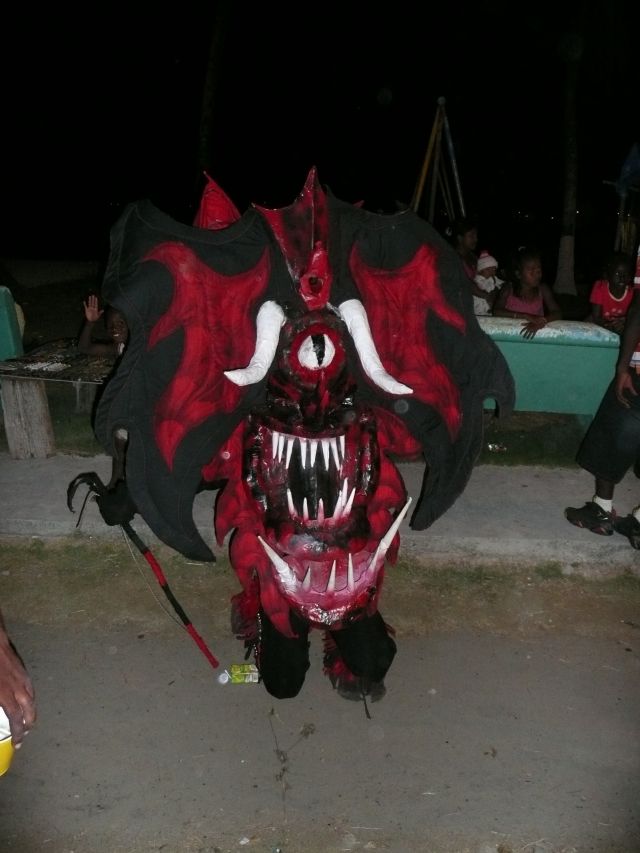 Carnival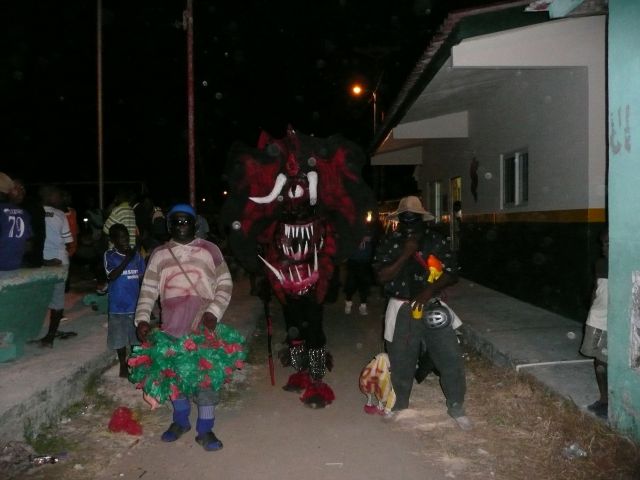 Carnival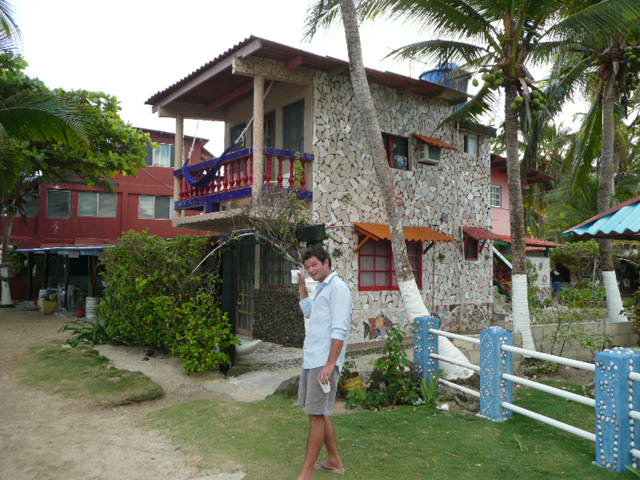 Our Place Isla Grande
Feb. 8, 2008. Panama City. Life has slowed down as we try to take care of the details of getting the car onto the ship. The drive from Isla Grande to Panama City was troublesome. From the first twist of the car key, Silver Al was not a happy girl. The sputtering was back, her engine light was blinking and she wasn't running with the full gusto that she was used to showing us. This is still the case. For the ride back to the city from Isla Grande (approx. 2 hours) we gave a lift to our Isla Grande pal Kat, who has been waiting to catch a friend of a friend's catamaran through the canal and up to Mexico. Kat is an acupuncturist and addiction counselor. Although perhaps slightly appalled by Eli and my own somewhat lurid mannerisms and lifestyle, she has helped us kill some time here in the city and become a nice temporary member of the Silver Al Saga, introducing us to the novel ideas of drinking water and eating more regularly. For all the family reading this, you should know that other than these pieces of advice, she gave us a 'nothing-to-worry-about' addiction bill of health. (Although she did mention something about writing a case study on us!?) She even gave Silver Al a studded rubber steering wheel cover as a good bye present, before realizing that, like us, she wasnŽt going anywhere fast. Waiting in limbo has really gotten to be a drag.
Upon our arrival back in Panama City, we encountered a first: these good Christians at the hotel would not let Eli and I share a room. I tried to explain that we were brothers, but I guess they thought we were gay so I split a room with Kat instead. On our first day in the city, Eli and I headed to the offices of Seaboard Marine and began to discuss the terms of the shipping of the car. The biggest thing that we learned was that contrary to the information relayed in my previous phone call, the next boat was on Thursday as opposed to Sunday. This news wasn't great, but it will give us a little more time to look into Silver Al's ailments. The rest of the details were pretty routine; we filled out some forms, they printed some papers up that we could use for customs, we headed over the a nearby bank and transferred some money into their bank account, we headed back and got a different slip stating that we had paid our balance, we discussed what to do next, ect, ect. by the time we were through we had a much clearer vision of how the upcoming events would proceed, and digested the news of a later than planned shipping date at an upstairs Cuban restaurant and a down stairs Cuban club. The food at the restaurant was really good. In striking contrast, the club downstairs blared bad music and, we quickly realized, was full of ladies on the job….not our cup of tea.
Today we fought and lost our way to the customs agency, located in an obscure and unmarked section of town. This was alright, however, because we learned through a couple of overlooked passages in our SEA (South American Explorers) 'Driving in Central and South America Guide' that we first needed to bring the car to the National Police to get an inspection and clearance of the vehicle to leave the country. They want to make sure that you don't have any unpaid violations, haven't stolen the car or are exporting a car that has any type of liens on it.
We hired a cab to guide us to the station for a couple bucks, and soon began a painfully long waiting game in one office and then another. It was another one of those times when you think that you are making progress and then you think that you are almost done and you might even give your amigo watching the car the thumbs up out the window and then bang, you finally get the paper you were waiting for only to find out that you have to bring that paper to another office than has an even longer wait. In this case, it was a frogger game across a raging street to the Secretary General's office where I traded my one paper for a form and then the form for a 2 hour, dozing in my chair, wait. That was the day. Day done without feeling like anything really got done.
Eli was still not feeling great, so he is layed low and I hung out a bit with Kat who was, once again, supposed to be meeting her yachty friends tomorrow. We spent most of the evening riding buses around, taking each line to their ends at the far reaches of the city and then riding back again. Chit chatting, people watching and enjoying a cheap tour in the process. Somewhere along the way, we stopped off for a quick bite at Pio Pio Pollo, and fed on fake mashed potatoes, cole-slawesque salad and a roasted hunk of chicken.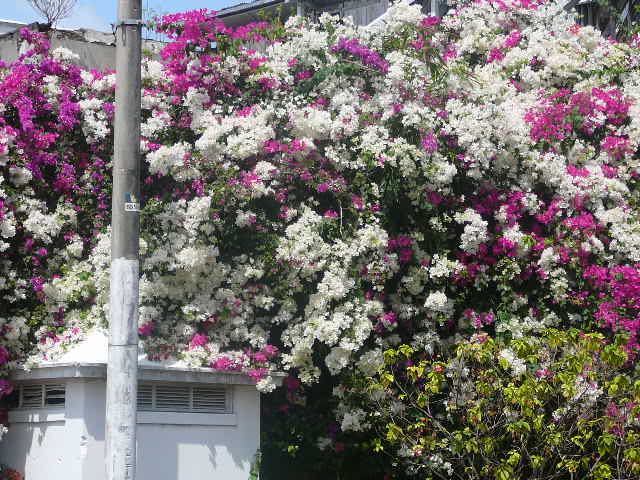 Old City Panama
Panama City Nicaraguan Street Band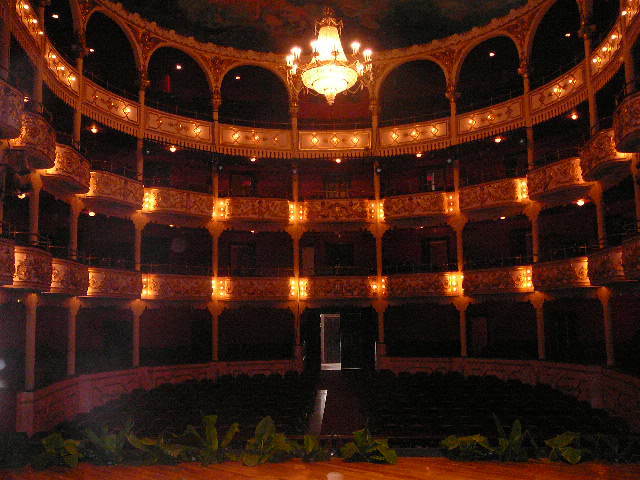 Old City Theatre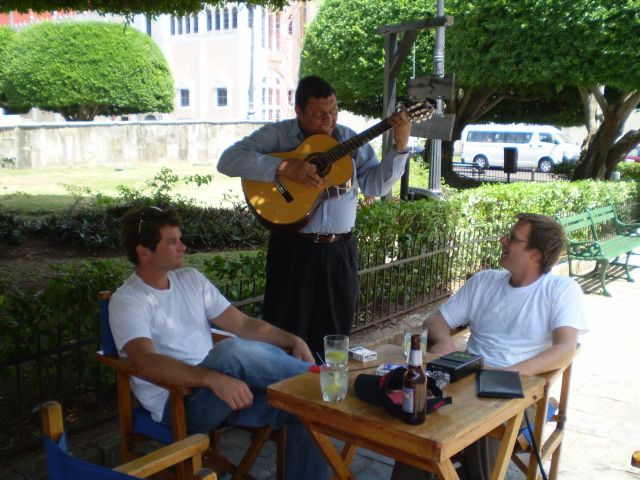 Old City Guitar Man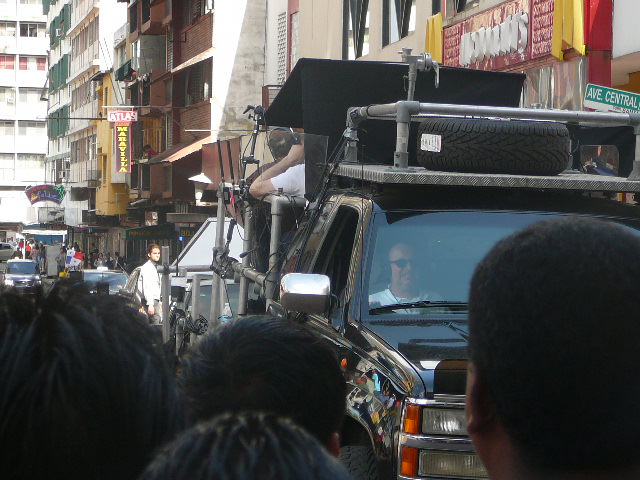 Making James Bond
Still in Panama City. Today is Monday and we are making slow steady progress. Right now I am just killing a little time before catching a taxi to the customs office outside town. (Gov. offices are closed between 12:00 and 1:00).
Silver Al is at the shop. Eli will head over there in a little bit, while I deal with the customs. Yesterday we caught a cab over to the Miraflores locks of the Panama Canal. We hung around long enough to watch a large container ship pass through. It was quite interesting and we will have some pictures up soon. In other news, we have hung out in the old city a little. They are filming a James Bond movie there, so everyone is excited and there were tons of people and police. After a little wandering around, Eli and I wandered into the wrong part of town and got picked up by the paddy-wagon. They gave us a ride out of a neighborhood that, apparently, we were not going to make it out of alive. Panama City, feels pretty safe, but there are undertones of danger lurking around the edges. Today, for instance, I have to go to a lousy part of town for the customs office. IŽll be fine. I was already there a few days ago, but this morning the hotel owner came out from behind the counter when I asked for directions, clutched each of my shoulders and insisted that I donŽt go alone...which I am about to do. IŽll catch a cab (they are really cheap here) and avoid too much wandering around. This is the lurking danger...we havenŽt had any problems...just people telling us we are in danger.
I have tried to tone down the accounts of drinking and night life, feeling a bit like a lush, but now with this clean bill of addiction health and a few comments that the site has lost some of its afterhours detail, IŽll try to keep you all a little better informed of our night life escapades. For those concerned that we are not utilizing our evenings properly, please be assured that we have still been quite merry in the evenings. Rum is the drink of the month on the Pan American highway and we happen to prefer the cheapest rum (abuelo 5 anos) on the shelf. Rum on the rocks with a squeeze of lime is a fine drink and goes down like Warner water. It has been pretty much all we have drunken since Costa Rica. Thanks to abuelo on the rocks with lime, my pocketbook (or is it a man-purse) and beer belly are kept in check. IŽm out of time right now...but when I get back to this PC, IŽll try to catch some of you that are curious up on a couple funny evening stories...but for now IŽve gotta run!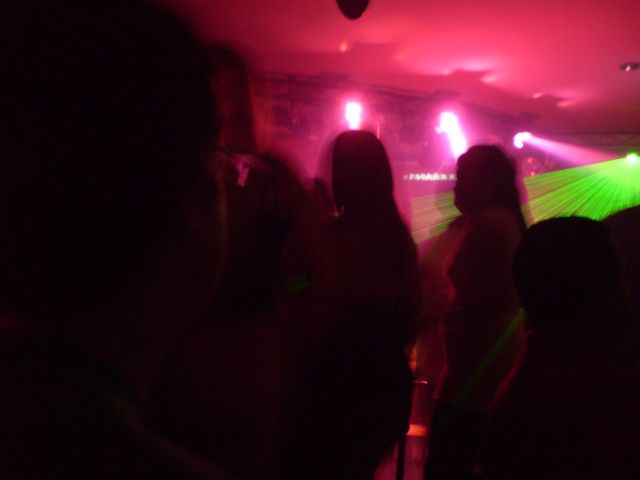 Panama City Disco 1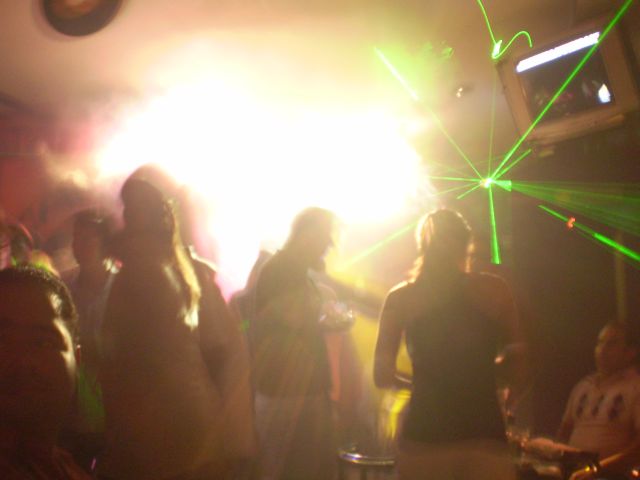 Panama City Disco 2
I am getting ahead of this site right now, so detailed rum recaps are going to have to wait.
Yesterday was a big day. We checked out of our hotel after picking up some clean laundry and headed over to the mechanics. It had been bad gas after all. They drained it out, replaced filters, and plugs and now she is purring like a pack of happy kittens. The mechanics were very friendly and charged us less than they estimated. They were excited about our trip and cut us some slack.
After grabbing the car, we drove to Colon and after mucking around the city a bit, found our port, Puerto Crisobol. Getting into the port was the trick. It was a maze of containers stacked high into the sky, with tractor trailers and cranes and various port vehicles popping out from around each corner. Dodging them all and keeping on target was an impossible mission. We turned into one gate after another. One was an exit and we had to stamp it in reverse when we suddenly found ourselves staring down the barrel of a tractor trailer truck stampede. The next wrong turn almost got us sprayed down by some sort of acid wash, and the next wasn't even the port at all, but rather a yacht club. Finally we weaseled into the proper warehouse, and the procedures began. As it turned out, however, we somehow managed to sneak in around the customs check point and car search. Just when it seemed like they were going to make us go back into the chaos, they let us off the hook all together, stamped my papers without even checking that the car was ours or that Silver Al was not filled with exotic snakes and birds and drugs and other national treasures. Soon we were rushing to pack up a few small things to last us the next few days until we get the car back, and locking up the rest. I definitely feel like I could have used a little more time, but I kept getting side tracked with paper work, ect. The next thing that we knew, we handed off the keys and Al was driven by another man into our 20 foot container. That is where we left her...and the keys. I sure hope that we see her again. I hope they leave a couple of our things in her too.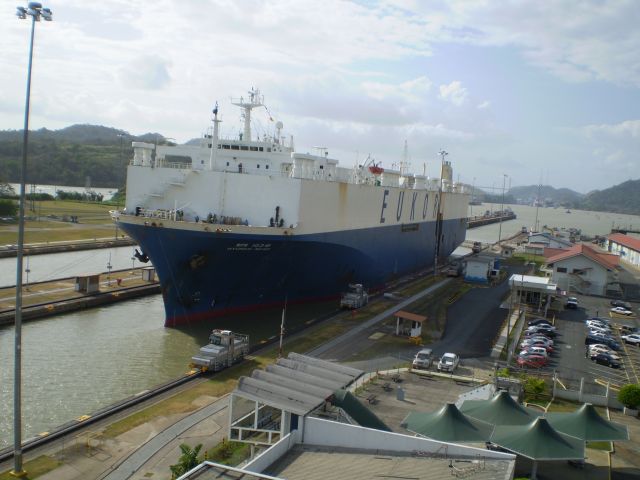 Mira Flores Locks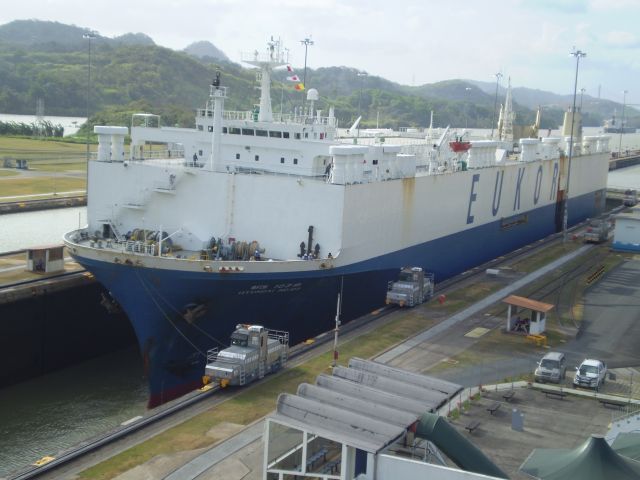 Mira Flores Locks (Panama Canal)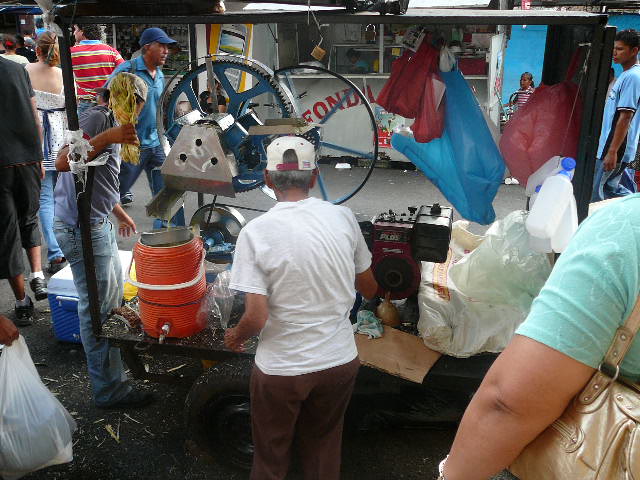 Cane Juice Machine
When we finished with the port, we walked to the bus terminal and hopped a chicken bus back to Panama City. We sat in the front of a bus that stopped for everyone along the way and it seemed to take forever. I have always loved the down-to-earth feeling of riding the cramped and chaotic chicken buses, but Silver Al has spoiled me it appears. Eventually we made it to Panama city, and without incident. From the bus terminal we grabbed a cab to Tacomen International Airport and walked in, cold, looking for a flight to Cartegena. They had one on Thursday...$580.00 a piece. We were stunned. So, today is Wed. and where do you think that we are? You won't find it on this page!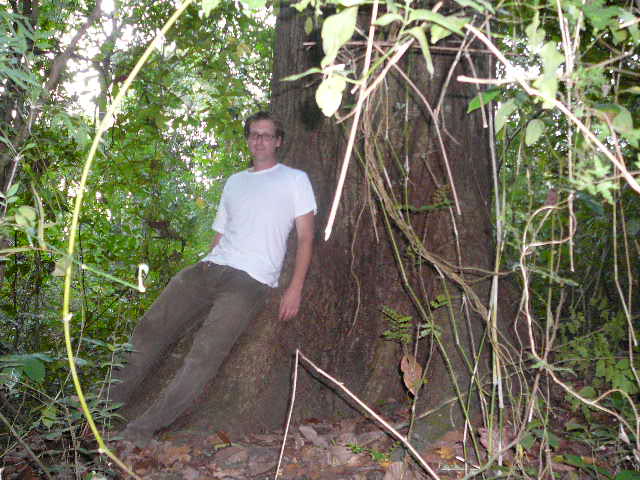 Big Tree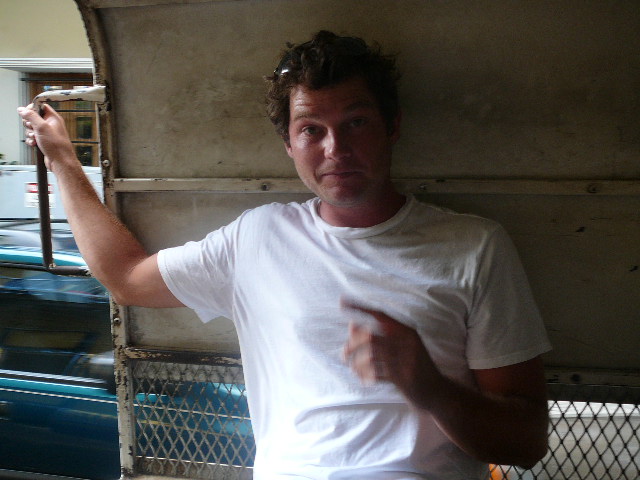 Eli in The Patty Wagon
Eight Days in Panama City: Metropolitan park, sky-scrapers, building, building, building, two movies (3:10 to Yuma and Sweeny Todd), fruit salad, fried chicken, heaps of yogurt, pie that looked like peach but tasted like egg jello, pizza, grilled meat in the multi centro food court, devouring every item in a mini-bar, too many visits to the multi centro for a road trip, bad gasoline, Cuban Bar, Aladin's bar, Tibibi's bar, Hooters, Hard Rock Cafe, Super Bowl, $130 Sunday laundry rip-off, getting a call from the owner of hotel Los Arcols because they thought we were gay, having to sneak around hotel Los Arcols because we were forbidden to sleep in the same room, moving to hotel Costa Azul (great view from the window), having bad allergies act up, salsa clubs, green lasers, Super 99, Pio Pio, El Rey, Niko's Cafe, Mira Flores Locks, mechanics, cheap taxis, ride in the back of the police truck, bottles of Abuelo rum, Atlas Beer, Balboa beer, box wine, coffee in dixie cups, club sandwiches, Theatro Historico, James Bond, the difficulties of getting a taxi driver to take you to a bar other than a 'gentleman's club', getting brought to a dirty and desperate trucker park when we wanted to go to hike at the metropolitan city park (This doesn't look like the park, it looks more like the truck-forest of love...hey driver, we are amigos, no novios), giving autographs at the diner, traffic, tipped-over and broken-down trucks, sore shoulder, sore jaw, waiting in chairs for papers, his and his smoking windows, falling asleep in clean clothes with the full ashtray, disgusted laundry lady, cheap 3 packs of white tee-shirts, bad neighborhoods, ominous warnings, every horrible chain restaurant and store you could ever imagine....too long in Panama City, way too long.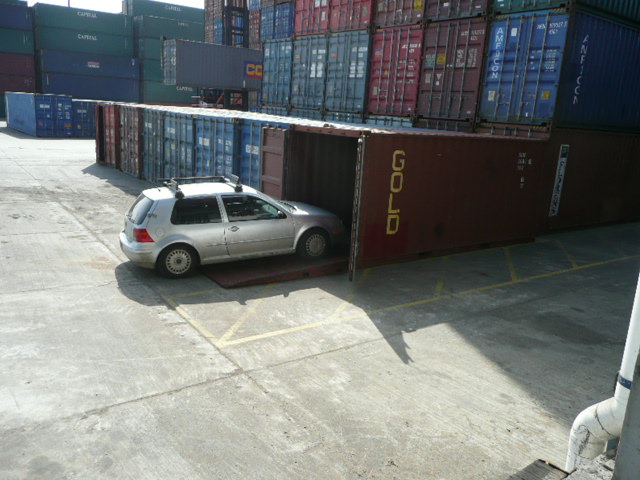 Silver Al Goes In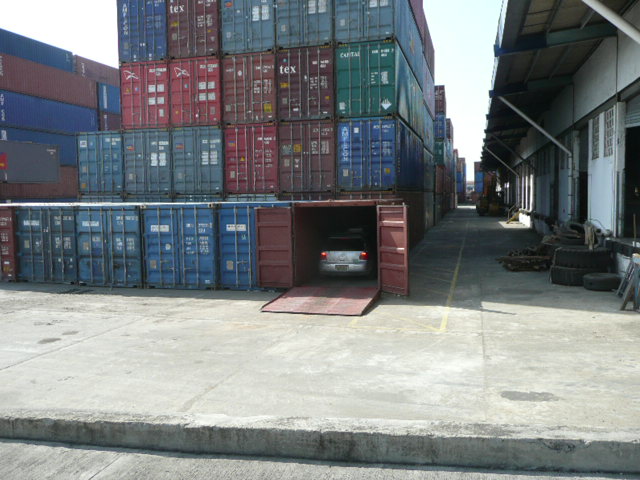 Good Luck Silver AL ...See You On The Other Side