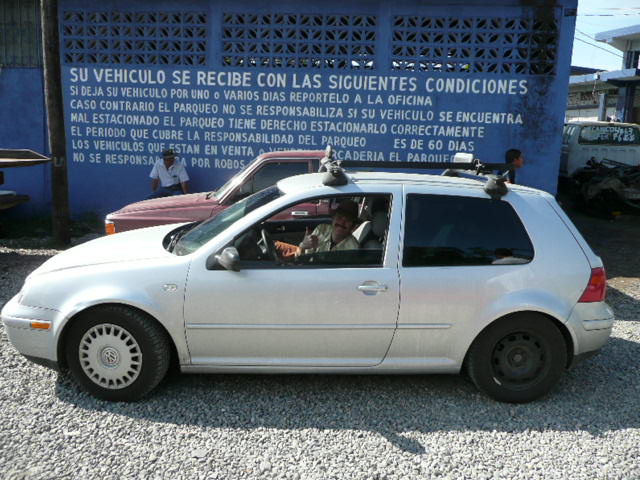 Silver Al Mexico
Jan 2nd, 2008. Greetings from Saltillo, Mexico! After leaving Santa Fe we headed to Truth or Consequence, NM and celebrated New Years soaking in some hot springs right along side the Rio Grande. The 'dorm' in which we rented a bunk was a blue trailer and we had the whole place to ourselves. We rang in the new year with a bottle of absinthe and ... and we had a real hoot. Met a couple locals...Nate and Brenda. Nate liked to party, Brenda liked to talk and talk. Nice folks!
The next morning we stopped in Las Cruces to take care of some last minute details, then we headed for El Paso. We decided to try to cross the border at the nearby Zaragosa Bridge of the Americas instead of El Paso, thinking it would be a lot chiller. (Mistake).
We crossed the border fine, never even stopped, but we needed to get our tourist cards and vehicle permit. There was no obvious place to do so, so I asked a local cop. Next thing you know he is entering our info in a little book and passing us off to another cop who entered our info in a little book. Soon we are being escorted by a motorcycle cop, lights flashing, through Zaragosa. He passed us off to another motorcycle cop (after entering our info in his little book) and we are following another bike cop with lights flashing. People were moving out of the way and we tried to feel like foreign dignitaries, but actually felt like this was all going to cost us 'mucho propinas'. It was surreal. Half an hour later, we were being escorted through Juarez. Finally the cop pulled over, we did too, and he asked us to fill out a little form which seemed to be a statement of the service we were given. I wrote that they ´we overly helpful´ which he seemed to like, and then he pointed down the road and told us the proper office was a couple K on the right. With that, he left...no money ever changed hands and we realized that we had just been given the best service from a police force that I could have possibly ever imagined.
By the time we took care of all our paper work, it was dark and we decided to stick to our rule number one: Never drive at night south of the US border. So we took a room, and a real doozy it was. After finally getting a room with two beds ('No, no, we are brothers!') we got a sweet pad with mirrors all over the place, a TV that had more porn channels than regular ones, erotic music piped in from a speaker in the ceiling and a few amenities to keep one 'protected'. We ran out for a bite, which ended up being a pile of meat and several spicy sauces (Yes I said meat...I'm committed to trying everything on this trip) (some of it quite good, some unchewable) Then we crashed out.
Today we were up before sunrise, took cold showers and logged some serious miles. We drove from Juarez to Saltillo (check a map...pretty far) The drive took us through Chijuajua (spelled differently, I know, but I'm almost out of internet time here) and Nuevo Leon and a bunch of smaller cities. We were cruising at 80-90 Mph the whole day on well paved, double lane roads. It cost us around $70 US in tolls...crazy, huh?
Now I am heading to bed here in Salitllo. Saltillo is the oldest city in northern Mexico. (approx 1570) It is very cold here...near freezing if not freezing. We have a nice room (no hot water, but very high ceilings). For the evening's activities we hit up a dank Irish bar which still smelled of New Years Eve vomit. It was so cold in the bar we could see our breaths and the very casual bar tender and wait-staff all wore winter coats. We enjoyed a couple pints but did not burn the midnight oil in fear of melting loose any further and more pungent odors.
Tomorrow we will drive as far as we can. We will have to cross some serious mountains and if we make it far enough, we will have to try to navigate (around, hopefully) Mexico City. Our goal is to pick up Eli at the Acapulco airport at 2pm on Friday. If we make it there in time, I will be amazed, but today's pace made it suddenly seem possible.
Silver Al is holding up well. Over night some aspects of the electrical system failed (Some interior illumination, power locks and she is making a funny noise (tick, tick, tick) like the blinkers are on, when they are not. But she still locks manually and is running very, very well!
Thanks for all the messages, everyone. I´m sure I´ll be able to write more in Acapulco. Right now my time is up, and I am being reminded of that so I´m outtie.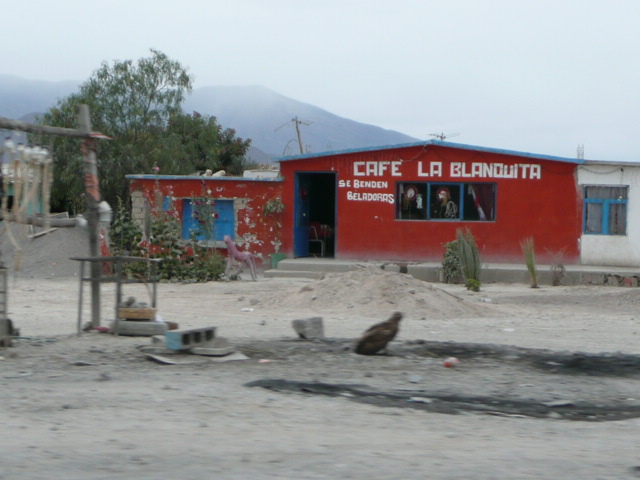 Cafe
Jan 4, 2008: Cuernavaca. We made another record breaking drive yesterday from Saltillo to Cuernavaca. Bret drove all day- again on great roads, and again at speeds in excess of 90m mph. We got lost for a quick few moments in Mex. City, but made it out of the jam much more quickly than the last time I got lost in Mex. City. The drive was through all sorts of mountains and deserts and hills. Barren land gave way to cactusy, Dr. Seussy scrub-land and finally to forests that we haven´t seen in a long time...maybe Eastern Oklahoma...maybe longer. No police, no propinas, no problems so far. A bunch more tolls...I forgot to tally them...I'll get back to you on that.
Cuernavaca is a bustling old city. The hotel in our guidebook is now offices, but it took a lot of driving around to discover that. So we got a swell little crash-pad in a hotel with secure parking right in the heart of the hustle and bustle. The cockroaches are small in Cuernavaca, but make up for that in numbers! A little lavender oil sprayed diligently around each leg of the bed is always a good trick to remember! The hotel that we had wanted to stay in advertized 'shower curtains'...our new one has neither a shower curtain nor a toilet seat, but the toilet rim is the nicest that I've ever seen. For those of you who don't know, it is very common to have just a shower head coming from the wall and a drain located centrally in the bathroom floor. This means that the whole bathroom gets sprayed down...perhaps not a bad solution to spotty housekeeping, but remember to keep your dry clothes and towel outside the bathroom.
We drank four margaritas and two buckets of beer last night to celebrate the last day of our hectic driving schedule. We are in good shape to meet Eli in Acapulco at 2:30 and then we can chill out a bit. Bret went out on a limb last night and ordered a plate of food that neither of us could translate. Turned out to be a pile of pig skin in salsa verde. I thought I was tough and said maybe I could eat some and he could eat some of my tacos, but the chewy, slimy skin was just a little too much. It tasted like dog food smells (and probably what dog food tastes like...anyone?)
Now we have slept-in for the first time in days (slept in till 7:45) My alarm clock needs special watch batteries, so we have been relying on my internal alarm which has (with the exception of a 3 AM misfire) worked like a charm waking me up about a half hour before sunrise each morning)
Things are going great, we are both happy, healthy, smiling. I am working on growing a temporary mustache, to stealth-fully infiltrate the local male population...almost all of whom have them. Should be pretty funny looking. I'll take photos before it is gone...I just look very unshaven right now!
Best wishes to all.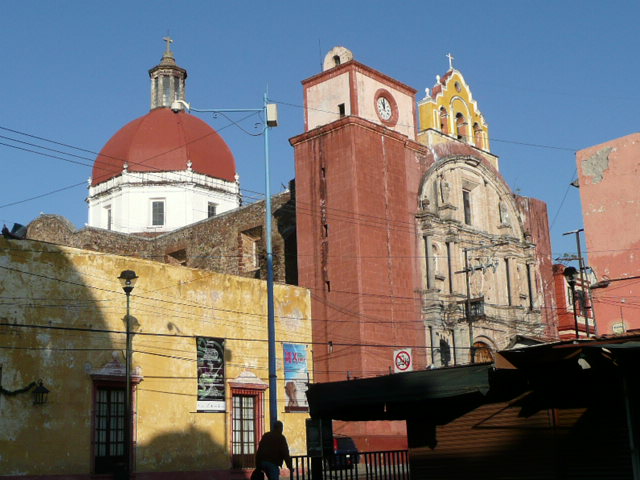 Cuernavaca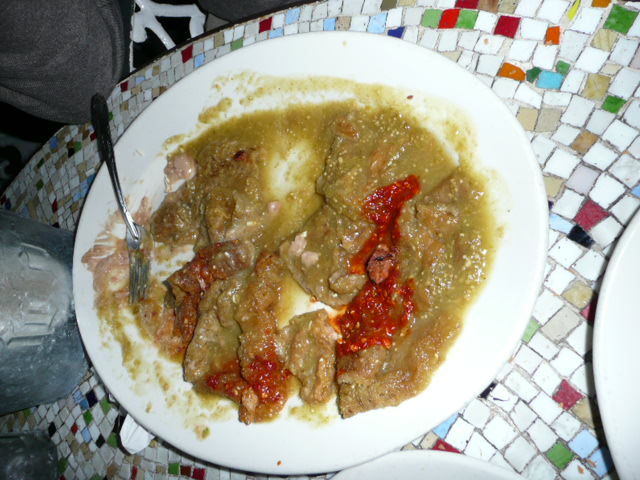 Pig Skin Dinner
Jan. 5th, 2008. After our departure from Cuernavaca, Bret and I hit the road to meet Eli at the Acapulco airport. The timing couldn't have been any better. Exactly as we pulled up to the terminal exit, Eli was just strolling out…all this, and the clock in our car, unbeknownst to us, was an hour slow.

After grabbing Eli, we kept heading south. Two hours down the road, we pulled off in the sleepy little town of Playa Ventura, where we immediately found a nice beach front restaurant and bar and ordered a couple rounds. In a word, Playa Ventura was idyllic. As the sun set over the pacific and a couple children played in the surf, a family of three whales swam slowly by, spouting and slapping their tails. Twice they breached, jumping almost completely out of the water.

After a little stroll up and down the beach, we decided that we should just stay at the restaurant, which also had a few guestrooms. Soon the sun had set and we ordered up three delicious plates of fish. As we waited for the fish we made friends with a large Mexican family, the Sanchez-Garcias, who I think were the only others staying at this 'Restaurant Maria'. The Sanchez-Garicias were as nice as they come. They poured us glass after glass of the best tequila I've ever tasted. (And I happen to have tasted quite a lot) The tequila was organic and homemade by their friends.

We joined the Sanchez-Garcias for the remainder of the evening, drinking, laughing, having a total blast. Then I remembered the bottle of absinthe in the trunk of the car, so we hauled that out and soon it was gone too. Now here is some information for you. Tequila mixed with absinthe is a volatile combination. By the time the Sanchez-Garicias went to bed, things were getting pretty sloppy, but our collective memory has put this much together. 1. We went to the beach and looked at the stars. 2. Somebody started -we don't know who- to horse around. 3. There was a rumble on the beach. 4. Bret went into the ocean. 5. We lost most of the things from our pockets. 6. We ended up back in the room. 7. Completely covered in sand, clothing came off of Bret and I and we crawled into bed. 8. The rumble resumed, we don't know why. 9. There was naked wrestling that was probably really loud and went on for some time. 10. We must have passed out. 11. We all woke up covered in scraped and bruises and sand.

The following morning I awoke to the sounds of heaving in the bano and my ears were packed with sand and my drool slathered face moshed into the sheetless mattress. The mattress tasted clean, at least.

Our new highway, Mexico 200, is a whole different story than the highways up until Acapulco. One lane either direction, slow moving trucks, mules and dogs and coconuts in the road. We made pretty good time considering, stopping once for a coco frio (cold coconut). The guy that sold them to us was very nice, so we stayed and chatted a while, talking cars and Mexican life. He decided that the name Bret translated to Alfredo. When he asked how old I was I told him ´33´. "Ah", he said, "The same age that Jesus Cristo was crucified." Great!

Now we have made it to Zipolite on the Oaxacan coast. Got a cheap room - 5 bucks a piece. It is a mixed bag here and a really chill scene with surfers smoking reefer, dogs trotting the beach, nudists jogging around and locals selling hammocks and anything else your heart desires. We had a decent fish dinner, pescado entero con mojo ajo. Whole fish with a sauce of garlic and spices. It wasn´t a late night for us, flopping down beneath the twirling white-noise of the turbo ceiling fan, we were soon asleep. About five years ago I had stayed here and was happy to see the proprietor of the ¨Brisas Marina´ Daniel still slung out in his hammock out front. Not too much has changed here, which was a nice surprise.

This morning we checked out the beach for a while, grabbed a cup of coffee, fruit salad, juice, granola and yogurt. Now we are going to pack it up and hit the road. Best wishes to you all!

Silver Al is doing great. She is shifting a little looser than before and lost a hub cap. Once she beeped for no apparent reason. The car had been parked, shut off, and locked up for a couple hours when it happened. I guess she was just letting us know that she was content (it was a short, content sort of beep) (Who know how often she beeps when we are not around).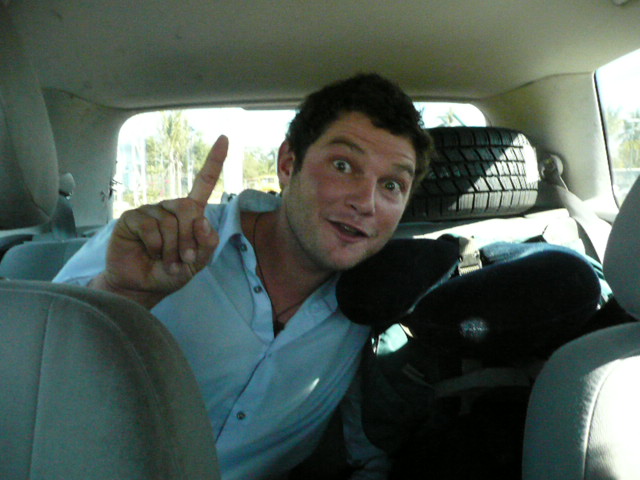 Eli Arrives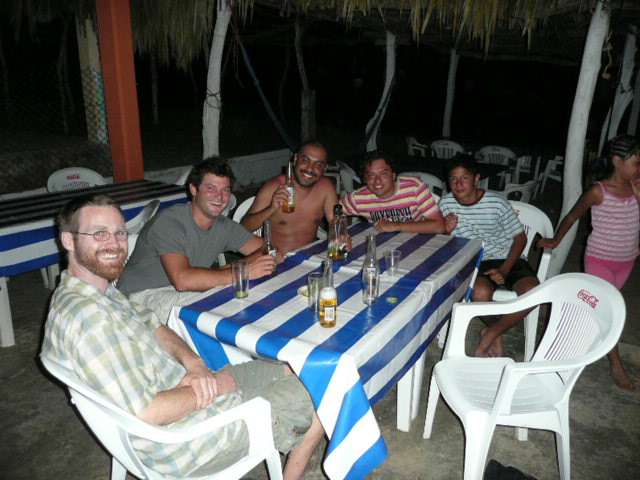 Sanchez-Garcias 1
Mexican Anthem With Sanchez Garcia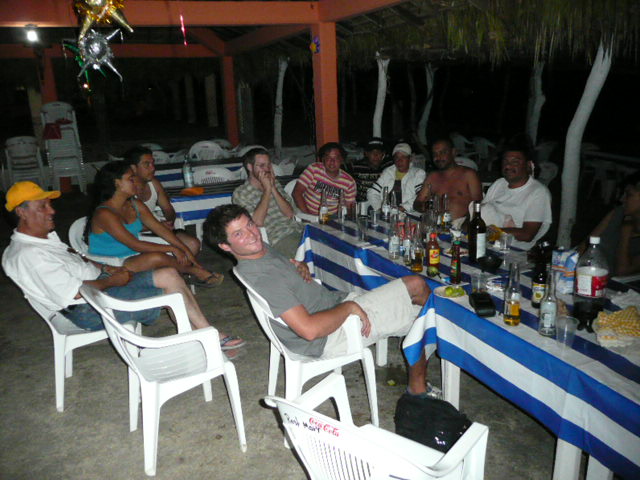 Sanchez-Garicias 2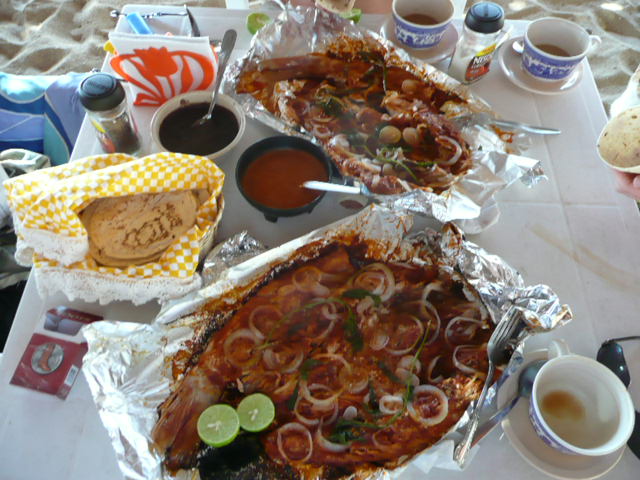 Pescado (fish) de la Tira (Delicious)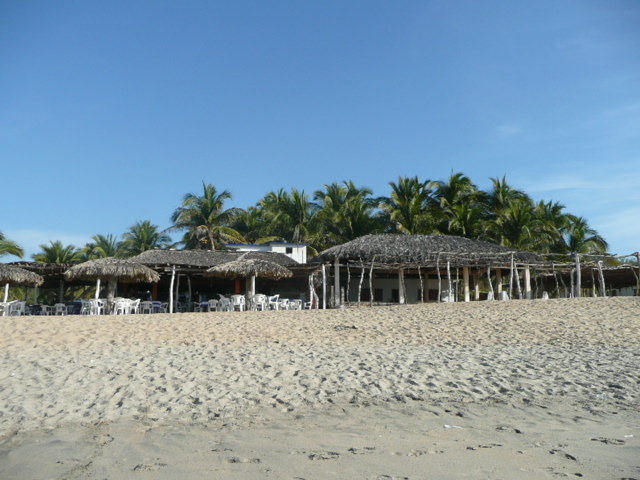 Ventura Beach
Just one last word...Internet connections are getting worse and worse...May be text-only for a while...at least shorter sound clips, which would be good anyway because we tend to ramble, huh?
Alright, I´m going to shave this beard into a mustache now and we are hitting MX200.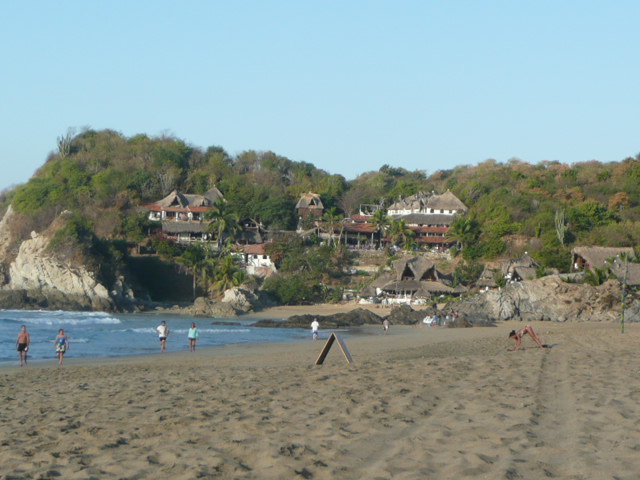 Playa Zipolite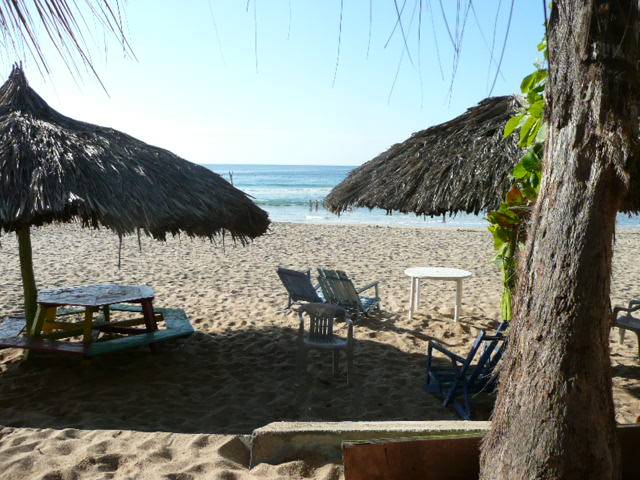 Zipolite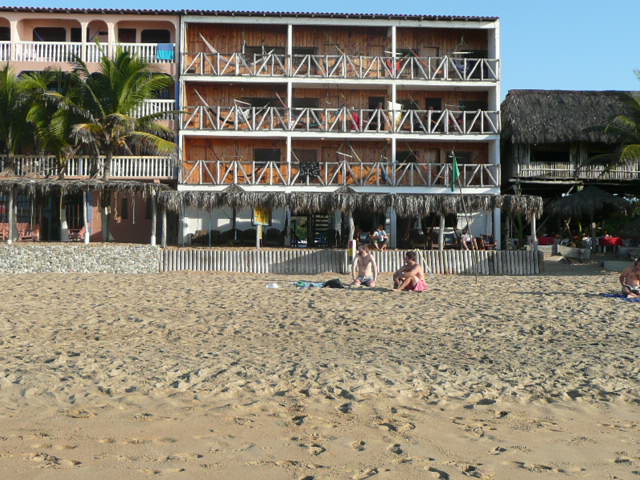 Hotel Marina Brisas