Just bought my tickets. I'll have three weeks to fix up Silver Al and get her out of Argentina. Eli says he's in. I tend to believe him. Stay tuned!
Sunday, Nov. 30th. Flying out tomorrow. Boston > Atlanta > Buenos Aries. I'll land in B.A. at 7:45 AM and catch a cab over to Nate's place. I've had a pretty laid back approach to packing, but I suppose I should throw a couple things together pretty soon here. I spent last night chewing the fat with a couple old friends in seacoast New Hampshire around a flaming garbage can. I'd like to say we were howling at the moon but the skies have been a sickly gray when they aren't spitting.
Eli, contrary to the earlier report, says he will not be able to join me this time around. I tend to believe him. Nate says he might be interested in logging a couple K in the low-rolling hatchback, so there might be a duo yet. Otherwise, I'll just have to do my best at keeping myself entertained, which always seems to come pretty naturally.
It will be the dead of summer down in Argentina. Rasta Max has been keeping in touch. He's got a place for me to stay and a mechanic all lined up.
Back In Buenos Aires, chicos. It is warm and sunny but not too hot. Nate Moyer has been taking good care of me since I came knocking on his door around 9:30 this morning. The flight was uneventful...smooth even. I fly to Ushuaia tomorrow. They changed my flight a little, such that I fly out at noon instead of 4 and I fly direct instead of switching planes somewhere midstride. (Good thing I decided to log onto my hotmail this afternoon to get that message.)
Iīve got to run for now and make the most of my brief time here in the city. Best Wishes to all!
Killing Time At The B.A. Airport. My flight to Ushuaia has been delayed yet a second time. If the plane does, in fact, exist it is now scheduled to leave at 4:40. (It was orignally scheduled to depart at noon)
Yesterday I had quite the full day in BA. I woke Nate up when I arrived at his door and we went out to grab some coffee. Then I accompanied him on a few errands, which included meeting with his rental agent and expressing disappointment with the upkeep of his building, then getting some new locks made, followed by getting some new keys made up. We then went down to his bar and openned it up for an electrician. After that we went back to Nateīs place, ordered a couple Milenasas Completos sin huevos (tasty fried meat sandwiches) and drank beer and played rummey waiting for the agent to show up and assess the building's maladies. (Nate bested me at the rummey)
After the agent came by, we set out to pursue Nateīs new hobby...roulette. The roulette tables were in a Casino built into a huge river boat. Nate figured if he had a good run, he might be able to join me on a leg of my trip. The wheel didnīt spin his way (or mine, for that matter) and we slunk out of there pretty soon after arriving.
We grabbed a couple waters on the way home and then hit the corner market for the makings of a raviolli primavera dinner. A friend of Nateīs joined us for a very delicious dinner and one of his housemates helped us polish off a few bottles of wine and a few fingers of the pisco bottle that I had brought Nate last time I was here. We listened to tunes on a speaker mounted ipod and talked about, among other things, what makes sour dough sour, what nationalities resemble what fruits, the hotel business and the music festivals of Argentina.
I slept really well last night and was up around 8:30 this morning. I grabbed a shower and we hit up two coffees 'para llevar' as we trekked out to find an ATM. My ATM card worked, which it fortunately hadnīt at the casino, so I have a few pesos in my pocket now.
The cabbie that brought me here to the airport talked and talked and I understood quite a bit of it, which I took to be a good sign. Now I am here at the smaller less international airport Jorge something-or-other. It is right on a very wide river, across which I cannot see, but know, that Uruguay sits. I wonder if I will be making it there later in the trip to try to sell my car. There is a political problem right now between Uruguay and Argentina, and the bridges are all closed. Something to do with pollution and paper production. I have been told, however, that I might be able to put the car on a very rough ferry to get across if that time does come.
So thats the low down. Not too much to tell, but a nice 24 hours in BA. Thanks for the hospitality, Nate! I am going to sign off now and check out the blog of my friend Timmy O (another New Hampshire boy) who is traveling around Brazil right now. You can check that out at:
http://timsbrazil.wordpress.com/
It is full of quite interesting, informative and well writen impressions. Catch you all late!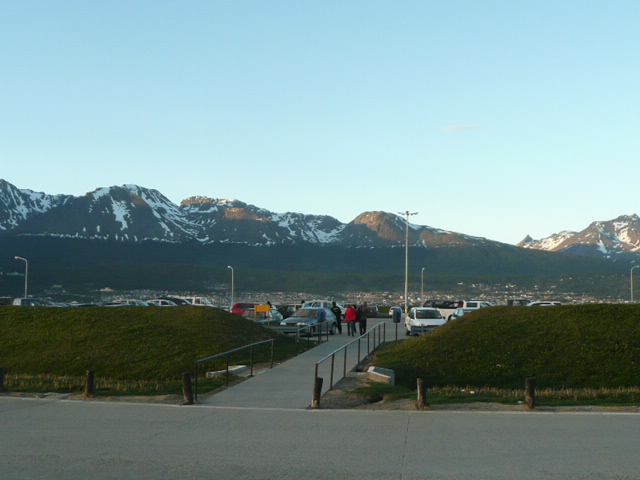 Walking out of Ushuaia Airport
Ushuaia. Thursday: I have made it! I rolled into Ushuaia last night well after 9 PM. The flight went pretty smoothly once it went. Some people were really worked up over the delays, slamming fists on the counter and chewing out young airline reps. The ride was a bit tight. I had biggies in front of me and beside me and my leg room was a little squished because I have been flying carry-on only. The two guys in front of me looked like twin Andean 80īs rock stars. Dark, thick feathered mullets, rings and earings. The one directly in front of me had his seat back the whole trip and his hands clutched over the back of his headrest and inches form my face the whole time. His fingernails were closely trimmed, but the second one to the pinky had an odd blusish clayish substance underneath that kept catcing my attention. Couldnīt quite place it. They had guitars too...the rock star comparison is not totally out of the blue.
I noticed everyone on the plane had winter jackets on, which got me reviewing the few clothing items that I had packed. It is supposed to be full-on summer here, right?
The food on the plane was scant and virtually unedible. For those who know me well, I often pride myself on my appreciation of airplane food and the fact that they can feed you at 33,000 feet. This sandwich appeared to be creamcheese and boiled ham, but the bread was so damp it was like cream itself. My guess is that the sandwiches were hot at one point before the 4+ hour delay and the sealed plastic didnīt allow the humidity to escape. The top bread had grill marks in it, that looked like they might have been printed onto the bread. I had one bite, but I did notice the woman next to me got the whole thing down quickly. There was a cheese cake square desert that was alright except it was very crumbly and kept falling apart when stabbed with the fork. Everytime I thought I had harpooned a bite, it fell apart on its way to my chops and covered my chest in crumbs.
The plane stopped in San Gallegos and a bunch of people got off and a bunch of people got on. Then it was a beautiful 30 minutes to Ushuaia. Landing in Ushuaia was much more intense than taking off had seemed. The plane kept circleing lower and lower in a compact space between snow capped mountains. Finally we were low enough and the short landing strip seemed like a boat sized island. I knew it would be fine because they do this all the time, but it was thrilling all the same.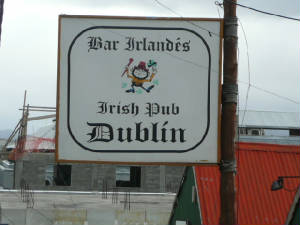 Old Standby
I caught a cab to the Freestyle Hostel where Rasta Max had reserved a spot for me. As I checked in he called up and gave me a really hearty welcome. So I settled in, had a cup of coffee and then wandered down to the same bar that we celebrated St. Pattyīs day in last March. It was pretty busy...I think it just always is... and I had numerous mugs of the Roja chop (draft beer...red) I took it all in...being back in this unusual geographic location .... and by the time I left I felt very settled. I wonder how many people visit this place twice.
It was later than I thought (1:45 AM) by the time I left the bar and I went out looking for a bite. When I just about gave up hope I found one place that was open and grabbed a meat and cheese and tomato sandwich with fries. The server was super nice...startelingly so.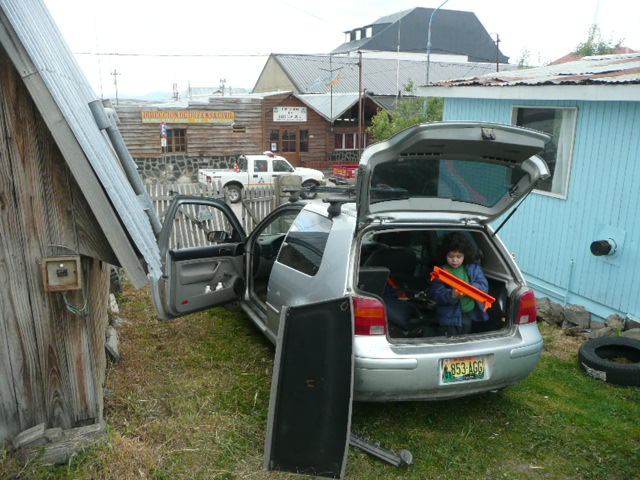 Silver Al Still Kicking
This morning I had a coffee which is always on hand here at the Freestyle and met up with Max and Leon (Lion...Max`s son) at 10:00. He is a super awsome fellow and made me feel like a long lost brother. We walked down to the Customs and I got dealt my first setback of the Silver Al recovery operation. For some reason, I cannot put Al back on the road until some offical goes over to where Al is and signs off on her being there. He is off tomorrow (Fri.) Monday is a holiday here. So I canīt even take her to the mechanic until next Tuesday. It seems ridiculous and I have to go back there tomorrow so I am going to try some bribing and charming and whatever else I can do, but folks at the Aduanas here really play by the books and the books in Argentina always seem stacked against Silver Al. Anyway, on a brighter note we next headed over to Al`s resting place and I fired her right up. She was still holding oil and brake fluid. It took a lot of work to get her moved, but with the help of Max, another friend Rodriguez, rocks, rope, sand, planks, a shovel, pushing and mud flying, we popped her out of her spot and got her all set to roll out onto the street when the time comes. (It was raining here this morning for the first time in two weeks...perfect for moving the car uphill on wet grass) In Al I found some things that I had forgotten were there...some useful things...like a flashlight and a Spanish-English dictionary...a rain racket. I brought a mysterious rain jacket from the hook on Cape Cod and discoved as I put it on for the first time that the sleeves barely reach my elbows.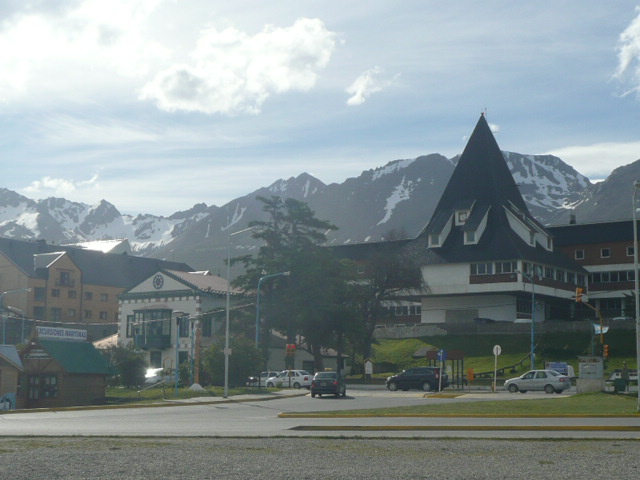 Ushuaia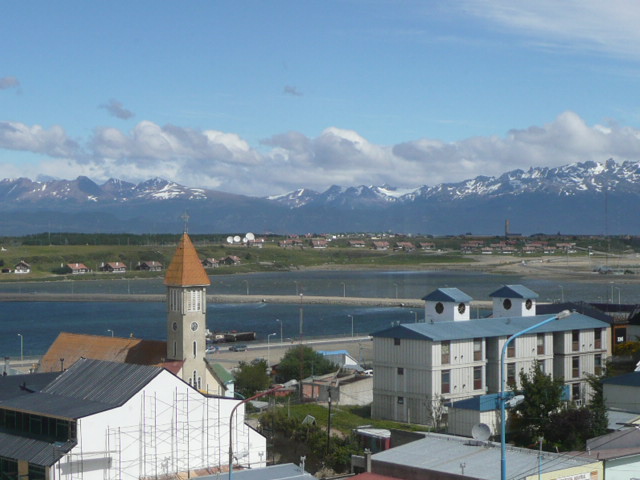 Ushuaia
Anyway it is not actually cold here. It is quite a bit warmer than last March. It is not hot, however. The sun stays up until well after 10PM and rises at god-knows-when. Makes it tricky to figure out what time it is...it is always later than it feels. Right now it is 7:48 PM. It is three hours later than Eastern Time, oddly enough. I am at the hostel and Max just pumped a bunch of change in to this coin op. computer. There is reggae music and people drinking wine. I hung a bit and read this afternoon in the upstairs lounge with beautiful vistas of the Beagle Bay...or Channel...or whatever it is. Snow capped mountains surround everything. It really is beautiful here. I got invited to join a handful of folks for dinner tonight which will be nice. I have traveled alone numerous times, and I donīt mind it except for the eating out. You sort of look at your hands and pick at hangnails, read the place matt over and over again, look over the drink menu, and then look at it again...'Wow', you try to think outloud...'rum and coke'....'hummmm....gin and tonic....how very interesting' then go back to the place matt... 'neat border work around the edges...if I design a paper place matt someday I will remember this'. Maybe you stare at the wall decorations like they were fantastic works of art. 'What could that tool be used for...It almost looks like and old fashion...strainer...yes...I think it is'.
Well my credit here on the computer is running low, so I`ll get this up before I get booted. Iīve got a couple pictures to post ...maybe later. Best Wishes to everyone!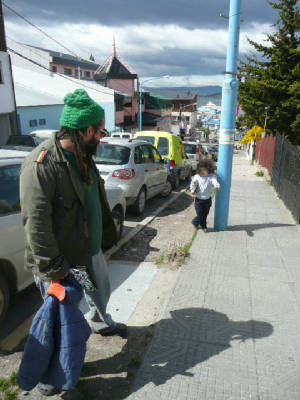 Max and Lion
Great News! I have gotten the car released and have now brought it to the mechanic. It is Friday, by the way, so I am very, very happy.
Last night I went out for a nice dinner with three Danes, a German, a Japanese and an American. I had a homemade spinach filled Mannicotti, which seemed more like a couple spinach enchiladas with a coarse cherry tomato and baby carrot 'sauce'. We drank some Argentinian wine that was really good as well. The Japanese fellow worked for the UN in New York, one Danish woman was a nurse, the other just quit her job at a law firm. The Danish guy had quit his job at a 'green' investment firm to do this trip as well and the German woman works in human rescorces at Lufthanza. The American guy, (half Cuban, half Italian) lives in Manhattan and works for an advertising firm. At dinner we talked about beaver and platipuss, everyone's journey so far and what they are doing next. Every one in the group was actually traveling alone.
After dinner the group split up and a few of us headed over to the Dublin Pub for a couple beers. It was busy there as usual. I saw in there the four Israeli girls that had been on my flight here from B.A. who had, as Israelis seem to do, met four other Israeli guys to form an Israeli supergroup, that loudly dominated one corner of the bar room. At some point Rast Max appeared as he did his bar hop recuitment for the disco club that he works for.
After a couple drinks during which we talked mostly of international regulations and vices, we walked back up the street the hostel and called it a night.
So this hostel thing has been working out so far, so good. I have met a bunch of folks now and have plenty of things to do if I wish. Today I was trying to decide whether to go on a 3 hour boat trip with these folks, a six hour boat trip with those folks or a hike with a few others. I eventualy decided upon the hike which was good because as it turns out the navy closed the whole Beagle channel today to boat traffic due to the wind. All boat trips called off. I did not, however, go hiking as it turned out because as we waited for one Dutch guy to get back from booking his Antarctic expedition, Rasta Max called me up and gave me the great news that the lazy (but nice) customs folks decided they didn't want to see my car...they just wanted me to write down the miles on a scrap of paper and bring it to them. Within a half an hour Silver Al was mine again and a half hour after that I was driving her. She is driving pretty rough, no question about it, but to the best I can remember, she is driving no worse than when we left. I was unsure what many months of sitting through the Ushuaia winter would do to her. She is a strong one.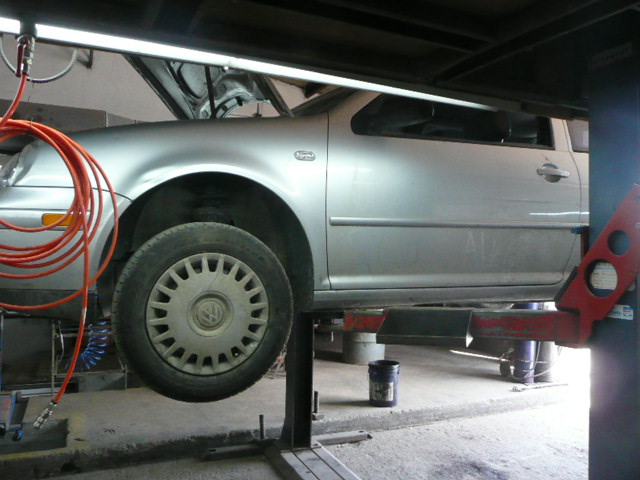 Progress
So Max, Lion and I drove in Al up and up the steep streets of Ushuaia and finally found the mechanic who didn't want to deal with her in the least until 3:00 PM. So at 3:00 I will go back up there and really get the ball rolling.
Max will be working at three here at the Freestyle, so he will be unable to join me, which is a drag because he has been doing all the talking through this process. I doubt the mechanic will speak a word of English, but I am not worried. I've come this far and I see the open road starting to stretch out before me again!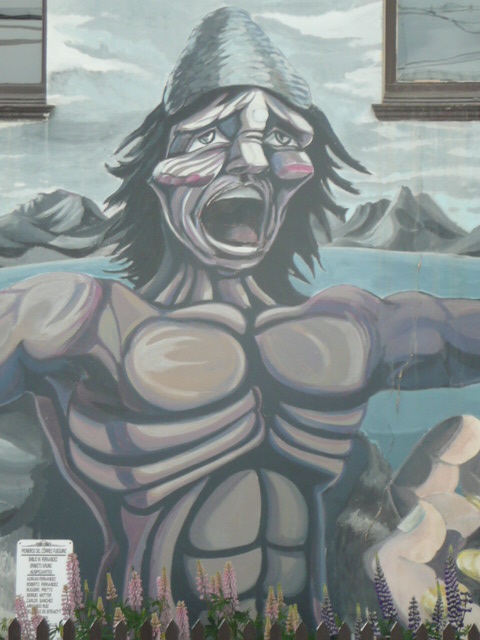 Mural Center Ushuaia
Sat (atually Sunday AM 2:15) I am supposed to join Max on his disco trip at 2:30...So I have 15 minutes to fill you all in. A lot has happened.
Today I hiked all day at the National Park Tierra Del Fuego. It started out a beautiful day.. blue skies, sunny and warm. In the Afternoon it got very windy. Windy down here is like a hurricane in New England. Watching two tents fly past like tumble weed pretty much ended my desires to camp in the park. The park was beautiful though. I hiked the 'coastal route' first which was about 10 K of easy going trail along the rugged shore and through shoreline forests. Lots of grassy knolls to chill out on (I had a nice picnic in one such area) and lots of craggy shoreline scrambling. After I finished that hike I hiked out to the 'end of the line' which Eli and I photographed well on the last visit. By this time the wind had really picked up and the few legs that went along the road dust blasted me good. I still have sand deep in my scalp.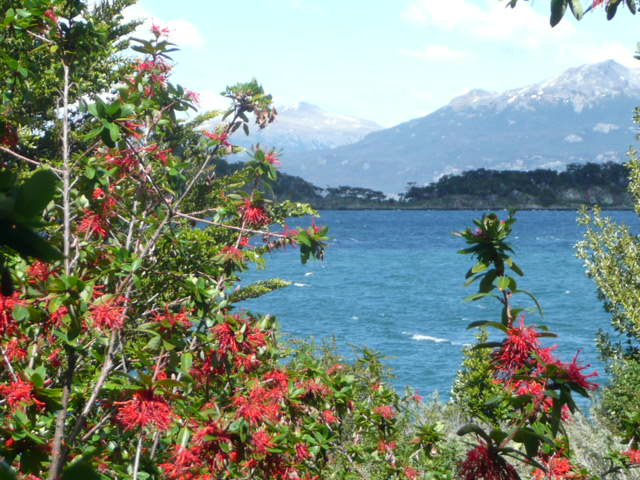 Tierra Del Fuego National Park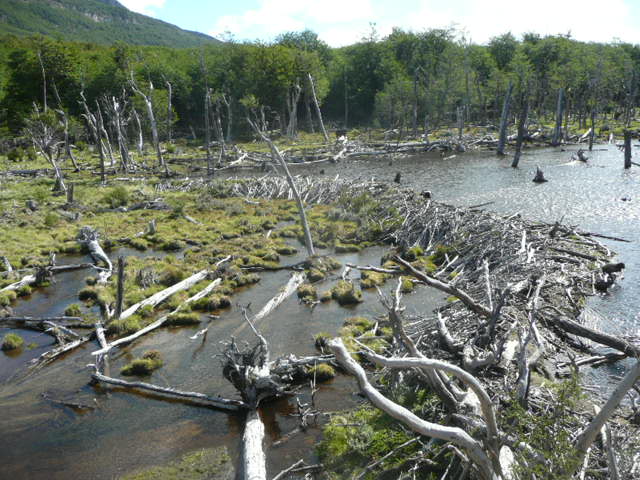 Evidence of the Great North American Beaver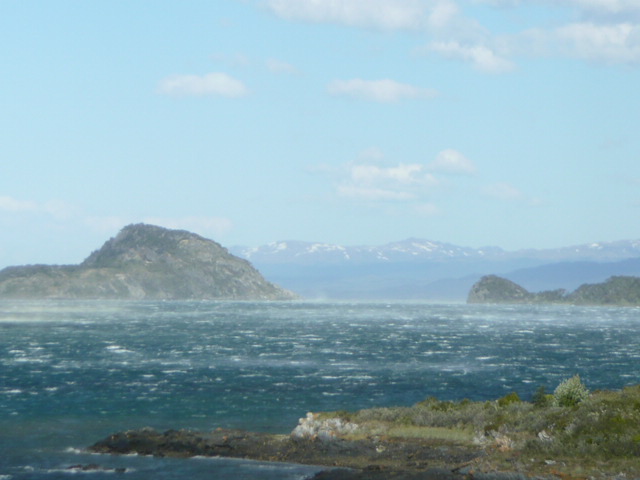 Tierra Del Fuego National Park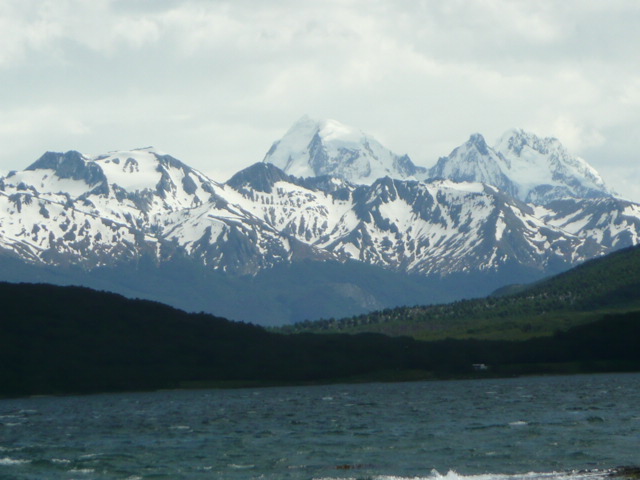 Tierra Del Fuego National Park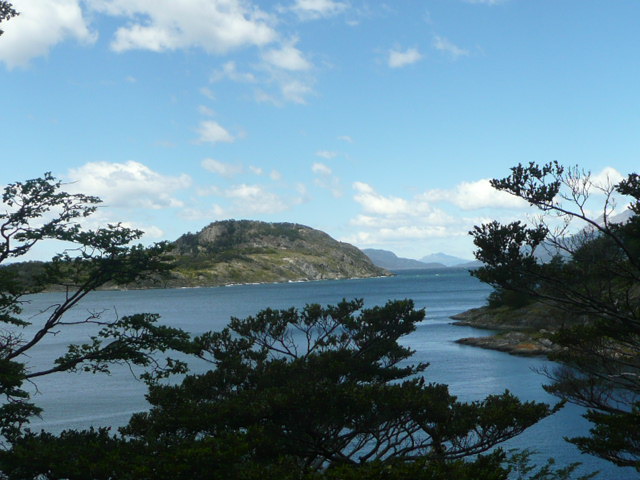 Tierra Del Fuego National Park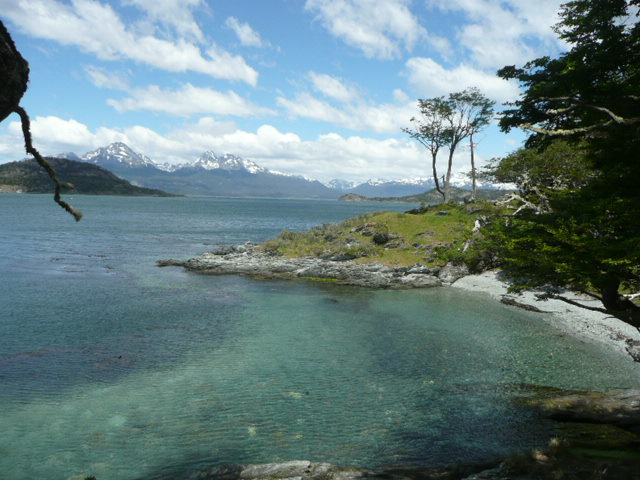 Tierra Del Fuego National Park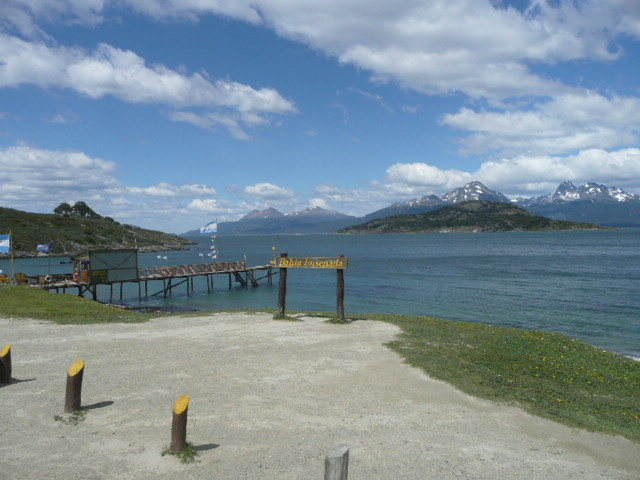 Tierra Del Fuego National Park
Waiting for the minibus to pick me up was a harrowing experience as I crouched down feeling like I was going to blown off the end of the world. Once I got the bus we made it a K or two before we were stopped by a short line of traffic. A huge tree had fallen down across the road. A couple police/soldiers had arrived and said it would be three to four hours before they could clear this tree, so while the bus turned around to sit this out at a little park cafe, I jumped out to hitch. After walking to, and climbing under, the tree I eventually came upon another mini bus waiting to go the other way, which upon hearing the news turned around and took me and its passengers back to Ushuaia. All in all, however, it was a really nice day with 16 or 17 K of hiking, a nice picnic and a little sunburn.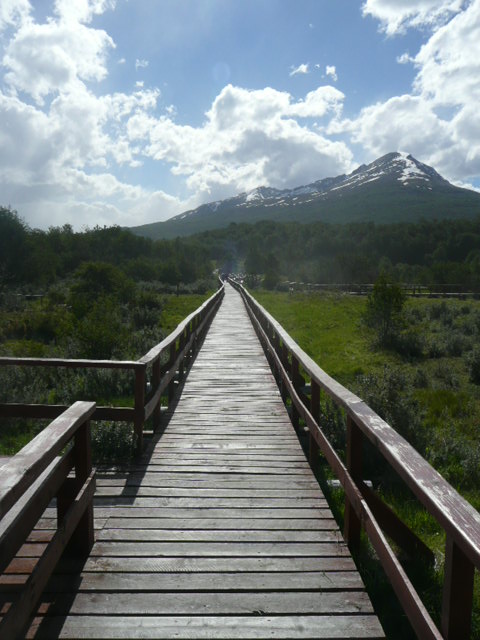 Tierra Del Fuego National Park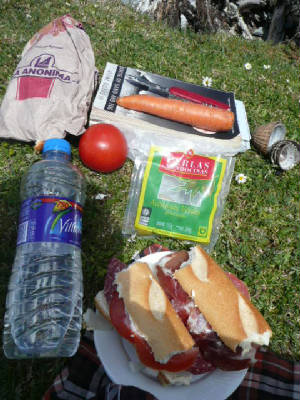 picnic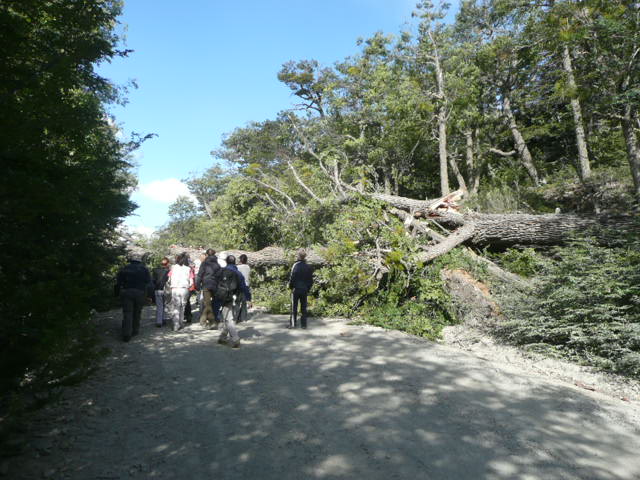 Tree Down
When I got back to the hostel, Rasta Max was waiting for me. 'Where have you been?" he said as if I was supposed to meet him. "Your car is ready!" And he spoke the truth. Silver Al was as ready as she was going to get. The mechanic was able to re-bolt the engine and fix the leaking brake line. The right rear tire which turned out to have a blown out shock, was not fixed totally because he could not get a proper length shock, but he took the old one apart and repacked it somehow, though he won't promise how long it will hold. He couldn't get a new e-brake cable, so that is still slack, but he did say it was firing on only three cylinders, which he fixed with a few new spark plugs.
I quickly trekked to the ATM and then caught a cab up the hill to his shop where he handed over the keys and now Silver Al is sitting in front of the hostel. A handful of hostel folks have already gone out to take a look at her after hearing the rumors of my beautiful car.
So now the question is when to hit the road north. Naturally I would say tomorrow, but the one problem is that I don't have car insurance, which is mandatory. I will have to wait till Tuesday to get insurance, if I want it, but I am contemplating trying to wing it tomorrow. At the frontera (border) with Chile I know I can get insurance for Chile and then when I cross back into Argentina I can get Argentinian insurance, but I also know that I will have to pass through a few police checkpoints here in Argentina to get there. I am thinking of going for it at this moment, but it is also almost 2:30 AM and I have a few beers and a bottle of wine in me, so maybe I will think better of it tomorrow. You'll have to wait and see what I decide.
Sunday! So I am still here at the Freestyle for a couple reasons. First, I never went out to the disco last night, but instead went to bed after posting my update to this site. (Sorry Max...I was tired out from hiking in the wind and sun all day) Since Max will be sleeping most of the day today, I wouldn't think of leaving without thanking him and saying good-bye.
The second reason is that when I awoke today it was (and still is) just dumping down rain and I had noticed the other day that the windshield wipers had pretty much disintegrated over the winter. With so many bigger issues to worry about, I over looked two little ones which are now holding me up...insurance and windsheld wipers. Today is Sunday, so most shops are closed, but I will still venture out eventually to try to find wiper blades.
So I might leave tomorrow, but now I also have an offer from an American guy to split costs and the ride through Chile and back into Argentia again, but he will need to wait until Tuesday as well. So I am up in the air a little as the rain pours down on the roof of this upstairs lounge where I write this.
It is 1:46 Monday morning. I am a bit tired tonight and might turn it in soon. Today was a mellow day for me....maybe that is why I am tired. With the recent rain and wind came colder weather and it is quite chilly outside. I just came back a few minutes ago from giving Rasta Max a ride across town to put a couple flyers up. He is a man constantly on the go.
The hostel is busy tonight. There has been a lot of turnover this past weekend and with it a slew of new faces. A handful of people here are heading out on Antarctic expeditions later this week. Lots of tables covered in empty wine and beer bottles, dice rolling, backpackers making new friends and talking about what we all have in common....travels and traveling, and what we don't have in common....our different countries and lives back home.
My old crew from last week is long gone and I have been operating on my own the last couple days, not because new folks aren't friendly, but because I exerted a lot of social energy last week and have been feeling a little more subdued. I feel very at home here, friends with the handful of employees, and treated well by them. Some really good folks...Juan, Max , Emillio and Rodreigo. I did talk for a long time with my new dormmate this afternoon...an Aussie heading out in a couple days to the 'Real Down Under' (Antarctica). I taught him how to use his flash drive and how to email photos.
For dinner tonight I had my first Argentine steak (which must be done down here if you eat meat) and a glass of Malbec around the corner at the Dreamland Cafe. It is a very ambient/atmospheric restaurant/ bar with mood lighting and waitstaff in black that seem to be all part of the same family. I wasn't asked how I wanted the meat which was fine because I can't remember how to say medium rare in Spanish. Last year I remember saying Medio Raro...but Raro, while meaning rare, does not apply to cooking. It means unusual, so I was all the while asking for my meat to be somewhat unusual. Anyway it came just how I like it, and was accompanied with some sort of very thinly sliced pototo nepolian and the meat itself was garnished by a speared cherry tomato and section of onion loosley coated in seseame seeds. While the meal was fancyish the atmosphere felt suitable for reading and I began the first pages of my second book of the trip so far....Kurt Vonnegut 'A Man Without A Country', which has my brother's name scrawlled on the first of the title pages. The book I just finished was called 'House of San and Fog' by Andre Dubus. It was a quick read...a "page turner with a beating heat" -Boston Globe, and was the story of human desperation and cultural misunderstandings leading to tragedy. After dinner I enjoyed a coffee, which rally hit the spot.
Most meals that I have eaten lately have been sandwiches...some really pretty good ones...but I did have cod and squash a few nights ago, whihc was delicious and for lunch today I had a little pizza at a pub while I watched a football (soccer) match. The pizza was good if, perhaps, not really what I would call pizza. It was small and cut into quarters, with an olive and a roasted red pepper centered neatly onto each slice, a generous layer of thinly sliced ham under the completely melted, but not even faintly browned, cheese. Breakfast is included here at the hostel, though I don't usually eat any. There is coffee 24/7 downstairs, which makes a fine breakfast as far as I'm concerned.
I couldn't find a windshield wiper today because it is Sunday and tomorrow being a holiday, I won't get one until Tuesday. So I am planning on leaveing Tuesday morning with insurance, windshield wipers, and a passenger...Kevin, will catch a ride for the day. I gave him full and proper warning of the quality of the road and the chance of breaking down in the middle of nowhere Chile (the leg of the trip that destroyed the car on the way down here), but he is up for it, and as long as he can hang tough in a potentially rough situation, I should (and am) happy to have a comrade to share in any potential strandings. Kevin has a few years on me...perhaps 20 of them...and has been traveling for three years now, so losing some time doesn't seem to concern him too much. He seems to have a very level head on his shoulders and I trust him already. I'd rather be broken down alone than with someone who was going to get really stressed or scared, but Kevin has been through his share of scrapes over the past three years. Obviously I am not expecting to break down and I shouldn't jinx myself, so lets change the subject right now.
Tomorrow I am thinking of taking a half day sailing trip, but I also want to take Max and his son out for lunch. He has been a great friend. I'll have to see if I can work out both, but lunch will have to trump sailing if push comes to shove.
Silver Al is running well now, but the rear shock is still quite poor, the back tire clunking around over bumps. Driving in Ushuaia is 'a jungle' as Max puts it with no stop signs at intersections. You have to be careful because the fleets of taxis rule the streets and don't slow down. The streets are very steep too.
I like it here but I am very excited to get on the road. My clock is ticking and I have to cover thousands of Kilometers in the next few days. I started reading about Uruguay today and should I make it, it will be a different world than down here. Warm and very beachy! Nighty-night!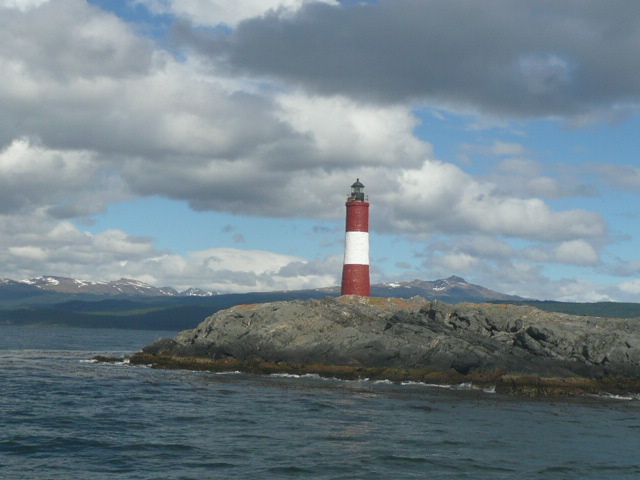 Lighthouse in Beagle Canal
View of Ushuaia from the Catamaran
Monday The boat trip I signed up for today was cancelled due to the wind (as seems usual) so I signed up for a different one. The original trip would have been on a very small boat a bit larger than a whaler with a free keg of microbrew on board. The boat I ended up on was an enormous three story catamaran, with wait staff, cushy seats and televisions all around running advertisement videos for local gift shops. The had a shortish video loop in English then Spanish then French with dramatic new age music and tinkerbells, telling you that a jewel inlaid necklace would be the perfect souvenir to commemorate your trip to Ushuaia and (with dramatic music reaching a firey crescendo DA DA DA) "Tierra Del Fuego!...Land of Fire!, fire!, fire!, fire!......"
Anyhow, the trip was three hours and the main attractions were sea lions, cormorants, albatross and a light house. We also got a little tour of part of one edge of Ushuaia as we cruised by it and a free souvenir which was a signed certificate from the captain that you took this trip or any one of the four trips that this outfit runs. (an advertisement flyer basically). I did take some pictures, a few of which I shall share with you.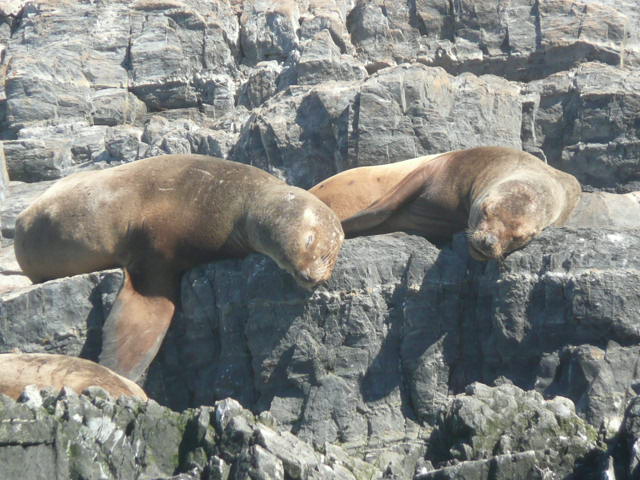 Always Sleepy Sea Lions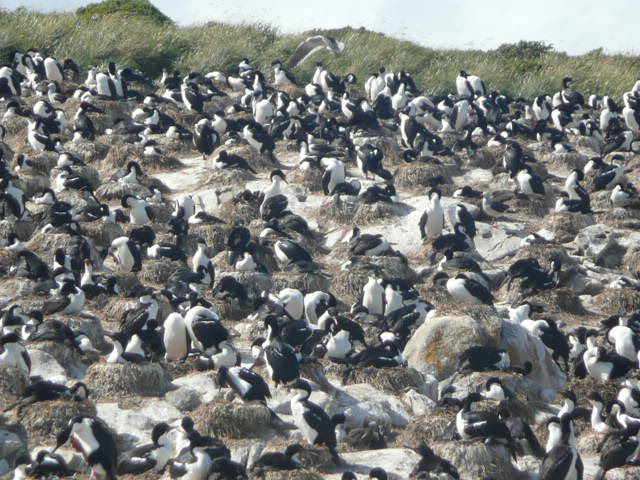 Cormorants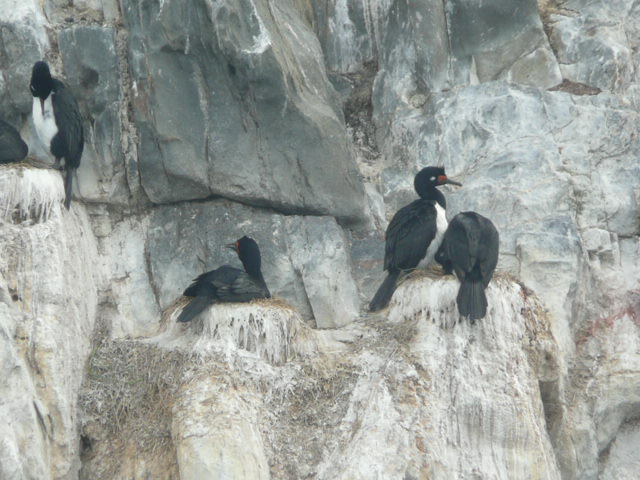 Albatross
Now I have some laundry going downstairs so I am in my laundry day outfit....Freeballing it in shorts and a t-shirt with flip flops. I'm a little chilly and a little smelly but I am waiting for fresh cloths to take a shower. On the Agenda tonight, enjoy my last evening in Ushuaia. Get some dinner out and a few beers down at the pub.
Catch you later!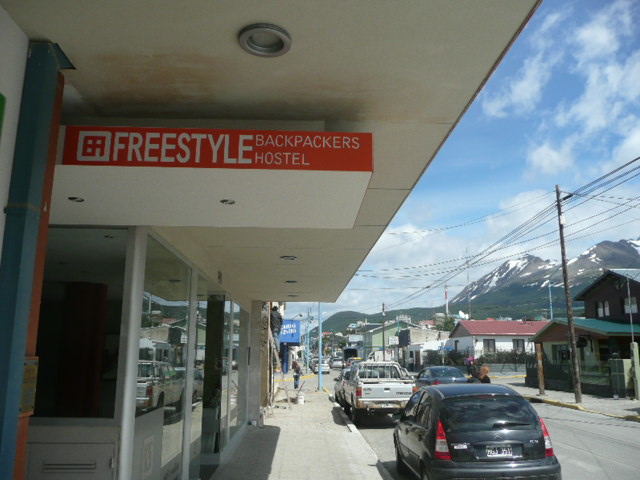 Freestyle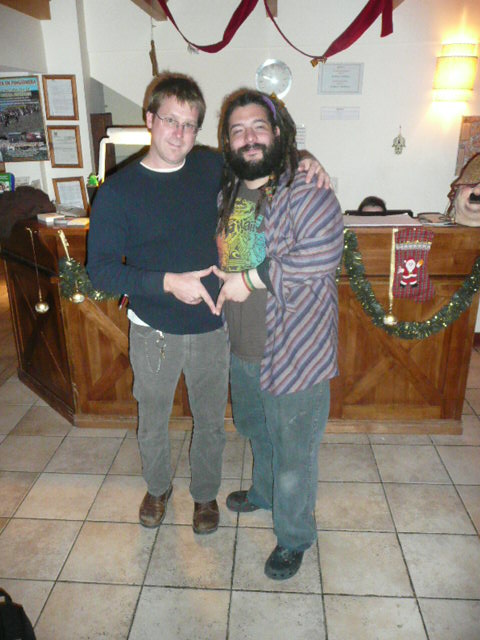 Good Bye Rasta and Thank You
Rasta Max Welcomes you to Freestyle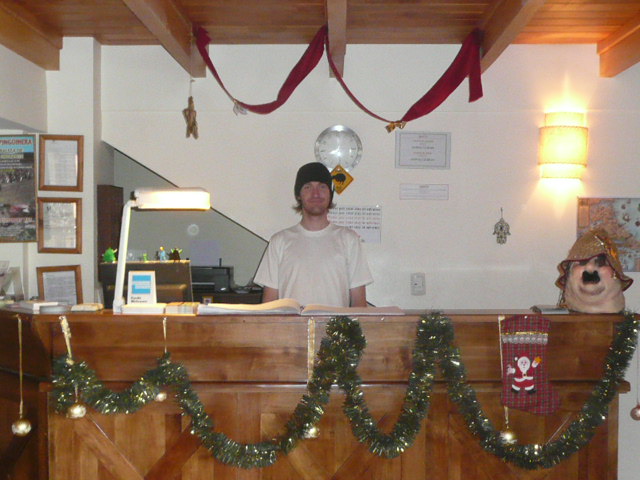 Juan at the Controls!
8:36 AM Tuesday (Dec. 9th?) Welp, The time has come. Ended up staying out a little late last night, grabbing a late dinner and talking for a long time with a Scottish fellow down at the pub. Just when I thought I'd turn it in I got caught up in conversation with a Brazilian fellow and soon he had bought me a beer.
The sun was cracking the South Eastern sky pretty good as I was leaving the Dubliner, but down here that doesn't mean it was that late.
The plan now is to have a coffee or two, get some car insurance when the businesses get openned at 9 (hopefully) get a windshield wiper (driver's side), grab a couple snacks at teh market and then get on the road. Rio Gallegos is the destination tonight and Kevin will catch a ride with me that far. If I get there early I could potentially log a few more miles, but that is an optomisit prospect.
There might be a hostel there, so I might be able to fill you all in via internet. If not, it could be a while before I write more. I see some highway side dives in my future...truckers and empanadas, engine oil and red bull, glowing rabbit eyes and endless tundra.
Good luck to you all and wish me the same!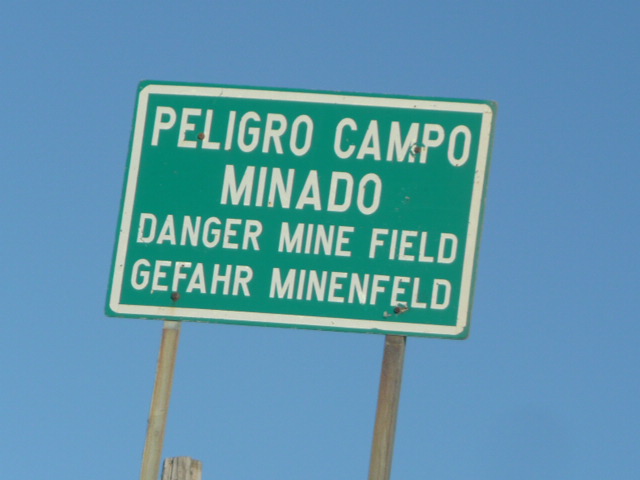 Watch your step
Dec. 10, 2008 So much to say, but where to start? Let's take it from the beginning. Getting insurance in Ushuaia took some time and a lot of walking. There even came a point where I began to think that I might not be able to get insurance. I visited insurance office after insurance office, each directing me to another, saying that they don't sell policies to extranjeros 'foreigners' One place that I finally found that was willing to offer me a policy needed 6 days to apply, file and receive the proper papers from Buenos Aires. Finally, however, just as I was running out of ideas and Ushuaia was running out of insurance offices…after even attempting, unsuccessfully, to phone the underwriters of my old policy in the US, I found a place that thought that they might be able to do it and sure enough they did.
By the time all was said and done, it was after 12:00 when we (Kevin and I) pulled out of Ushuaia. As this was the first real driving Silver Al had seen since I left her, I was closely observing her behavior, and it did not take long before I had full confidence in the repairs.
So Kevin and I drove…and we talked. As it turns out, compared to Kevin, I'm a pretty boring guy because, as it turns out, this guy I was giving a ride to is a US government experiment. Many years ago, the US government captured Kevin, because they thought he was a cult leader. (a gross misunderstanding, because he was merely a spiritual therapist). When they got a hold of him they put him to sleep for 13 years and then they installed 13 silicon computer chips in various places all over his body. With these chips, the US government tracks his every move. They also project voices into his head, which constantly are speaking to him, and occasionally holographs into his brain. He told me that he didn't mention any of this to me before because he did not want me to get scared. Apparently everyone that helps him ends up getting murdered…by the US government. These voices are a real pain in the ass, so be glad you don't have them. Sometimes they tell him to do things he does not mean to do. The Silicone chips inflict different sorts of pain (as a means of torture), get worse the longer he stays in the same place, so that is why he keeps on moving around. In the past these chips gave him super crazy levels of cholesterol (830, whatever that means….I don't understand the cholesterol scale, but he said that was inhumanly high). Now 'they' were working on his heart. Naturally, he could not just remove the chips without dying. Furthermore they could kill him at any time. Anyway the government gave him a bunch of money to keep him quiet about all this and he lives and travels permanently off the interest he makes from this secret account.
With Kevin having such a better story than I, I struggled to remain in the conversation, saying things like "I know there are a lot of things going on 'behind the scenes'" and "The only thing I know for sure is that I know nothing at all" –Socrates (I added the 'for sure' part, because I feel like I sort of might know a couple things…maybe…but I'm not completely sure). I asked if the voices were always the same voice or different voices. (they are different, it turns out, because of voice modulating devices…but it could be the same person).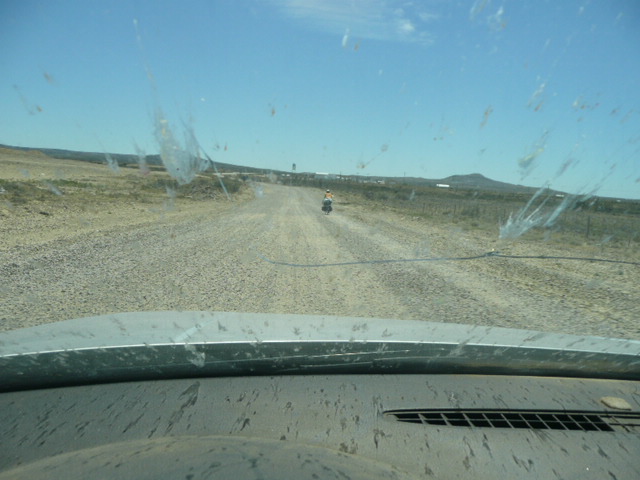 A nicer section of the road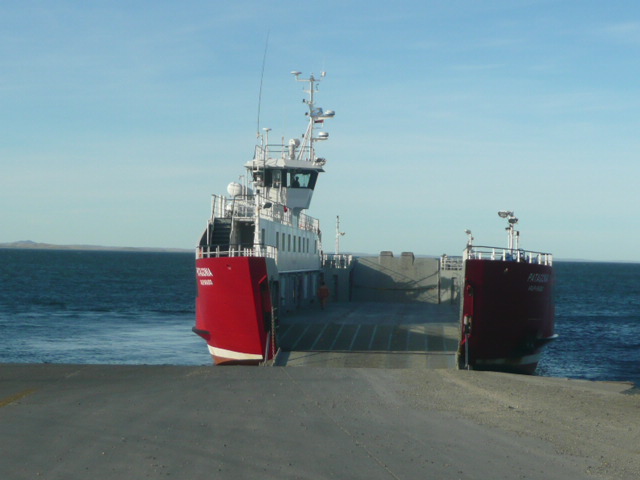 Ferry in Chile
Kevin made a great travel companion for the day…interesting….very passionate about his situation. He split expenses, made ham and cheese sandwiches and even had a little portable DVD player on which we watched part of a movie on the Chilean ferry. The movie was called "Cyborg" and was an action movie with no recognizable movie stars about a man that the government made into a super warrior complete with computer chip insertions and cellular realignment and intelligent roving healing microbes in the blood stream. "This is almost exactly my story" Kevin said. "You mean you're bullet proof?" I asked. "No" he laughed "…But the rest of it….yes."
Our drive took us back over the road that ruined Silver Al last time around, and I took it slow and she did fine. We crossed into Chile and then back out again, passing through the most efficient and friendly border crossings in the Americas. We arrived in Rio Gallegos around 8 PM and found a budget room, then went out for a good dinner. We both had lomo (Beef) and ensalada (Salad). I had a beer, Kevin a coke. Then we went off to bed because we were tired.
The next morning we got up and had some coffee at the hotel before I dropped Kevin off at the bus station. Then I was on my own…but before I move completely on, I would like to say one last thing about Kevin. Whatever his situation, Kevin was a very friendly, very helpful and a very normal seeming guy (besides his 'situation'). I wish him all the best on his journey through life…his adventure.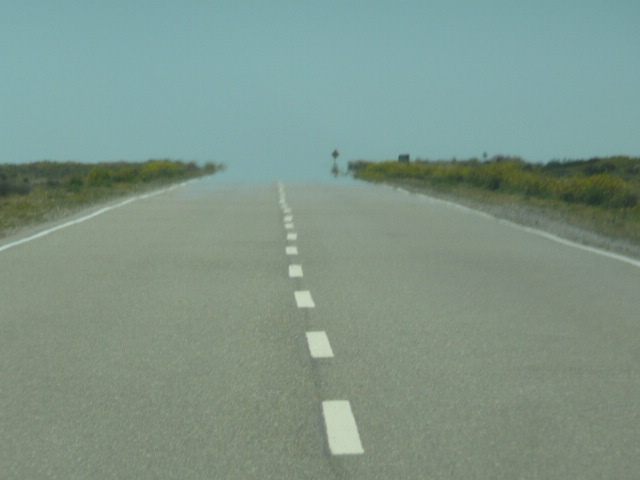 Road View 1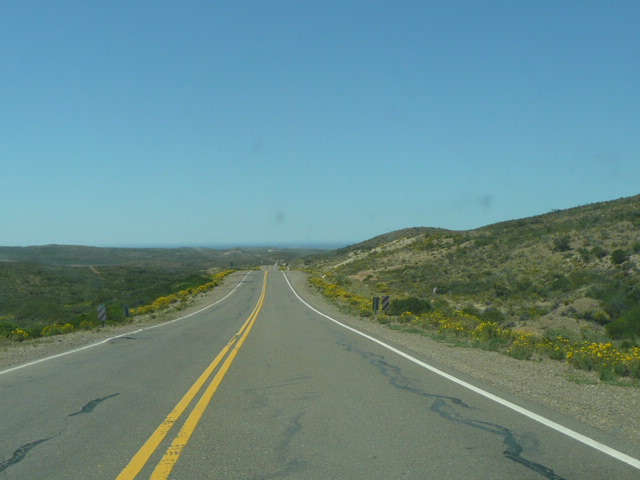 Road View 2
Driving out of Rio Gallegos, I just cranked tunes for hours…blasted them and flew north. For many hours I felt elated…free. I did things I don't normally do like head banged (in my sort of way…to funk music) and sung out loud and moved my right hand to certain words in songs like a rapper might to emphasize a certain word of phase. I blew through hundreds and hundreds of Kilometers averaging 100 mph down the long straight roads. I saw hundreds of Guanacos, some rheas, some sheep some maras and tons of different birds. The landscape was barren, but with sunglasses on, very beautiful and colorful. (not as colorful without the sunglasses for some reason). The front right tire is giving me a few problems when I take left hand turns and I am thinking it might be the wheel barrings.
After hours of driving I pulled into one gas station, got her filled up, went in to buy a coke and when I come out, I had a flat….the gas pumping guy pointed it out. He also pointed out that the gas station shared a lot with a tire repair shop. I hung out with the young repair man with tattoos and a goatee as he fixed the tire real quick while sipping on his mate all the while. There was a long nail buried into the tire all the way. In the corner of his dirty little shop…dirty because everything was black with tire grease and dirty because he had a lot of porno posters on the walls…..slept an old man….most likely, and judging from his living conditions… a dirty old man.
When I finally got on the road after the tire incident…which could have been a lot worse, if you had seen the nothingness that I had been driving through.... the next set back was a protest which had the road blocked. They had some debris smoldering and some banners. I got out of the car and waited to see what would happen. Eventually they let a line of us through, and then blocked things off again.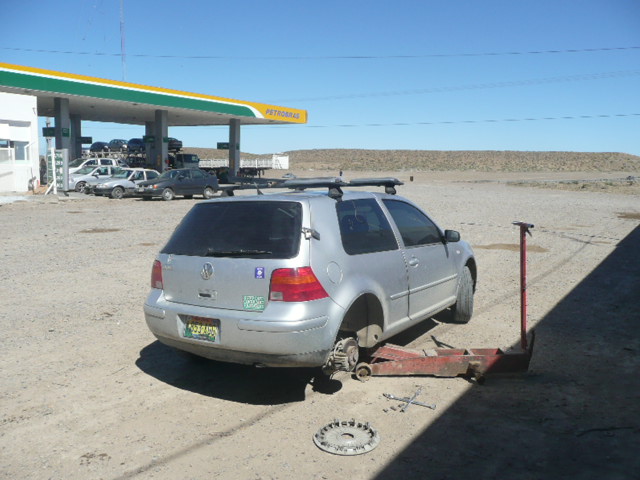 Flat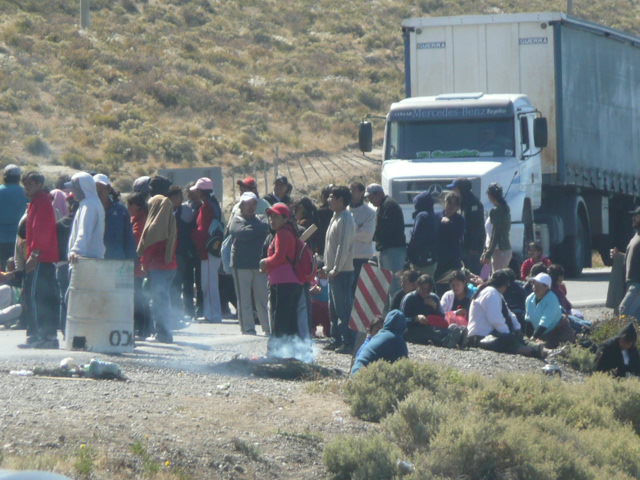 Roadblock Protest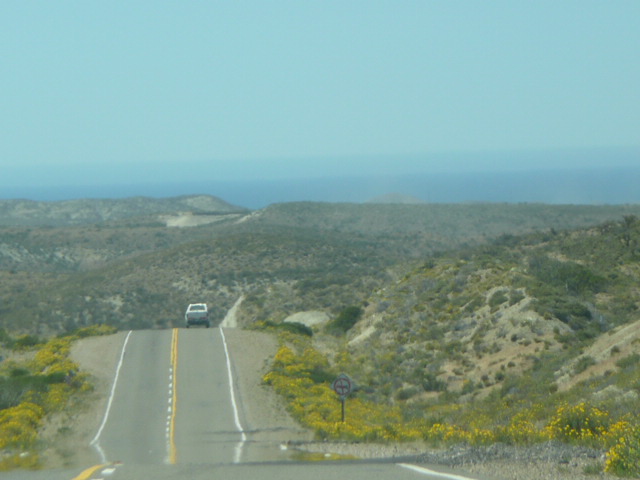 Sea in the distance
Because of the road block/protest, many cars and trucks had backed up and it was slow going. I slowly passed what may have a hundred cars and trucks as I worked my way to the front of the pack. It took a couple hours probably, because these kilometers were through suddenly hilly terrain, without much distant visibility of oncoming cars and trucks. I listened to a Mitch Hedberg comedy CD for a while and it was very funny.
Anyway I rolled into this town Puerto Madryn last night around 9 or 10. (Time is still not my friend down here, but I think the time changed by an hour as well. Puerto Madryn is near the entrance of Parque National Penninsual Valdez, where we saw the armadillos and penguins and sea lions last March. Because of the park there is a little going on here and I found a hotel that claimed wireless but has no signal anywhere but at the front desk.
I grabbed dinner last night at pubbish cafeteria, with friendly servers and very good beer. I had the fish special, which was absolutely delicious…maybe because it was my first food of the day, but I think it would have been delicious regardless. It was my second time having fish and the second time the fish was served with cheese…this time a thin layer of orange cheese melted over the top. I know that it sounds terrible and I would never be able to bring myself to do that to fish, but it was fantastic. I don't know what kind of fish it was, but the first word was 'negro'…so, black something-or-other. The fish was served on a nicely arranged fan of roasted tomato, zucchini and eggplant slices under which was a bed of arugula. The beer was called something or other del mundo and it was also really good…like a micro brewed ale.
After I ate I went outside and talked with an older fellow…a mechanic as it turned out… and he asked me to join him at his little table. It turned out he was from Ushuaia of all places and heading to Buenos Aires. He seemed a little tormented (when I first asked him 'como estas?" he had to think about it and then he shrugged and gave a ver unconvincing 'bien' and I suggested 'mas o menos' (more or less) and he agreed 'mas o menos'. I think he had been talking to himself a little when I first came out, but once I got talking with him he didn't seem completely loco. The mechanic talked a mile a minute and I had a hard time understanding him, but I think we talked about my car, the economy, George Bush, Obama, the war in Iraq and my drive down here. He was drinking whisky and he was very insistent about certain points that he was making and got fiery from time to time and swore quite a bit, especially when it came to George Bush. He kept apologizing before going into a rant and then after it. I mostly agreed with what I thought he was saying about my country, and he kept reiterating it was the politics not the people. He also had plenty to say about Argentina, both good and bad and He strongly dislikes Chile. I couldn't get his points on Venezuela, but he had some strong opinions about Chavez, whether for or against. When we got talking about history I brought up the tens of thousands of people who 'disappeared' in Argentina between 976 and 1983. This got my friend very agitated and uneasy and he said some things very quietly that I didn't quite understand. He was looking nervously around in either direction and I felt like I was in Myanmar again or some country where you can't criticize the government with out getting hauled off to a labor camp…even if people criticize the government in Argentina all the time. I told him we were just reaming out my government and our atrocities, I thought we could talk about his. 'No' he said, 'not today, maybe tomorrow'. I changed the subject.
After a little more chit chat I went off to bed and here I am now, getting ready to drive again. It is later than I wish it was and I am in need of coffee. I have more stories from yesterday even…but now I should run…drive. I'll try to find an internet connection tonight if there is one to be had!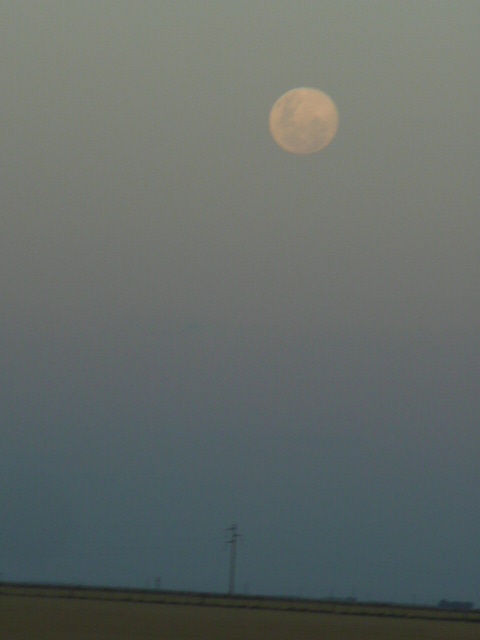 Rabbit Moon
It is Friday morning and I am in Buenos Aires. I broke all the rules last night and without really planning on it in advance, drove all the way here from Puerto Madryn. I rolled into some part of BA on some little road and got toally lost. Actually I was never knew were I was in the first place, so I did`t get lost, i just was lost. This, as we all know, is the title page of the handout labled `exactly what not to do`in a big city. It was sketchy. Nothing was open except a couple gas stations, that were helpful. My tinted car windows work against me in the night and it is virtually impossible to read street signs without openning my windows and showing off my pale gringo face. I drove around and around some more, thinking I might just have to drive around until the sun came up but around 4:30 AM I found a really shitty hotel and parked it. They booted me out at 10 AM, but I am showered and somewhat rested. I`ll try to contact Nate and see what he is up to, but I need to hit up the BA branch of my car insurance company to get the offical papers. Then I might just try to find the ferry to Uruguay. I don`t have a good map of this city, but I am in a neighborhood called Constitucion. This city is very big and I don`t have my barings yet. I am actually relying on the compass in my car to try to make it into the center...that`s my plan, and it got me to this internet-convienence store before I knew it, so I guess you could say it is working.
The reason that I pushed so hard yesterday is because the insurance office will be closed for the weekend, so I need to take care of this business today. I thought actually waking up in the city would insure I would make it in time.
Yesterdays drive went well. Not much to report, just hundreds and hundreds of Kilometers of flatness. A huge storm threatened from the West, but never materialized much to my pleasure.
I should get going for now because I can see that Silver Al is attracting attention outside. (Ha...there is a Grateful Dead tune playing on the radio here...Casey Jones of all things...how totally funny is that) (Guess everything is going to be alright)
I wanted to give one praise before I go, however, and it is long over due. This one goes out to the Kilometer. The kilometer is a beautiful thing for us Americans. They just go by so darn quickly. We are used to miles and even though I am very much familliar with Kilometers, there still, when you see those huge numbers (like 1123) a natural comparison that one makes in one`s head to the distance of miles. I like driving to Kilometeres. Why not have a standard of measure that goes by just a little more quickly. Who ever developed the Kilometer was a kinder more generous person than the gumpy old man I picture developing the mile...his heart two sizes too small. What is a mile anyway. I know a foot is a ....foot...(singular for feet) and an inch is ...well....something to do with the length of a finger. But a mile...que malo.............................I should go now, I am just not particularly looking forward to the next few hours driving around in this city.
PS., all of you have have sent me emails in the past couple days thank you. It is really nice to feel a little love from back home...or, if not quite back at home, up north....from a different continent. I am eager to write back to you and I will as soon as I find a place to chill out and unwind for a couple days...lets hope in Uruguay somewhere! Thanks Again!!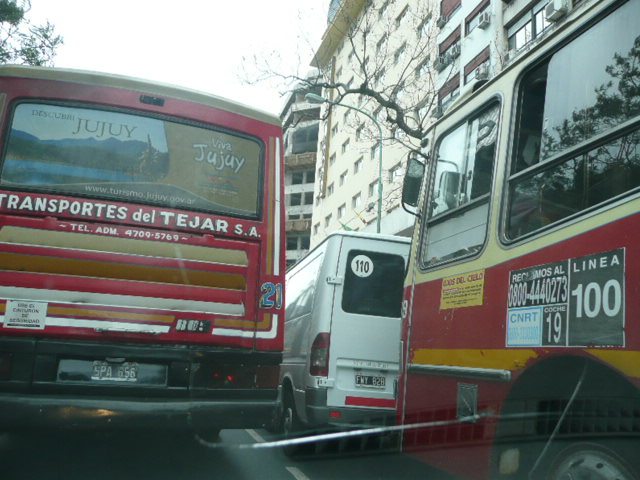 Wall of Buses
Around Noon on Friday: I don`t know how it happened by as I drove around BA trying to fight my way to the center, I recognized a street: Chocobuco....The street on which Nate lives. I dropped in on Nate and he happened to be home. Now I have had a coffee and am checking out the Ferry schedule to Uruguay. Nate is on the fence right now in regard to joining me. He is on the other computer checking his bank acct....I just heard him mumble 'I think I can pull this off`. It is Friday so I am not totally confident that the ferrys are not all fulled up, but I shall see shortly. If I need to spend another night here in BA (If you can call 4AM this morning night) that won`t be so bad now that I`ve caught up with Nate. He told me, by the way, that the neighborhood, 'Constitution', where I took the hotel this morning is one of the worst parts of the city. I was thinking that same thing and it has been affirmed. But that is history now and both Al and I are rested and feeling great. More later!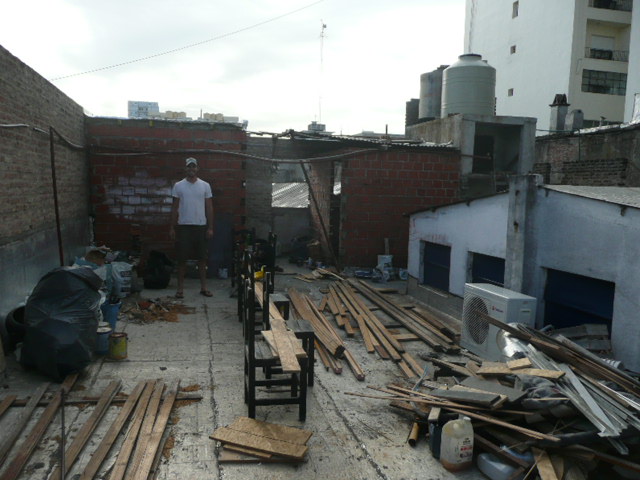 Helping Nate at the Puerto Roja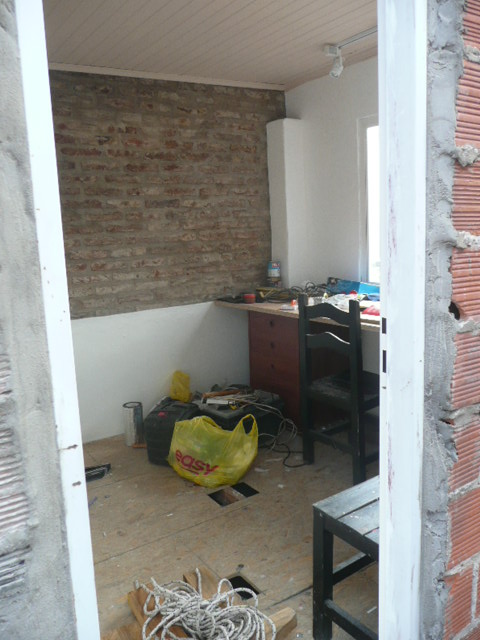 The Office Nate is Building on the Puerto Roja roof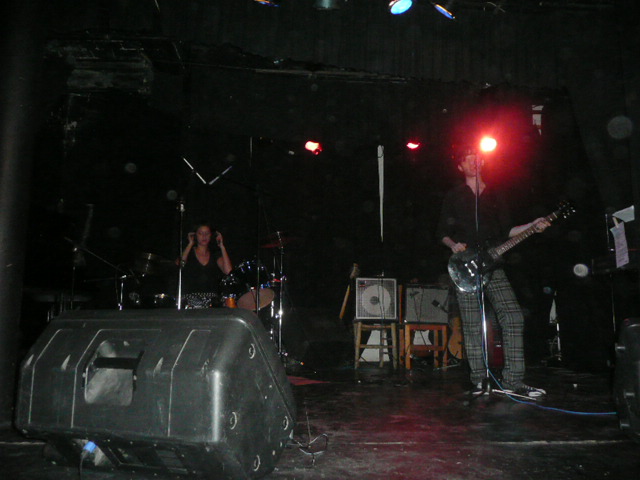 Catching a rock show inBuenos Aires