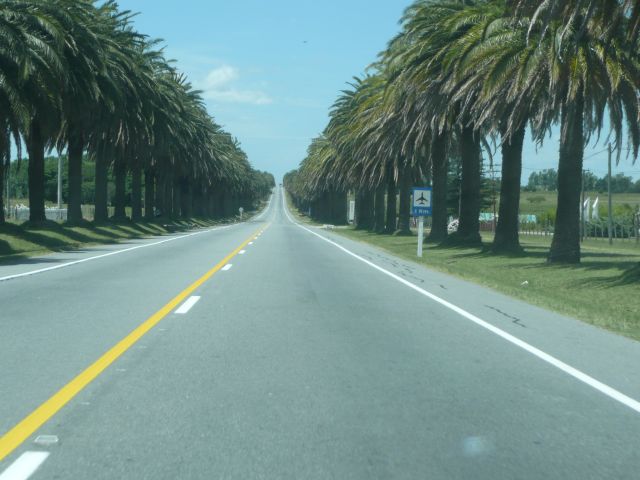 Road out of Colonia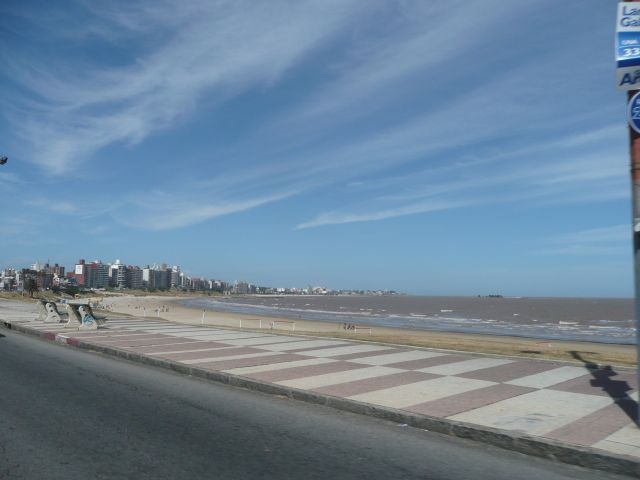 Driving through Montevideo
Dec. 13, 2008: I ended up staying in Buenos Aires until Sat. morning, which was cool. Nate really helped me out....running around town in Silver AL, through mad traffic, taking care of last minute business. I got my car insurance settled and we bought tickets to Colonial, Uruguay for the next morning. When errands were through, we went to 'The Puerto Roja' (The bar Nate works for/at) and did a few hours of work. Nate has been building a new office on the roof...from pretty much nothing...and we did some painting and a lot of cleaning up from the last couple projects (cement, plywood, steel) to prepare for the next (a new floor Nate shall be putting in). When work was through we popped over to a local rock concert, where one of the bartender's wife was playing (drums). After music we had one of the best dinners ever, which was at a very cheap little unassuming restaurant that Nate frequented. The portions were huge and we sat on the street and ate a huge salad and a mega thick steak and a heap of potatoes puree. If you didn't know about this place in advance, you would never think anything of it if you happened past, but it was soooo good. By this time is was after 1 AM so after dinner we decided not to go out to the bar and and ruin the following morning and our trip to Uruguay.
The next morning we got up at 8 and got coffee, etc. We were at the 'Buquebus' high speed ferry terminal by 10 and after lots of immigration and customs paperwork we got the car onto the huge ferry by 11:20. The ride across the vast river that divides Argentina from Uruguay...and Buenos Aires from Colonia took about an hour on the high-speed ferry. The water is a chocolate brown with silt and there is not too much to do on the ferry but drink Guinnesses and joke around. When the ferry finally stopped, the crowds lined up to get off and we got caught in a hoard. It took us so long that we got paged on the ferry announcement system, to get to our car, which was sitting there all alone.
We botched the proper Aduanas ritual leaving the Buquebus, and had to turn around to get the right papers. When everything was straightened out, we grabbed some ATM cash and lunch in Colonia, Uruguay and then cruised to where we are now: Punta Del Este. Our ride took us through Montevideo and we drove through the long way to get a little look at the riverfront city.
When we finally rolled into Punta Del Este, we pulled over and sat on the beach to get our barrings, then we drove around for a while scoping out a good hotel. We ended up at a really nice place...super posh, which we convinced ourselves to do for one night just to live the vida pura. It is the off season, so we got a really good price. And this place is totally Mac. It looks like a shopping mall down stairs. There was a fashion show going on in the lobby, a casino, beautiful view from every room, killer beach bar and pool and hot tub outside. They have full on cushy couches outside...must have to bring them in when it rains. Silver Al was parked by the valet, which doesn't happen too often. I can only imagine what the valet thought when he climbed in her...first disgust and then probably love!
Last night we bought a bottle of really cheap and delicious rum called 'Ron del Navigante', but we dubbed 'The Navigator'. We did it up drinking it on the rocks, listening to music in our nice room, before going out. We didn't go out until around 3 AM. We caught a cab to the bar 'Moby Ricardo' which was raging, and we hung out there until the sun rise. Back at the room, we finished off The Navigator and hit the hay. Now I have just woken up and need to check out of here. It looks beautiful outside and I feel .... alright. Nate is doing pretty good too, which, considering that he mixes his Rum with Coke, is impressive. Maybe the worst is yet to come? But I have to go, for real. I am sorry to leave out many details of our last night in BA and our first day and night in Uruguay. I hopefully go back in later and fatten up some descriptions, but just getting all this down is a colossal effort right now and check out already happened. Gotta run, but loving Uruguay. Today will head up the coast to find a remote beach to camp on...that's the plan!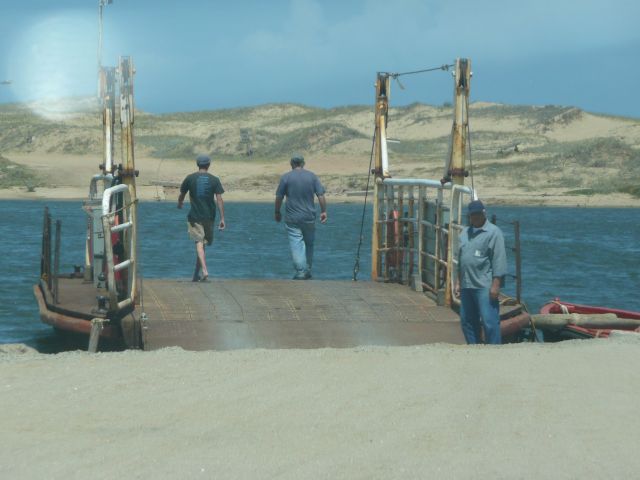 Rickety Ferry North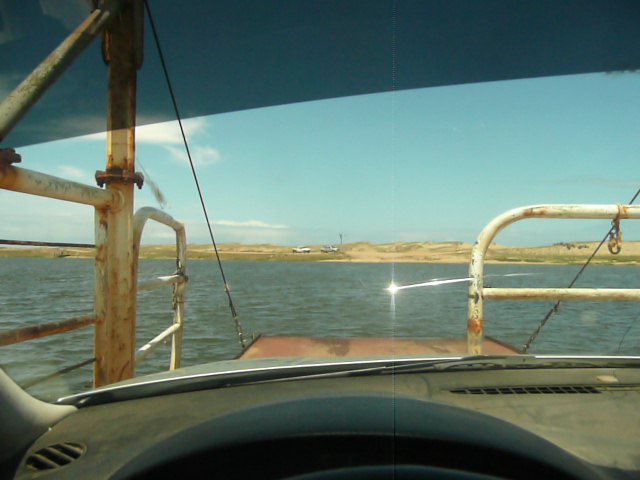 Small Ferry North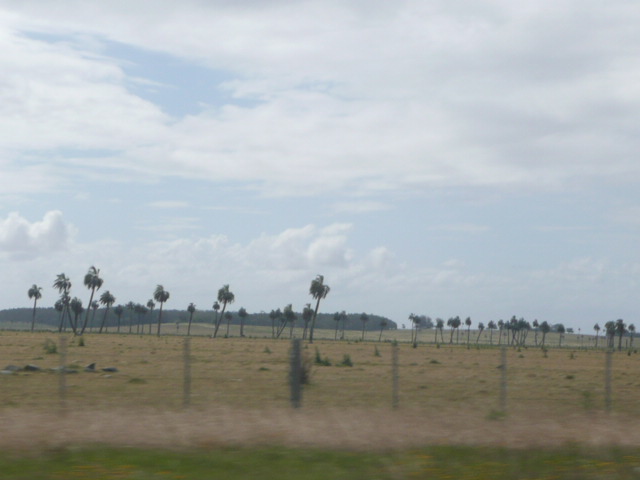 Uruguan Landscape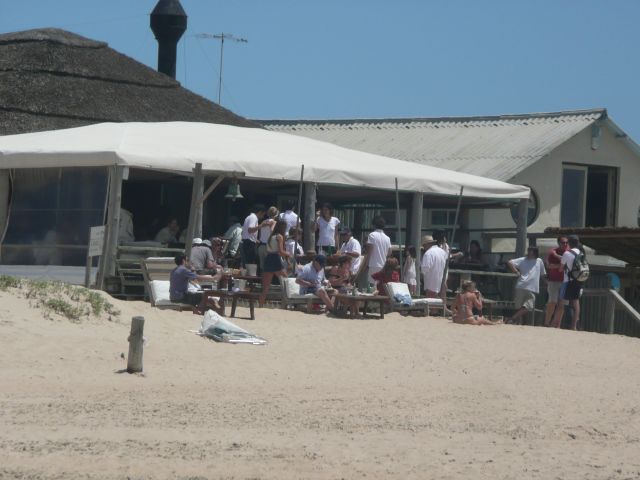 Stopping By Ignacio on the way to Punta Diablo
After Leaving Punta del Esta we floundered for a little while trying to find the right road north. Once we finally got going, the drive was beautiful. We drove through little beach towns and then down long stretches of straight road. Each stretch was a little different as we headed north. On one stretch through the forest in the middle of nothing particular there were hookers every 500 feet. On one stretch there were onion farms. On one stretch there were sheep. On another, cows. One beach was loaded with kite surfers. Another was full of fishing boats. As we headed north palm trees started appearing…soon they were all around. Coming around one corner we saw a huge river spread out in front of us. To get across we needed to put Silver Al on a rickety little 'ferry'. After the ferry the road was dirt and vacant for miles and miles. Everywhere, however, there were 'property for sale' signs along the road.
Once the road turned back to tar, we picked up a little speed. For fun we turned off and down to little beach towns just to check them out. First there were a couple really nice ones…tiny, but nice, with people in white linen shirts sipping wine and horses riding on the beach. These towns had fancy cars and, I imagine a lot of upper class Brazilians and Argentineans had getaway homes. Further north it got noticeably more bohemian with deadlocked and well tanned folks selling drums and handicrafts in semi-permanent structures. Each town tempted us to just stop there, but we pushed on to where we are right now…Punto Del Diablo.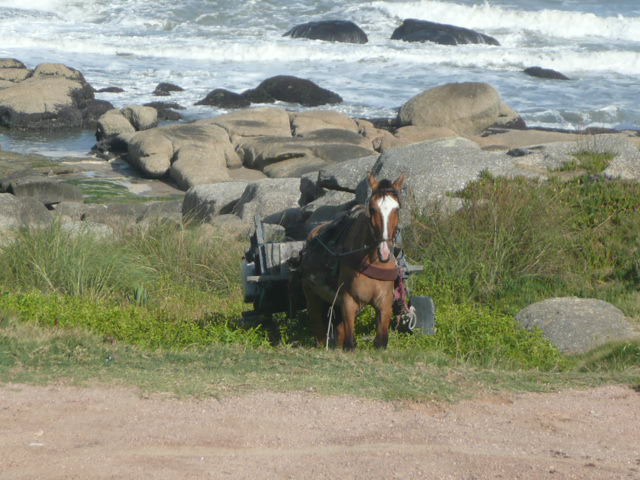 Horse Punta Diablo
Punta Diablo is one of the most fantastic beach towns I have ever seen. There is a mix of rastas and old bearded fisherman. The town is developing quickly and the architecture is a crazy mix of unusual abodes. The beach is out of this world.
Upon arriving we parked and grabbed a beer to unwind from the drive. A family of sunglass wearing burly fisherman were drinking bottles of wine while the kids played with a puppy. Thin fishing net were spread out inside the pizza place and beside the road and strapped to motorbikes that puttered slowly by. Reggae music was coming from speakers inside the little restaurant/bar. Around the corner there were rows of wooden fish vendor shacks, with open doors but darkness inside and down on the waters edge there was a rustic sort of boardwalk with little wooden handcraft booths and ladies chatting. Everyone seemed to know everyone else, except for the occasional tourist or surfer that happened by. I felt like I was in Spain or Portugal.
After a beer we drove around and found a friendly hostel, where we got a room. Our first mission of the afternoon was to prepare for a beach chicken so we checked out a couple potential locations. Because of the duney nature of the beaches here, there was not wood to be found right on the beach but there was tons of it on cleared lots all around town. The beach, however, was really, really windy. Take howling wind, and drop that a very few miles per hour and it was like that. These were extreme beach chicken conditions, but we had a chicken and were dead set on cooking it.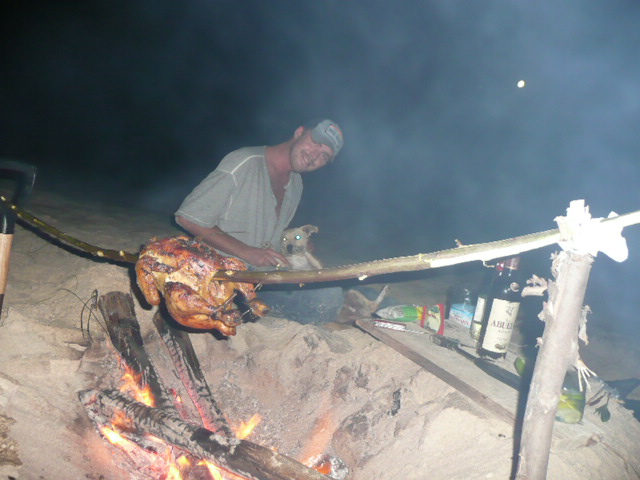 Beach Chicken (Nate and Milo)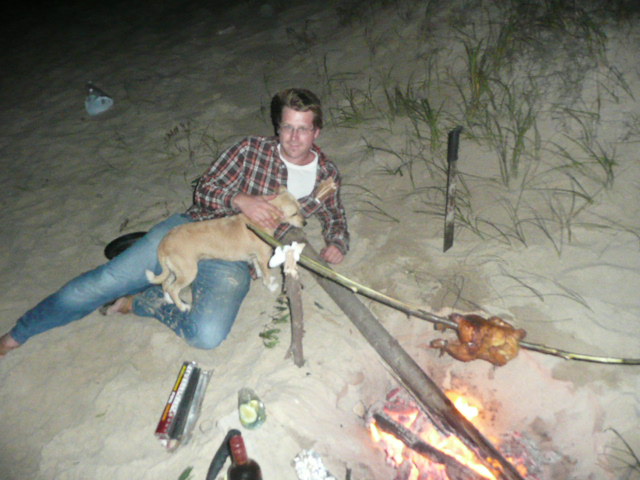 Justin Milo Beach Chicken
First we drove around a bit and gathered wood, tying it on top of Silver Al. This drive took us all over town, finding better and better wood around each turn. Once we had a good load, we drove to our spot and carried it all down to the beach as well as the machete, some tin foil, the half bottle of Abuelo rum that was left in the car from the march, a new bottle of The Navigator (rum), limes, ice, onions, potatoes, a Frisbee (to use as a plate, a brown paper bag (to use as a cutting surface), Swiss arm knives and a shovel. After pouring a rums into cups made of cut-in-half water bottles, we dug a deeper than usual hole and got a fire started. We didn't have paper, so we used the pages of a dime-store novel that Eli had gotten on first trip to get the fire started. Soon we had a fire raging. Next we prepped up the spit and the chicken, rubbing the bird in butter and then sprinkling on some salt and pepper and a pack of mixed spices. It was getting dark and the wind made the work very slow, because everything wanted to blow away. Luckily there really wasn't any sand blowing around…I don't know why. Just as darkness totally fell, we were ready and we got the bird over the fire. Up until that point, I think we both were a little unsure how this was all going to play out -I've never cooked a beach chicken in such extreme conditions- but once things got underway and we got to sit back, everything was great. We drank and cooked the chicken for close to four hours. I told Nate that a beach chicken always looks done before the inside is cooked through and he took that to heart, being a very patient cook. I poked holes in the potatoes and wrapped them in foil. We also chopped up the onions and tossed in a little salt and butter, wrapping them in foil as well. The work was done and we just needed to wait. A couple folks visited us and chatted for a few minutes, but no people stayed long. A super sweet and cute little dog, however, did stick it out with us and made a great pal. As the rum went down Nate fell totally in love with the dog and decided he was going to take it her with him to BA.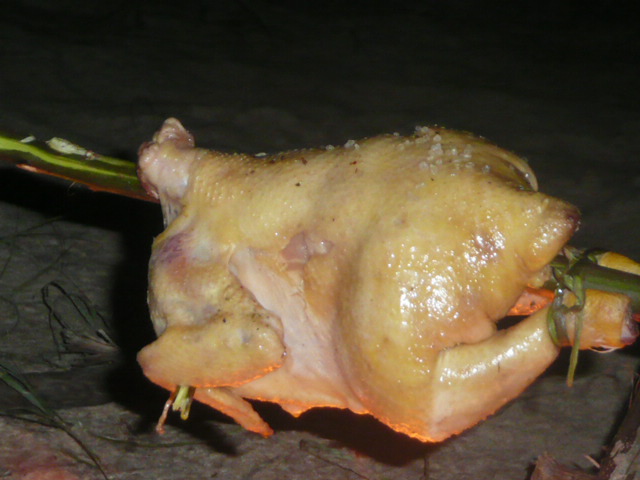 Before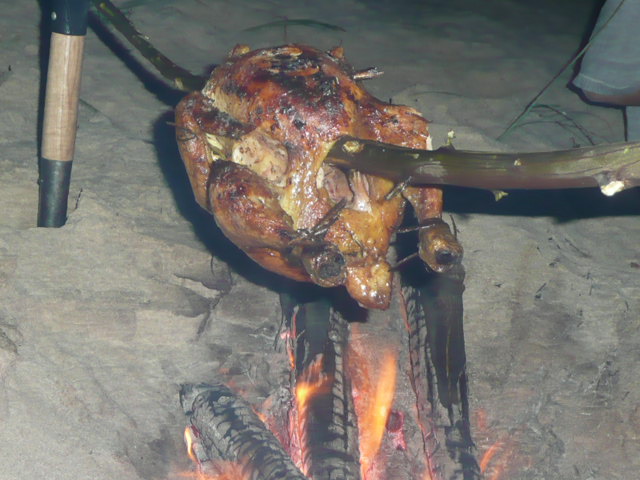 After....Yummy
While we waited for the chicken we ate the potatoes and they were great. Either there are very special potatoes down here or we were getting pretty hungry. By the time the chicken was deemed done, a big moon had risen and lit things up a bit. The chicken was absolutely delicious -cooked through, juicy and seasoned to perfection. We devoured it, sharing a bit with the dog, who Nate named "Locita' but who we later found out was named Milo. After finishing our meal we threw the remaining wood in and the fire leaped up for another hour or so before slowly winding down, after which we cleaned up and headed back to the car. Once in the car we got totally lost trying to find the hostel. Milo ran right in front of the car everywhere we went. Finally, we did find the hotel, parked it, and walked down(accompanied, still, by Milo) to see if anything was going on at the nearby and super-cool bar (run by our hostel). It was very lively there and we each had a big beer, but then felt really tired ourselves and headed back to the hostel. It was at this point that some local woman saw our four legged compadre and called out to Locita 'Hola Milo, Hola Milo, que tal' We don't think it was actually her dog, but she knew Milo well. I slept really well last night.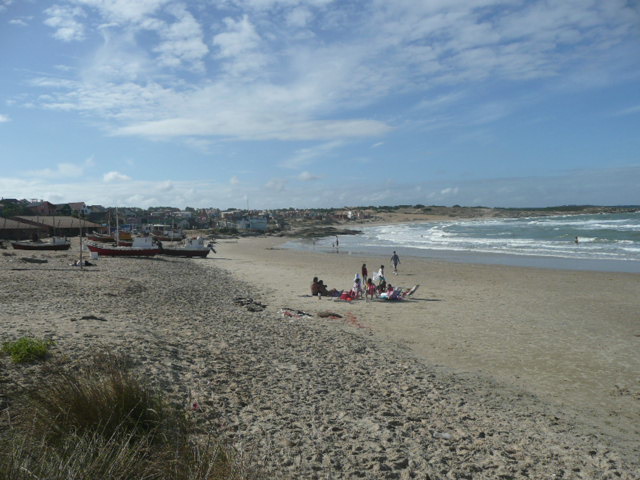 Main Beach Punta Diablo
This morning we slept in, missing the hostel breakfast by a long shot. I made a 'Se Vende' (For Sale) sign for the car and then drove Silver Al into the center, where I left her for the day. Nate and I had some good pizza (which was all they had to offer) and a beer for lunch at the same place we first stopped when we got into town and then walked down to the beach. We strolled down the beach to the far end and then decided to walk through some dunes and rocks to see what was on the other side and further down. We figured there must be more beach and we were very right. The beach down there went on for miles. It was vast with only a very few other people spread out into the distance. It was spectacular! We swam and then laid out in the sun for a long while…I almost nodded off.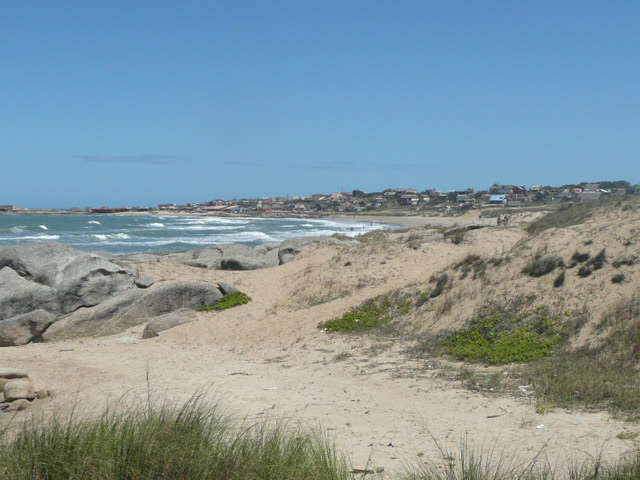 Through the Dunes to the Next Beach Down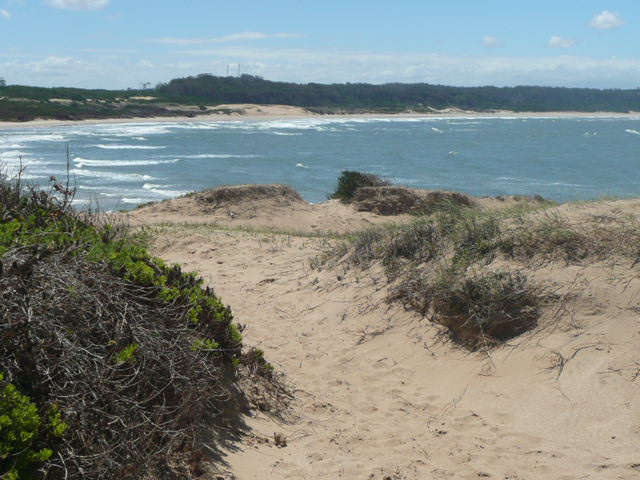 Around the Corner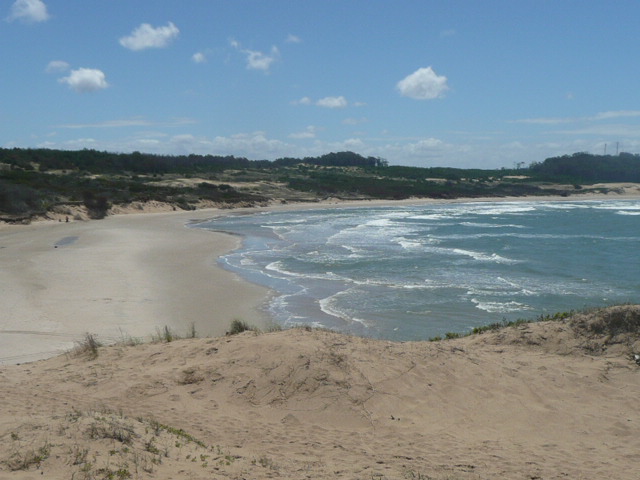 And Down to Another Killer Beach
Not long after we got back to the Hostel this afternoon, a man came in asking about the car. He is a taxi driver and he wants to buy it. I took him for a spin, let him drive it, gave him copies of my papers and he will get back to me tomorrow, but he is totally excited to buy Silver Al for $3000 USD. He even called his mom while I was in the car with him. Used cars down here are really hard to come by, it turns out, and very expensive. I told him everything about the problems with the car as I see them, and I also told him to feel free to have a mechanic check it out – I want to keep up my good Karma – but he didn't want to. Down here a 2001 German made car for $3000 is such a good deal, he wants to grab it up as soon as he can, which he should, because now, I found out, the police want to buy it as well. This could get tricky.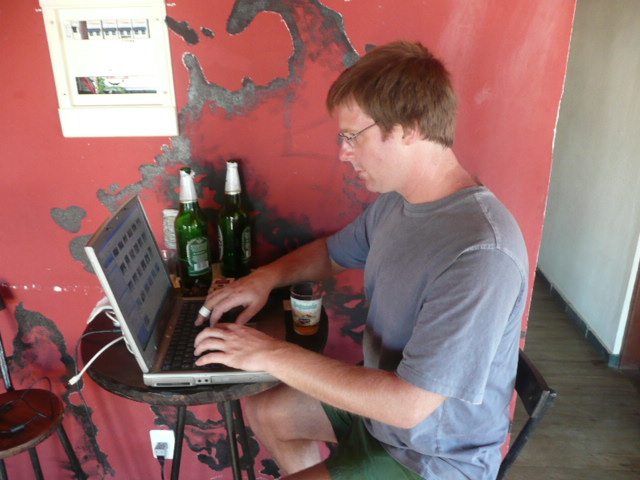 Working on Updates for You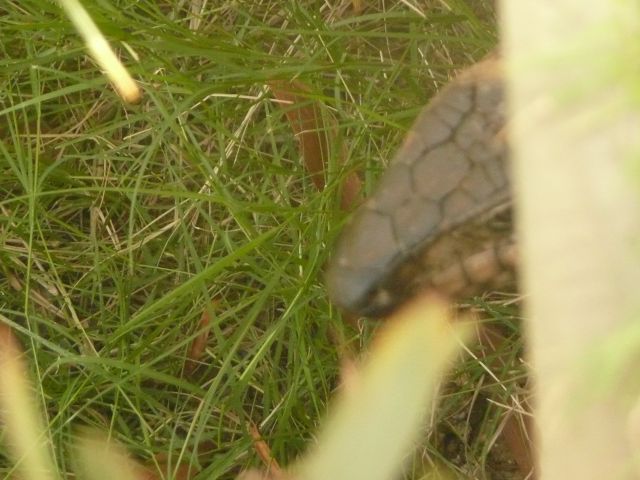 colvert creature
Hola! Que tal amigos? Lo siento que yo no escrito por dos o tres dia. La vida aqui es todo tranquilo, no hay muchos cosas para dicer…solo la playa, el hostel, mi nuevo amigos, pescado, ron, heilo, limon, un poco fumo, el sol, y mi trabajo para vender mi coche (Plata Al).
(Hello friends, what's up? I'm sorry that I haven't written for two or three days. Life here is totally chill, there is not much to report, only the beach, the hostel, my new friends, fish, rum, ice, lime, small fires, the sun and my work to try to sell my car (Silver Al).)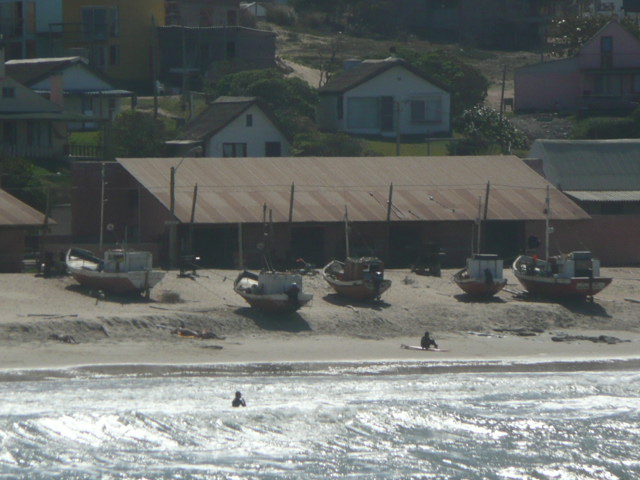 Fish Monger Strip
Let's see….The taxi driver never called back and I think the reason was because it is really complicated and expensive to nationalize a foreign vehicle. I still have some leads, however! Most of my chips are on the owner if the hostel, and American guy (I'm guessing a bit younger than I am) named Brian. He is really interested, to the point where I have sat back a bit waiting for his final answer before I go elsewhere…which would be a little walk down to the police station. They have expressed interested, and if Brain isn't interested, they would be my best bet, since they can pull strings, and sort of launder my cars papers. In the states the police station isn't your first choice of locations to waltz in and propose illegal activities, but down here, they are more able to accomplish what the regular guy cannot. Anyway, Brain had to leave unexpectedly today (power outage last night blew the reception computer) so I'm going to try to pin him down tonight. I did talk to his girlfriend today just as I was thinking of driving down to the police station. I told her I didn't want to go behind Brian's back, but I needed to move on this car sale thing, and I had heard he was going to be gone for a couple days. She told me he was still very interested and she explained the whole difficulty of getting a car down here and she told me that Brain would be back tonight.. She seemed really into it as well, so, with the girlfriend now supporting the idea, I have new found confidence and I'll hold out a little longer.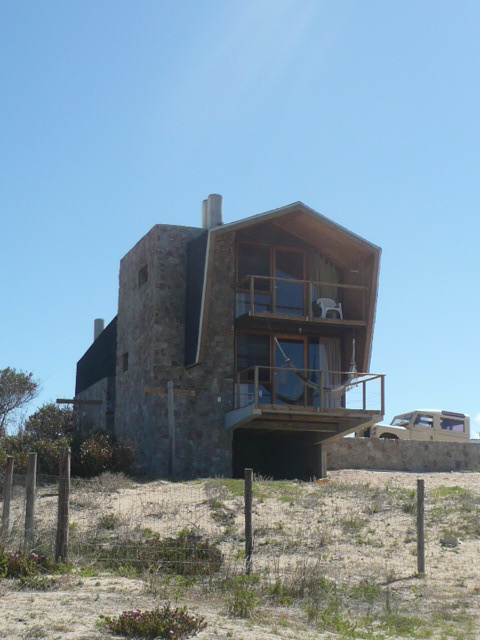 Houses of Punto Del Diablo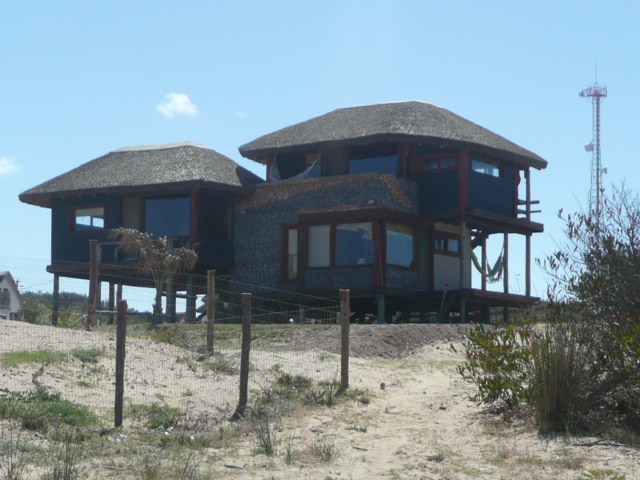 Houses of Punto Del Diablo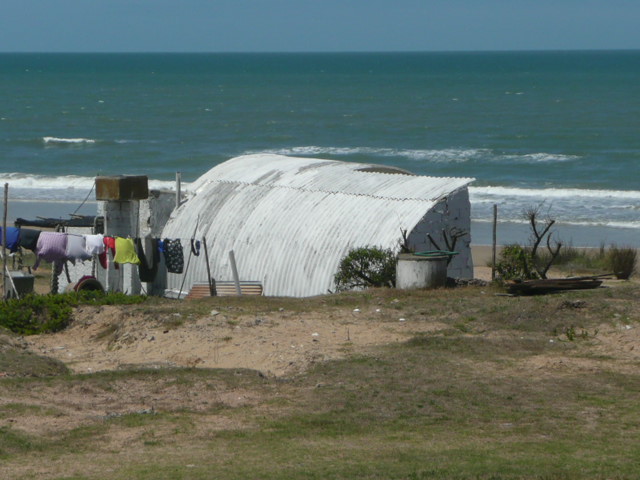 Houses of Punto Del Diablo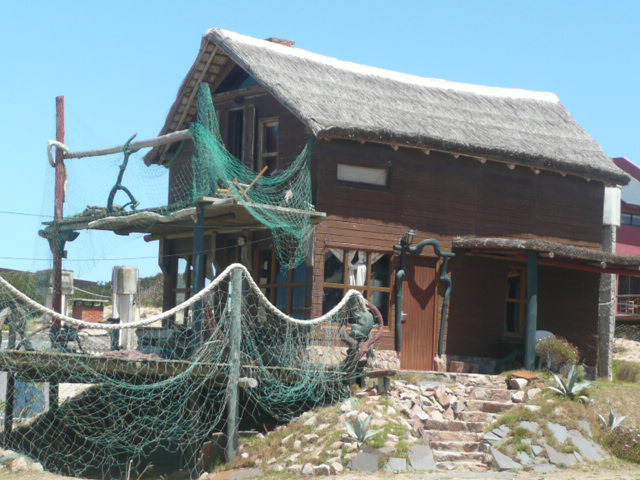 Houses of Punto Del Diablo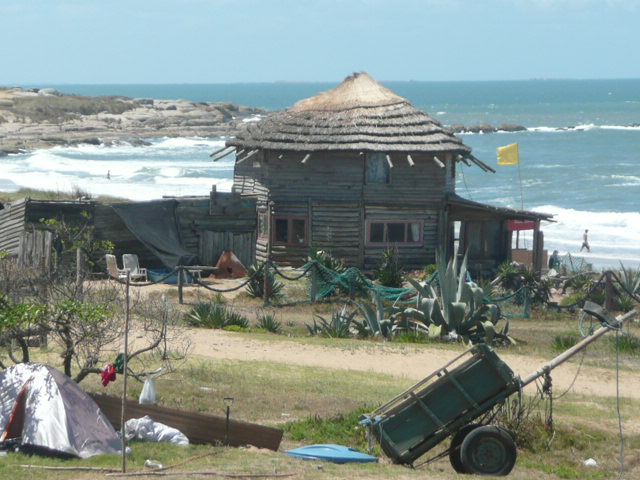 Houses of Punto Del Diablo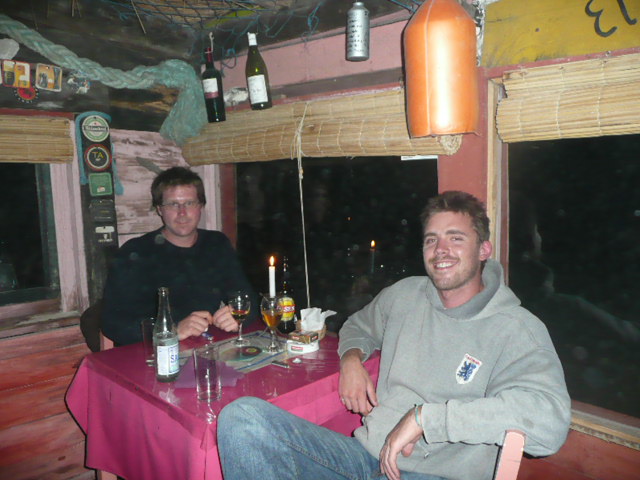 Dinner at 'El Viejo y El Mar'
The hostel here is very nice….friendly and fun. I have a bunch of friends to kill time with. We cook big fish dinners every night, drink, go down to the bar (also run by the hostel). The place is called Hostel Diablo Tranquilo…the bar: Diablo Tranquilo Bar.
This update might be shortish, but I'll give you the blow by blow anyway. Let's see…where did I leave off….Well…On Monday night, Nate and I ate at a really nice restaurant…not expensive, just really nice. It was on the edge of town, down a dark dirt road that wound through mostly dark little shanties. The name was 'El Veigo y El Mar' Old Man and the Sea, and it was the real thing. An older, wily, bearded chef owner, candles, low ceiling covered in fishing nets, very friendly and attentive waitresses. We ordered fish and salads and a beer. Wine would have fit the atmosphere a tad more, but we had already had a few beers and wanted to keep the same thing going. (Beers here, by the way, are always served in a liter bottle with two glasses, so in that way, even if it does not hold quite the same charm as a bottle of wine, it is a little more, dare I say, intimate…or communal….that's the word I was looking for...than getting a couple beers in the states. Nate also had a plate of calamari and I had some stuffed tomatoes. The food was really delicious…fresh, fresh fish. It was served….damn, I can't remember how it was served anymore….I've eaten so gad-dang much fish this past week I can't even remember…just drawing a blank, because I do remember that it was exceptional…(if, apparently, not quite memorable). The proud owner-chef was always checking on how the food was, the waitress watched our every move. A big old lazy dog spread out at our feet, but growled quietly at any attempt we made to pay him attention.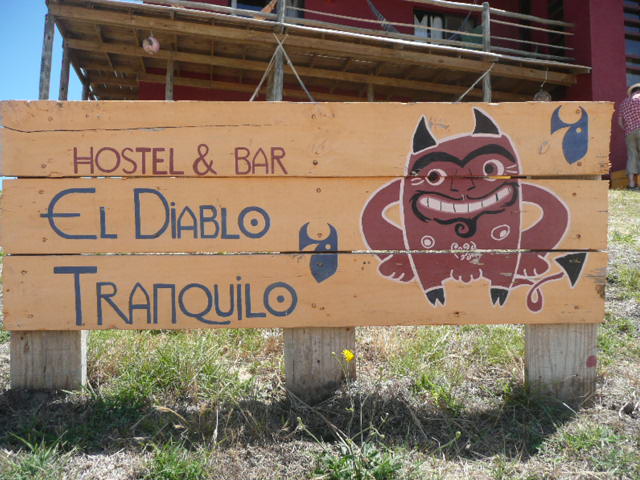 El Diablo Tranquilo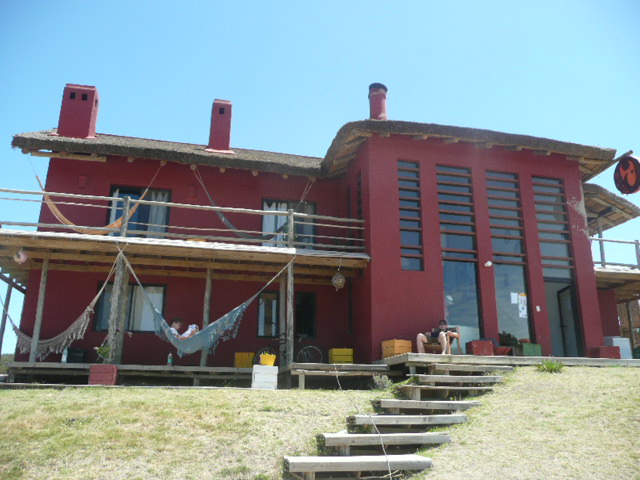 The Hostel
After dinner, we went back to the hostel for a couple glasses of rum with our new peeps here. I believe that it was around 3 AM when we finally went down to the bar. At the bar we shared beers for a while and then switched to 'the usual' which was poured tall into the glasses. Sunrise at the bar (with a beautiful view of the beach) was a little sloppy. At around six, as the music at the bar was turned from low to off, we wobbled our way back to the hostel with one local guy we call Chicho, because we can't remember his name. Believe it or not, at 6 AM the tiny corner kiosco was open to sell up little bags of flavorless potato chips and a bottle of water through their night-time chicken wire security shield. (no coconut trees here to depend on for mid-sleep hydration, unfortunately)
We slept until two the next day and had a lazy one. I drove the car back into the center of the village with the 'for sale' sign on it and locked her down. We walked out on the actual Punto del Diablo, which was a bunch of wave smashed rocks with an angry looking statue out near the tip. Then we went back to the hostel with a sack of fish right out of the monger's wife's hands, and a couple tomatoes, a big onion, some olives and butter and garlic, a couple cans of whole peeled tomatoes, a red pepper, a couple bottles of rum, some ice and limes, and some spices from the market. We cooked up an enormous pan of Pescado Veracruzana (Fish Veracuz) and some others cooked up some rice and shrimps. More and more gathered on the porch (the kitchen is on the upper porch, outside) and my new Swedish friend Frederico (who works here and wants to do a similar drive through the Americas) arrived with two bottles of cachaca (Brazilian cane alcohol) and made a vat of Caipirinhas. It was a party.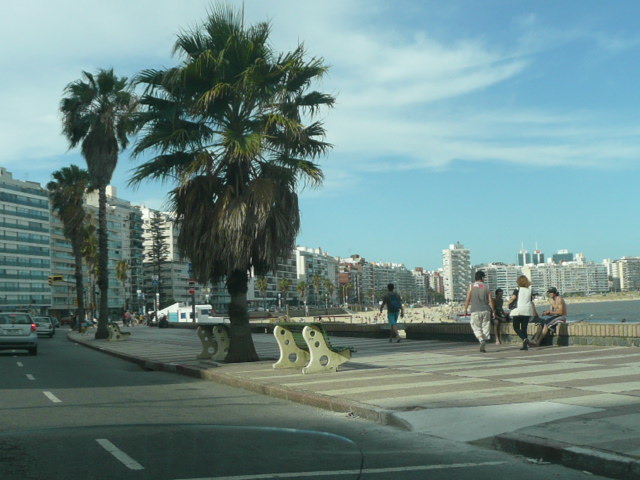 Montevideo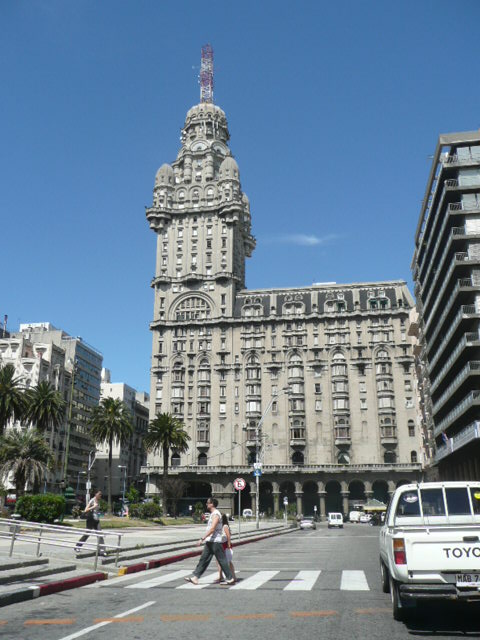 Montevideo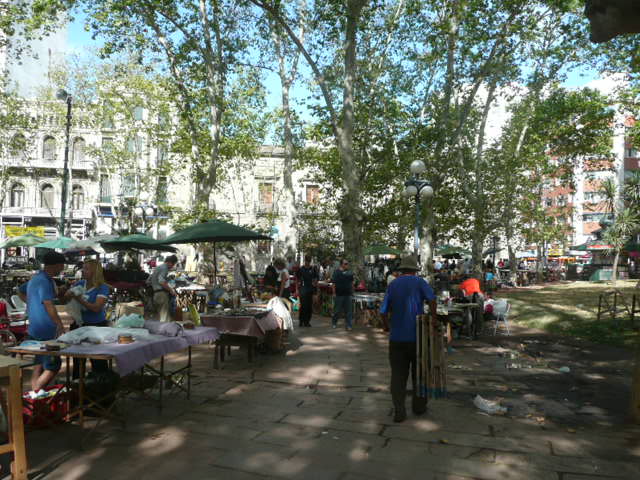 Montevideo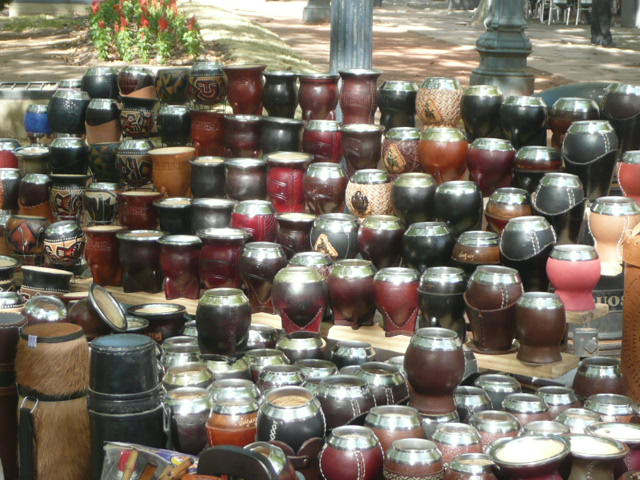 Mate cups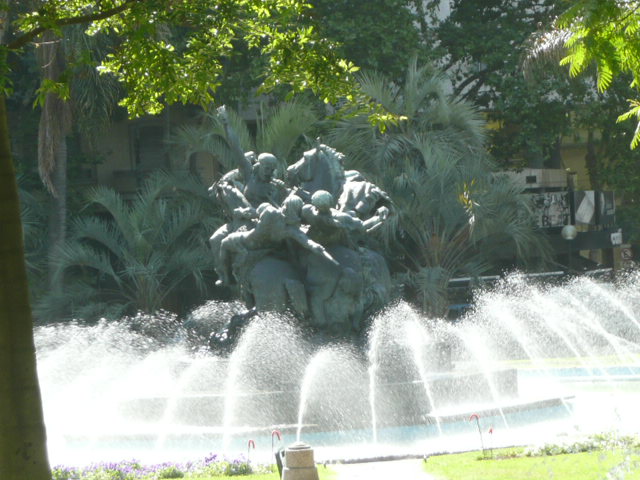 Montevideo
Yesterday I drove Nate to Montevideo, to catch a ferry back to BA. We left around 12:30. The drive was supposed to take around three hours -and it did- despite a couple of setbacks including the only road out of town completely torn up by an excavator and running out of gas (I always carry a gas can so that only cost us a couple minutes…the security of the gas can makes me push the limits of the depths of the gas gauge little).
Montevideo was nice and we got to spend a couple hours walking around the city. We had a beer in a nice plaza and walked to a few others. There was a craft market going on on one street with Mate cups (mate is the very addictive and stimulating tea-like drink hugely popular in Argentina and Uruguay, which people carry around in thermoses and drink out of mate cups, literally all day. I've had plenty today already) and antiques, and hippie wares (jewelry and woven hats) Nate bought a really nice wool hat organically dyed with various herbs.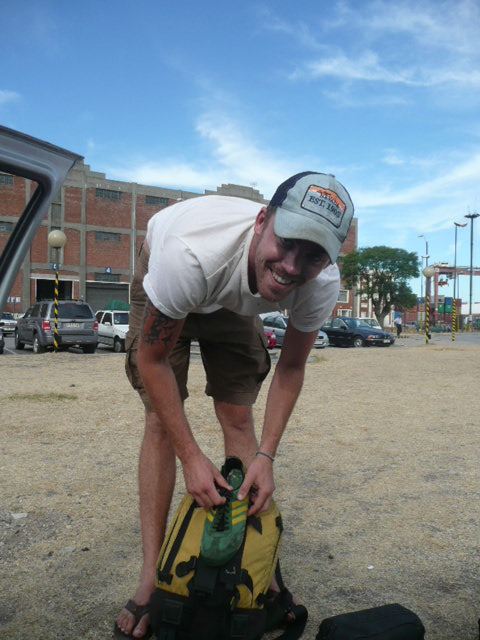 Good Bye Nate
When the time came, I dropped Nate off at the Bouquebus terminal and drove home. (ahh, I just called this place home...neat!) The drive out of Montevideo was a bit traffic choked with the usual fender benders slowing things down. People don't drive in rows here, people drive in a much more anarchical fashion, squeezing and pushing into any little gap between the two cars in front of them. After getting out of town, however, the ride was smooth and uneventful. I rolled back into Punto del Diablo at nine PM, just as the sun was setting. At the hostel another big fish dinner, strikingly similar to the Veracruz, was under way and moments later I was fish-whipped again. Last night was the earliest night yet for me. I was in bed by 2:30. (Early by Uruguay standards). I would have been in bed before that, even, but as I passed reception, Shawna, a nice girl from London that works the graveyard shift, bought me a liter of beer as a thank you for cleaning up the kitchen and porch after the colossal mess that followed the dinner and drinks the night before. (Everyone had headed to the bar around 4 AM and I was feeling mellow after catching sunrise at the bar the night before, so I waited back and fell into my kitchen-cleaning-meditation that I sometimes enjoy…I also have a lot of sympathy for those who have to clean up after messy tourists, being in the business that I am in.)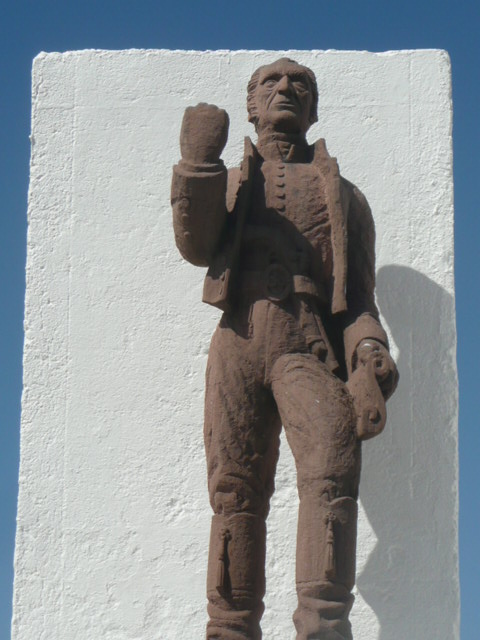 Angry Diablo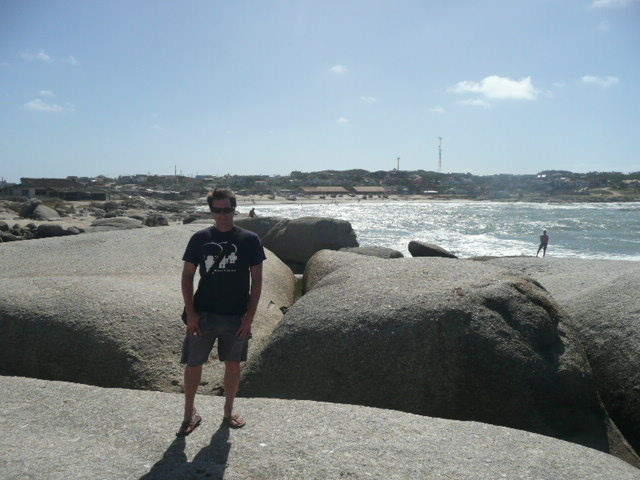 The Actual Punta Del Diablo
Today I was up the earliest yet…maybe 10 AM or so. I had my coffee, and hung around for a while, going through and cleaning out Silver Al. Around 2 o'clock I went out to lunch with Matt…a guy from Colorado that I have befriended. Lunch was fresh squeezed mango-pineapple-orange juice, grilled fish with a small garnish salad, and some interesting seaweed fritters. All very good. After lunch it was about four and I went to the beach where I laid in the sun for a couple hours. I didn't swim today, because a helpful Aussie with a hardcore first aid kit dressed my burnt finger….oh, I didn't tell you about my burnt finger. Besides burning a hole through two layers of shirts during the gale-force beach chicken, I burnt the hell out of the top of my middle finger on my right hand. I must have pressed into a glowing ember while pulling out a potato. Anyway, it hurt more than the other burns I got that night and then it blistered in the meanest and biggest blister that I have ever seen. After draining the blister (do you want to hear this?....) After draining the blister, there was this huge flap of skin…I'm sure everyone thought I was a leper….and it started to get a little sore and red. Today, cleaning out the car, I tore the thing right open and got it filled with various dirt from all the Americas combined. That only made it more angry and sore. It really did look disgusting. So anyway, this helpful guy gave me the goods to clean and dress the thing up. It makes typing hard cuz I can't bend my finger that well, and I didn't want to swim with the dressing, even though salt water would help it, because I want to enjoy this dressing as long as possible….
So I sat on the beach, got a little pinkish but not burned (even at four PM) and hit up the bar for a couple rums before coming back here to update you all. Now I have been here while day has changed to night. I am being accused of being a nerd, which I guess that I am, so I am going to un-nerd myself for a while…adios.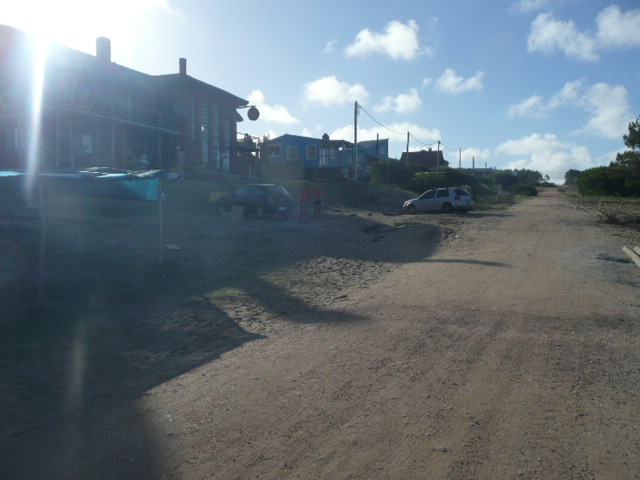 The Hostel and Al
It is now Friday morning. There was a rock band from Montevideo playing at the bar last night that was pretty good for this little place, so I checked that out. I have done a little bunk shuffeling in the past 24 hours. No big deal but my reservation got mixed up and yesterday evening when I stopped by my bed, someone else had moved into it, so I was given a different bed...the last in the house (In the 10 person dorm, as opposed to the 6 person one prior). Funnily, last night when I came home from the bar around 4 AM I found someone in my new bed. I almost thought that I would have to sleep in my tent, but Frederico straightned it all out. Turns out some guy thought that it was vacant and decided to switch beds....a bad move here since people come and go at all hours.
There are a few mesquitos around here and I have noticed a few bites on me each morning. I had thought that the screen was broken in my new dorm room, but it turns out the screen had just pulled out from the splinning. Someone had tried to duct tape the thing back to no avail, but with my swiss army knife and 15 or 20 minutes, I was able to re-spline the screen. We'll see if I wake up with fewer bites tomorrow.
Using the internet here has been a little dodgy and just when I start to get momentum the signal dies out and then returns. I think it might be more my computer than the wireless. I had let a couple Swedish guys use my laptop in Ushuaia....I thought just to upload some photos, but I think they bogged it down with something or other. Anyway, you are going to get a bunch at once if I can manage to upload to this site today.
On, my agenda today, once again, is to sell the car, go swimming, have a bite and chill out. I read quite a bit down in Ushuaia, but here I haven't read at all so I might get into my new book today in a hammock. I'm going to quit while I'm ahead here and try to upload some photos as well. Hasta Luego.
I wrote this off-line on Friday, but couldn't upload it at the time:
Hello again. I am still having a lot of problems with my laptop's connection to the wireless signal, here in Punta Del Diablo. Ever since I let those two Swedish guys at the Freestyle use it, it has seemed really busy doing some secret task, while I want it to be working more on my behalf. Judging from the noises it makes, I think it might be racing miniature motorbikes around and around somewhere beneath the keyboard. The races sound short so the track must be small, but they have scheduled the races closely together and the winner revs its engine at the finish line, getting a series of green blinks from two of my computer's front three lights. Either that or this computer is grinding stones into sand...whatever work this lap top is doing, it is not working for me.
So life here hasn't change much. The weather: sunny, The beach: hot and breezy, The hostel: tranquilo, The food: fish and sandwiches, The drink: Ron the Navigator. The task of selling Silver Al has sort of dissolved into a seemingly impossible feat, even though I somehow have keep grasp of a stubborn confidence that it is just going to work out, like everything has on this blessed journey. I am cut out for this and this is not for everyone. To think of all the things that could have gone wrong along the way…that should have...I honestly feel like Al and I are protected by some magical force. And I don't knock on wood anymore. I don't reserve in advance, research the schedule, make a plan, exercise great deals of caution. On this trip I don't worry about anything and the lightness of that feeling is …Esplendirosso. Doors open for me, ferrys leave according to my schedule, people I don't know come through for me…go out of their way to help me out. And it is this journey, not exactly I, that is blessed. I just happen to be one of the key players. I'm going to sell this car. If I don't, I'd be alright with that, but selling the car is our destiny, Al and mine, and on this journey destiny is the only thing that can be counted on. Apparently it is illegal to nationalize a foreign car here and Brian told me this morning that he simply doesn't have the time to buy the car right now.. He is very busy. His job is stressful, like mine can be back home. Something will materialize, though. I can feel a certain density building in the sky above and it will blow upon the tree. I just need to sit back a little while longer here and wait for the apple to fall from her branches. And that will happen in the next eighteen and a half hours, because I have now bought a bus ticket to leave here tomorrow at 1:30 PM. And this time, Al can't come along.
A little more about the non-mystical world around me now: My group of friends has slowly shifted a little more to some of the employees here, just because they are a constant, while many others come and go. Kiki, Juan Pablo, Shawna, Ignacio, Bailey, Frederico, Santiago and Susana all have been welcoming as the time has past. I think when you work at a place like this you are a little distant at first because people come and go, but when someone starts to hang around a while like me, people open up their hearts a little more. That was the case with the Uruguyans, anyway. Frederico and Shawna were just hugely warm from the moment I stepped into the place. A Spanish women, Raquel, who had the bunk above mine before I switched rooms has been a good friend. She is backpacking around by herself for four months. She says she is a graphic designer, but I call her professor because I can't say a word to her without being grammatically corrected. She will be on the same bus to Montevideo that I will be catching tomorrow, so I'm had better start studying up now. Another good friend has been this Dutch guy, Abrahm, who just glows with positive energy and makes me laugh at almost everything. He has a big tuft of wild windblown hair and a sun burnt nose. Yesterday he took a surfing lesson and today he is feeling sick, which he blames on getting seawater driven deep up into his face. He is also on an extensive vacation. Johaunus is a tallish skinny soft-spoken Swedish guy who just reeks of kindness and good will and quietly drinks back bottles of wine until the alcohols glow overtakes the sunburn on his face. A couple, Don and Jess have also been friends. Don is a 49 year old chef (from Minneapolis I think) and Jess is from Buenos Aires. Don is way into the punk rock scene in Buenos Aires and gave me the low down on all the good bars and the debauchery that goes on in them. We have a lot of musical tastes in common, so it was fun talking with him. A little earlier Jess played me a few funny YouTube videos of an Argentine comedian that did farcical music interviews and it was a riot, even if I didn't understand every bit. There are others too…good folks. I am just so bad with names, it's embarrassing. (for instance, Don might be John or even Tom…or Tim).
So tonight there is a party in the forest. A guy from Montevideo was walking all over town handing out rave-like flyers for it and a lot of us shall go. I have no idea what to expect. I'll try to get this posted and write more later.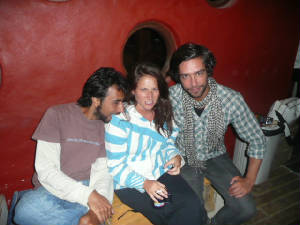 Kiki, Bailey and Ignacio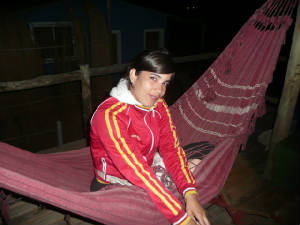 Raquel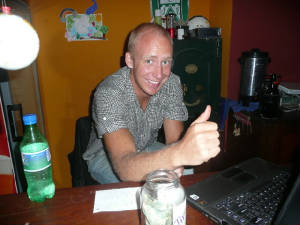 Frederico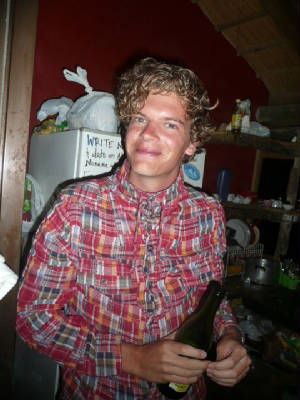 Johaunus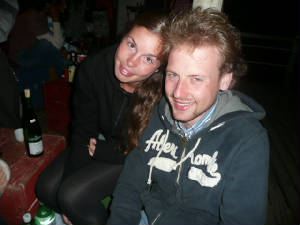 Abrahm and Nice Swedish Woman Who's Name Escapes Me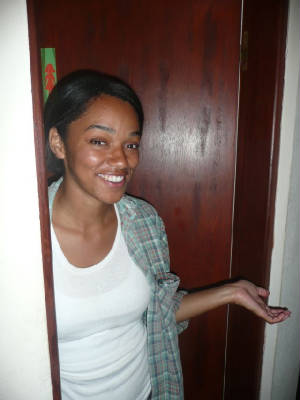 Shawna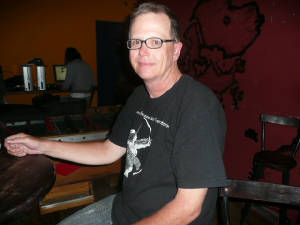 Don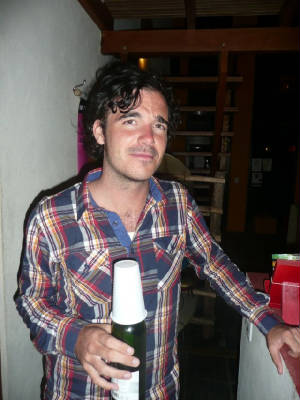 Name Forgotten (sorry man)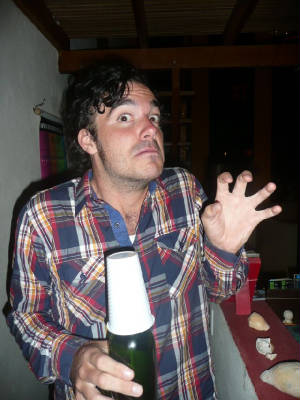 I'll Give You Two Pictures Since I Forgot Your Name
Sunday Dec. 21st. Longest Day of the year. I am sitting in a cafe across the street form Nate's place in BA. It is raining out. Nate is skyping across the table from me.
So what has gone on?
The party was pretty cool on Friday night. It was a dark hike down dirt roads to get out there, but once there we found a big fire burning, and black lights and glowing paint and electronica music blaring. I arrived with a gaggle from the hostel and we doubled the party when we arrived. The host was the guy I had seen dropping off the rave-esque flyers all over town for the party. He was from Montevideo and was all wound up. It was mostly a sitting-around-the-campfire party, but one guy was dancing wildly and a few folks were mingling around, including myself who, with the help of The Navigator, was intent on introducing myself to everyone. Folks were friendly, and it was a good time. After walking back home I realized that I had left my sweatshirt at the party, so I jumped in Silver Al with Kiki and Roquel and we bounced our way back to the party where someone painted florescent paint on our foreheads and we hung out a little longer. When we left the party we headed to the Kiosko to pick up some smokes and a couple snacks and then headed back to the hostel. I went to bed pretty much immediately upon getting back, while Kiki and Raquel hit the kitchen looking to build sandwiches. I had a big day ahead of me and it was nearly 5 AM.
On Saturday I felt beat up by the Navigator, but I got up at 10 and showered and shaved, packed and settled up my bill. Not a moment after I settled my bill, Brian caught up with me. He was up for taking the car for a spin up to the border town of Chuay. I had a bus ticket for 1:30 to Montevideo and that left just about enough time for the 40 minute round trip to Chuay and a little time in the town. I drove up, and hung around while Brian took the hostel's computer in to get fixed. Then I let him drive her back. On the ride back we got to chat a little and I realized, even more, what I had suspected before...that Brain was a really good fellow and a true modern-day pioneer. Al treated us well on the ride, and Brian took to her right away. We had a deal!
We got back to the hostel with hardly any time to spare. We both signed the title and traded information for a wire transfer of the three grand. Raquel, who was taking the same bus as I to Montevideo, was at the door when we pulled in, covered in backpacks and stressed out about the bus's departure, but I had asked Brian to give us a ride to the bus 'corner', so we had enough time. I ran around saying good bye to whoever I could find around and jumped in AL...the passengers seat this time. Brian spun us down town, we snapped a couple shots, had a heartfelt goodbye and I watched her slowly drive away.
I can't think of a more fitting place for Al to start her new life. I am confident that she will take good care of Brian and I am also pretty sure I'll get to see here again sometime, because I like it down there in Punta Del Diablo. So it was more a 'See You Later, AL' than a 'Good Bye'. But I will miss her, it is true.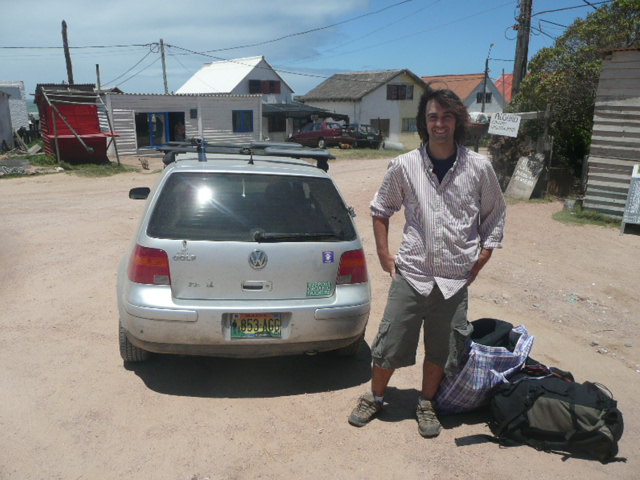 Brian and Silver AL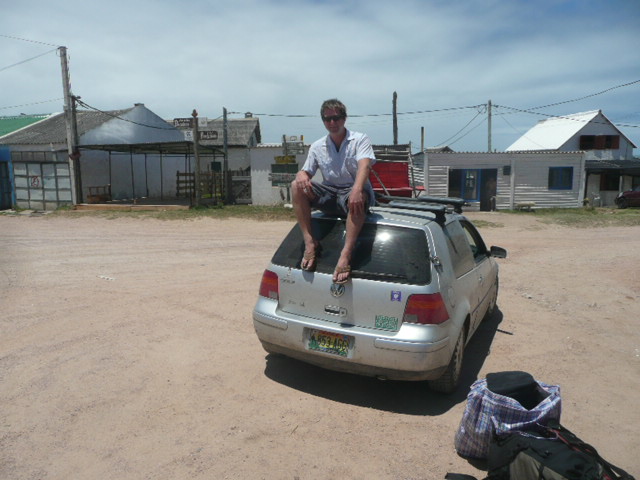 Last Moments With AL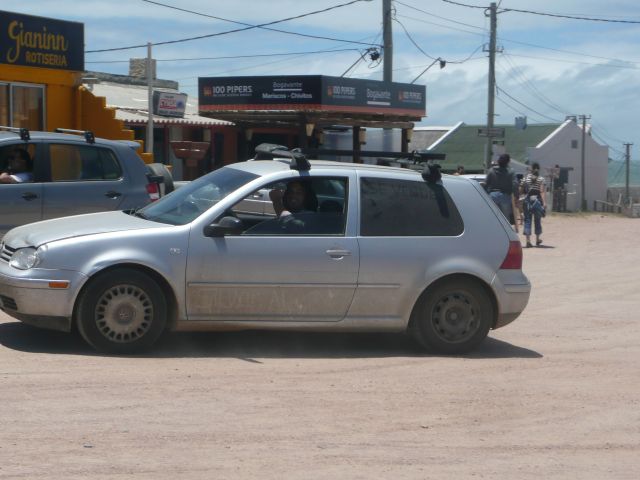 Last Picture of Al for a While....Good Bye AL...
So Long, Silver Al !!
The bus ride to Montevideo took 5 hours. (Driving AL had taken less then three.) I slept a bit and practiced Spanish with The Professor. Once in Montevideo, I shared a cab with her directly to the Buquebus Terminal. There was a hostel she was heading to right near the terminal and since I had no idea if there were ferry's scheduled that late in the evening, I thought the hostel could be my backup plan. Much to my good fortune there was a ferry scheduled to leave at nine so I booked a ticket, checked in my luggage and went over to the hostel anyway to kill a little time, utilizing their computer to send a futile last minute email to Nate that I would be arriveing around midnight and drinking a bottle of wine on the roof with Raquel and a nice guy who worked for the hostel, knew a lot about Andean music and was building a fire in the Parilla (grill) for an Asado (BBQ) that was scheduled to happen a little later on.
I was back at the terminal in plenty of time for the ferry and on the ferry I bought a sandwich and a beer, ate and drank the two, and fell asleep. The next thing I knew it was three hours later and I was in BA.
Once in BA I tried to reach Nate unsuccessfully, so I just caught a cab to his place to see if he was home. I was hoping he was because it must have been after midnight and I had all my things with me...not a good time to be out on the streets. He was home, fortunately for me, and we drank beers and joked around until we turned it in around 4.
As I wrote before today is rainy. Nate and I slept in and then set out for a parilla called Freddy's where we squeezed in to get a grilled meat sandwich that was very, very tasty. After that we came here to use the internet. Nate has now gone back to his place across the street for a little siesta. I have a bit of time left here today and a full day here tomorrow before I fly out tomorrow at 10:50 PM. Now that Silver Al is gone, this web site seems suddenly aimless, but I'll try to add a little bit more tomorrow, just to finish this up right.
I heard that it is snowing back home. It will be a white christmas then. I can't wait.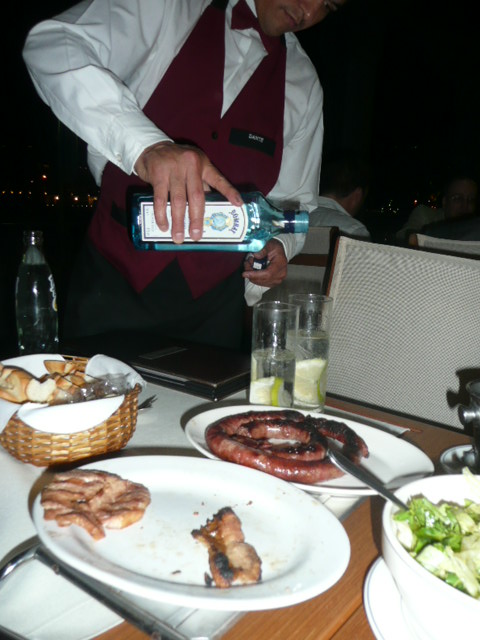 Monday Afternoon. 12/22/08 I am sitting back in the cafe across the street from Nate's place. We had a pretty mellow afternoon yesterday, watching a little tube while the rain fell and kicking back a couple beers. Around 8:30, we rallied. I insisted on taking Nate out for a good dinner, but I needed his recommendation as to where. He called up his friend Lenny and Lenny recommended a restaurant called Mira Sol in the Puerto Madero district. Being my last proper dinner in Argentina we ordered up a full on and huge meal of meat. We sat outside and as the sun slowly set, fireworks blasted on and on over the river to mark the first official day of summer.
Our meal went on and on. The restaurant was classy and the waiter poured us grossly generous gin and tonics, leaving the bottle of Bombay at our table, which we almost polished off with just two gin and tonics each. The waiter brought us bread and small spinach fritters. Then we ordered up a grilled provolone cheese dish which I have had a couple times down here and simply love. It can be served plain or topped with olive oil and chopped olives and pancetta and roasted red peppers. We ordered a salad and a heap of meats from the grill including sausages, sweetbreads, short ribs, and steak. We had a bottle of Malbec and some bottled water. We did a good job on the spread, but couldn't quite finish it off.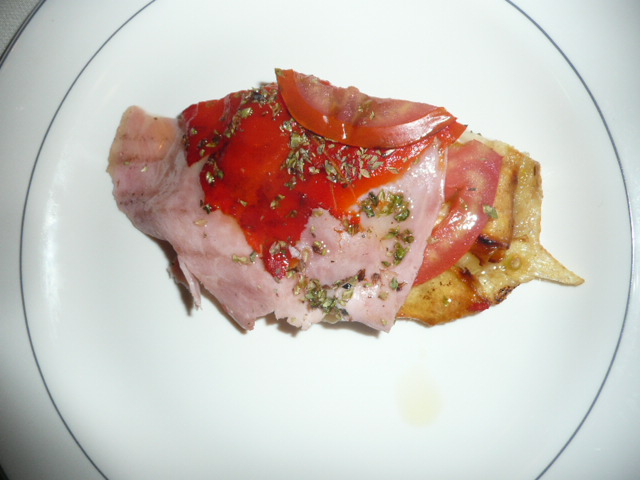 Grilled Provolone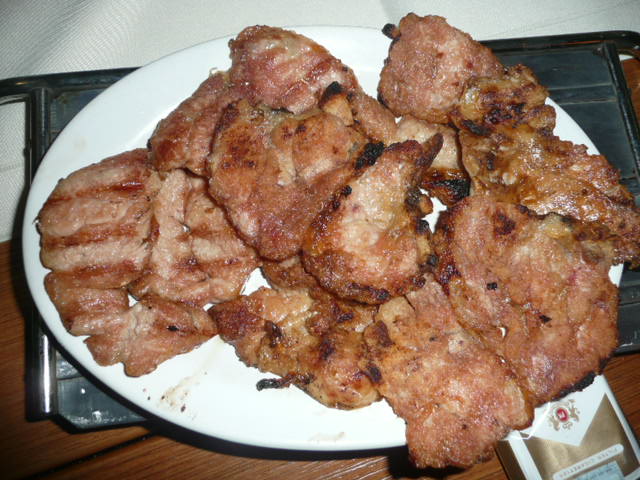 Sweet Breads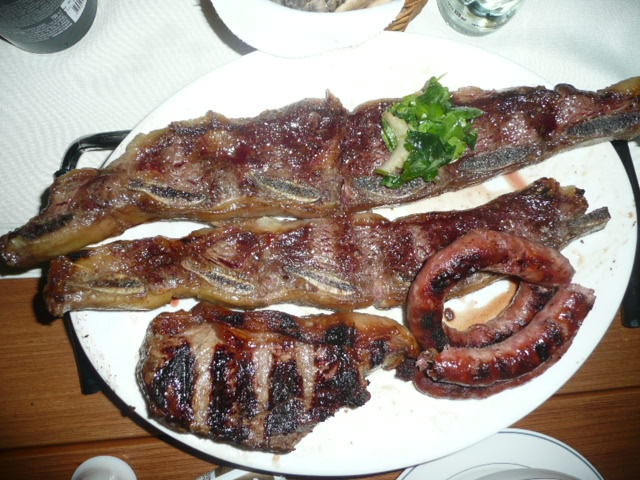 Meats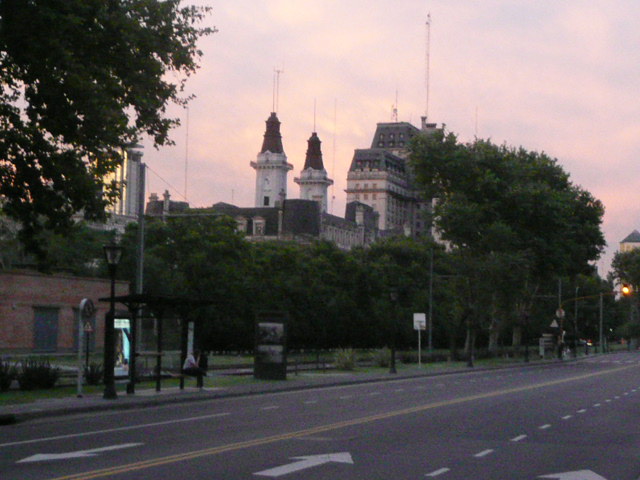 Walking to the Restaurant with Sun Setting
After dinner we went to the Puerto Roja and shot pool for hours, ruling the table (Nate is quite good, lucky for me) We hung out there through the night talking with kids and sipping drinks. Around 6 we came back to Nate's place and went to bed at some point well after sunrise. I forgot to mention earlier that I met a guy at the ferry terminal on the way out of BA, to whom I gave my website address, as I have to many folks. A couple days later this guy emailed me and said he was a journalist that does some work for NPR's show 'The World'. He wrote that he loved the website and would like to meet with me back in BA. As I listen almost exclusively to NPR, I thought that it would be cool to meet up with this guy, so I called him yesterday and he said he would like to meet me around 9 this morning. Being the morning following my last night in BA, I knew I'd be pretty roughed up at 9AM but if the guy has read and liked the website, I figured he'd pretty much expect me to be a little banged up anyway. So I got up at 9 AM after maybe two hours of sleep and waited like a zombie for this guy to call, my head pounding like a strobe light. The guy said he had a meeting to attend first and had also written that his cell phone was on the blink, so I didn't really want to bother him but finally, around noon, thinking I might have given him a bad phone number, I called the guy at home, thinking I'd at least leave a message. He answered the phone and said his meeting was cancelled and he was bloody busy and cheers all the same, but he couldn't meet up. (He speaks like a Brit, but I don't know where he's from). Anyway, that is just a side note, and I don't really care about any missed opportunity, I just wish I had gotten a few more hours to sleep.
So anyway, I'm going to hit it now. Nate finally showed up at the cafe here, and while he got way more sleep than I did this morning, he looks pretty fragile himself. We'll see what kind of last minute trouble we can get into before I fly out of here tonight.